The  Most Magnificent College Campuses in India should not be overlooked when making the important decision of where to go to college. Brilliant architecture and natural scenic beauty that has an abundance of lush green areas or beautiful lakes or stunning mountain backdrops, add to the aesthetic appeal of the campus and provide inspiration to study and achieve while also creating a peaceful atmosphere to relax and rejuvenate. Mostly, such beautiful campuses promise an equally beautiful career to their students as well.
Fortunately, there are many such beautiful campuses in India that provide the perfect blend of good credentials and beauty to savour. EntranceZone.com has compiled a list of colleges that are famous for their beautiful campuses and the academic achievements of their alumni to make it easier for you to choose where you want to shape your academic destiny. The order in which these universities appear is not rank based and is totally random.
20 Most Magnificent College Campuses in India
Birla Institute of Technology & Science, Pilani
BITS – Pilani is a deemed university and was established in 1964 by the Birla Group. It is a prestigious private institution for Engineering courses and Management studies. Birla Institute of Technology & Science also has campuses in Dubai, Goa, and Hyderabad. This institution also houses the first Technological Museum of India called the Birla Museum. The BITS Pilani campus is spread over 990 acres and is about 200 kilometers from New Delhi. It is judged as one of the most beautiful campuses in the country because of the magnificent buildings and surroundings.
Subscribe to Get Updated Information about 20 Magnificent College Campuses India :EntranceZone
​
Delhi University
Established in 1922, the University of Delhi campus features beautiful heritage buildings, lots of greenery, some breathtaking street art on its walls of fame. The University also has a Rugby Stadium, amazing award- winning gardens and many well- stocked and beautiful libraries. Some colleges like Miranda House, St.Stephen's College, Hansraj College, Lady Shri Ram College for Women are known for their infrastructure and breathtaking architecture and are regularly haunted by Bollywood directors in search of perfect locations and raw talents for their upcoming movies.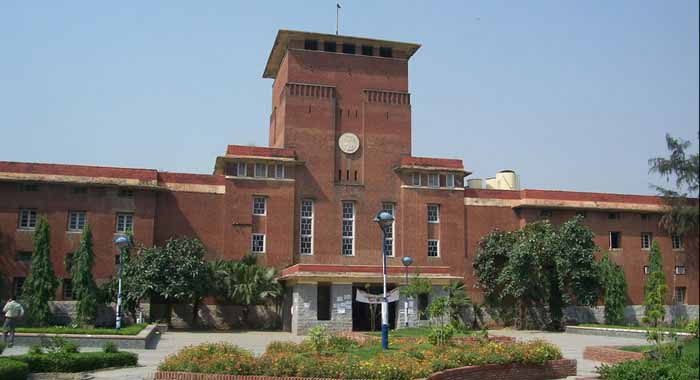 Delhi University boasts of 4 campuses. The North and South Campuses focus on Arts and Science subjects, South campus being an extension of the North campus. The East campus of the University focuses on Medical education while the West Campus concentrates on Engineering and Technology. Delhi University is known for its academic excellence and enjoys a good reputation, both nationally and internationally. Students from India and abroad come here to study subjects of their choice. Delhi University consistently features among the top- rated Universities of the world.
Indian Institute of Technology, Bombay
Indian Institue of Technology, Bombay was established in 1958. IIT, Bombay can rightly be called a green campus. It is located in Powai, between the Vihar and Powai lakes near Sanjay Gandhi National Park, Mumbai. The beauty and greenery in and around the campus not only look pleasant but also provide a safe cover from the high pollution levels of the city of Mumbai. The campus has a cluster of buildings including 16 hostels. All the departments are inter-connected by a corridor named as 'Infinite Corridor' by the students of IIT- B.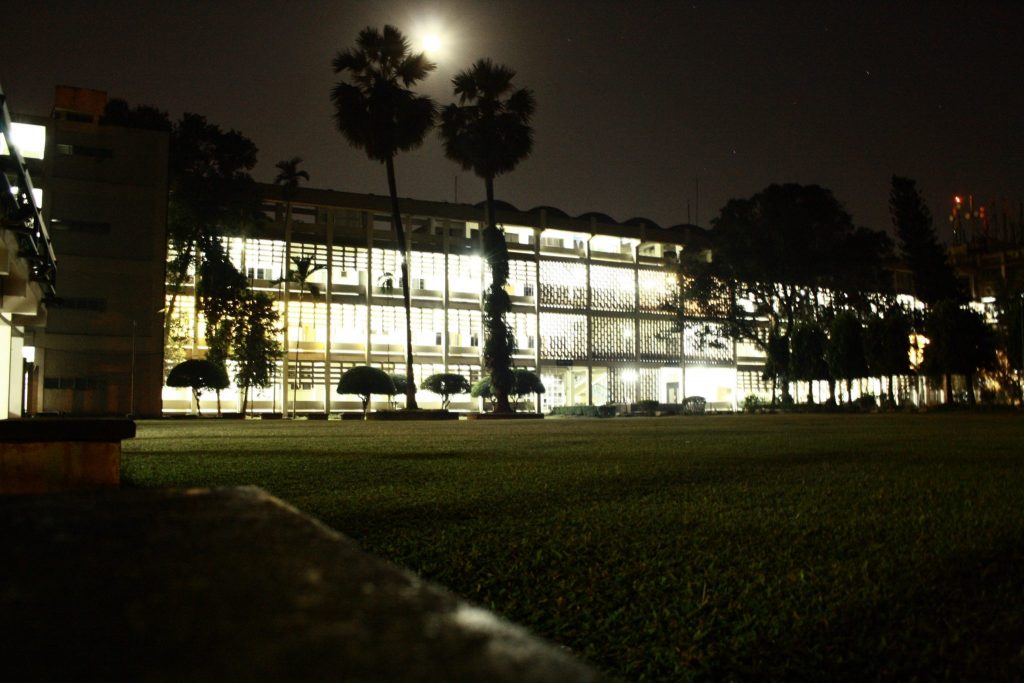 IIT, Bombay is not just beautiful or famous but also India's best-ranked university. In 2014, it was ranked as India's best university by the QS World University Rankings. It is considered as a matter of great pride to study at this IIT that was the second IIT to be established in India after IIT Kharagpur. pic source

 [email protected] | PIXELS
Indian Institute of Management, Ahmedabad
Established in 1961, IIM Ahmedabad is known for its record- breaking placements and a stunning campus that attract many visitors every year. Every corner of Indian Institute of Management -Ahmedabad has been uniquely designed with utmost care. This IIM has impressive green credentials apart from excellent academic credentials. It has an elegant lawn and the buildings are aesthetically splendid.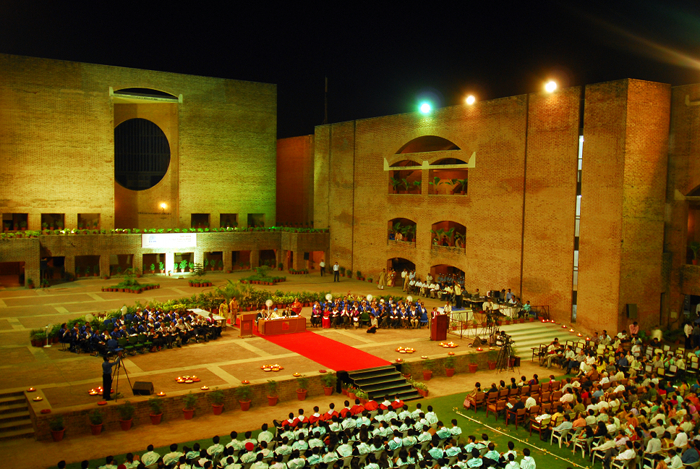 IIM- A campus provides all kinds of academic facilities along with the residential facility for all of its students. The hostels are comfortable and well- furnished. Financial Times Global MBA ranking 2014 ranked Indian Institute of Management, Ahmedabad among the top 30 MBA schools in the world.
 Indian Institute of Management, Kozhikode
Indian Institue of Management – Kozhikode's 111-acre campus is known for its impressive location on hillocks and beautiful buildings that go well with the natural surroundings. IIM- K  campus makes the deal wholesome with its world class infrastructure, fully equipped air-conditioned classrooms, 24 * 7 internet connectivity, a great faculty and an oxy-rich environment. Established in 1996, IIM- Kozhikode was the 5th IIM to be established in India in the series of many IIMs established across the country to improve the quality of Management education in India. The institute relocated to its current address in 2003 and dramatically increased the number of courses for prospective students. This IIM is also a world leader in the development of Digital Libraries and offers to its students International Exchange programs with many European and Australian Universities.
Hyderabad University
Hyderabad University is famous for its distinguished faculty, Post-graduate level research and quality education. This university is one of the leading centers of teaching and research in India but this is not the only reason Hyderabad Central University has made it to our list of 20 most beautiful and famous colleges in India. 'HCU' as it is popularly called by its students has a campus that is not just one of the safest campuses in India where you can go out for tea even at 2 am or walk into the library at any hour of the day to clear any doubts but also a campus that is so rich in bio- diversity that  it is home to 75 varieties of birds. Peacocks, deer, wild rabbits are commonly spotted roaming on this beautiful campus. The lakes and stunning rock formations add to the aesthetic value of the campus. 
Indian Institute of Technology, Kharagpur
IIT Kharagpur was established in 1951 and was the first ever IIT to be established in India. It is a highly reputed institution and is recognized by the government of India as an institute of national importance. It has stayed true to the vision with which it was established. Indian Institute of Technology- Kharagpur has the largest campus among all IITs in India which spawns over an amazing 2,100 acres. The campus was designed by the Swiss architect Werner Moser and is truly exquisite and popular. It receives much more funding than most other colleges in India from the government and industries sponsored projects. IIT – Kgp is soon going to be green as part of its energy initiative. It has 22 hostels that accommodate all students. This institution offers many facilities to its students apart from accommodation and world class education such as an open air theater, stadium , STEP park etc.
National Institute of Technology, Hamirpur
NIT- Hamirpur was originally established in 1986 as Regional Engineering College, Hamirpur. Edu- Rand Rankings placed this NIT among the 30 best engineering colleges of India in 2015. The current campus is located in the picturesque town of Hamirpur in Himachal Pradesh. The institute stands tall on its own 320 acres ground just 4 kilometers away from the main bus terminus of Hamirpur city. It is situated on exceptionally beautiful hilly terrain surrounded by attention-arresting beautiful pine trees. National Institute of Technology at Hamirpur accommodates all its students in 13 well- furnished hostels. It also has a health center, central library, indoor and outdoor sports facilities among many other special facilities for its students and staff. 
Indian Institute of Science, Bengaluru
The IISc campus is spread over 400 acres of lush greenery. Established in 1909, IIScn is also popularly known as Tata Institute because Jamsetji Tata was one of the co-founders. Exploring the gorgeous campus of Indian Institue of science is a good way to spend a Saturday. The architecture of the administrative building is classical in style while some other departments have been designed by a German architect. This institution ranks as number 1 in the country according to the NIRF university rankings released by the government of India. Indian Institute of Science enjoys a fine reputation internationally as well and features in QS World university rankings in 11th position in terms of citations per faculty. The campus is located within 4 km from the Bengaluru city railway station and is surrounded by plenty of other reputed research institutes.
Indian Institute of Technology, Guwahati
IIT – Guwahati was established in 1994 in the Indian state of Assam. This institution has stayed true to its motto "Knowledge is Power." It is situated on the banks of Brahmaputra and is famous throughout the country as the most beautiful college campus. It is spread over 700 acres of pure greenery. Students enjoy the wonderful views of hills on one side and the river on another side of the campus. India Today has ranked Indian Institute of Technology – Guwahati among the top ten Indian institutes to study Engineering featuring several interesting buildings, sports complexes and accommodation for all of its students.
Indian Institute of Technology, Madras
Indian Institute of Technology – Madras is ranked as one of the top institutions in India. It was established in 1959 with assistance from Germany. Spread out on the vast campus this gorgeous IIT is located just 10 km away from the Chennai Airport and features vast green areas throughout the campus offering great spring and summer breezes. It used to be a part of Guindy National Park and has retained much of the beauty. Students attending IIT- Madras will tell you about how the beauty of IIT- Madras adds to its charm. This IIT has 16 academic departments and boasts of about 100 laboratories. NIRF (2016) has ranked IIT Madras as the number 1 institution to study engineering in the country.
SSN College of Engineering, Chennai
Established in 1996, Sri Sivasubramaniya Nadar College of Engineering at Chennai is a world class institution. It is popularly called SSN and is an affiliate of Anna University. It also runs programs in association with the renowned Carnegie Mellon University.The Edu -Rand Rankings of 2015 placed SSN on the 52nd position on the list of best Engineering colleges in India. 
Indian Institute of Technology, Srinagar
Indian Institute of Technology's pretty campus in Srinagar was set up in 1960. It is arguably one of the most stunning IIT campuses in India located on the bank of a river that is a world heritage site. Walking through the grounds of IIT – Srinagar, it is easy to figure out the reason for such acclamation. It is crowned by the awe- inspiring western bank of the Dal Lake that mesmerizes one and all. IBN Live News Channel recognizes it as the most beautiful college campus in India. This beautiful campus is spread over an area of 100 acres. Outlook India in 2013 ranked IIT – Srinagar 57th among various engineering colleges.
JAYPEE University of Information Technology, Solan
JAYPEE University of Information Technology at Solan is a state recognized university. It was founded in 2002 on the green slopes of Waknaghat which is an area of Solan district in Himachal Pradesh. Known for its beauty and a popular destination among tourists, the hilltops of Kasauli serve as a backdrop to the University campus. Another city Shimla is  22 km from the university campus. JAYPEE University's Solan campus occupies an area of 25 acres and is well connected by the roadways. Nearest railway station is only 4 km away.  It has many graceful buildings built in different styles. Ranbir Kapoor starer famous Bollywood movie 'Tamasha' was shot here. 
Symbiosis Knowledge Village, Lavale
Symbiosis Knowledge Village is located in Lavale which is roughly 25 km from Pune Railway Station. It is home to the group of colleges owned by the Symbiosis Group and they have done everything possible to ensure that the natural beauty isn't sacrificed in the construction of the institutes and the large campus. Aesthetic splendor and interesting architecture contribute towards making the campus special and popular among students. Symbiosis Knowledge village is located on a hilltop and is surrounded by lush greenery. Rainwater harvesting projects prominently feature on its campus suggesting how devoted this institution is towards conserving natural resources. Solar panels can also be spotted on this campus that generates most of the electricity consumed on the campus. Symbiosis Knowledge Village is truly an eco- friendly campus. Some important institutes in the village campus are Symbiosis Institute of Business Management, Symbiosis School of Biomedical Sciences, Symbiosis School of Photography etc. The Institute provides many facilities to its students such as accommodation, gymnasium, indoor sports complex, sports and health facilities.
Forest Research Institute, Dehradun
Established in 1906 the Forest Research Institute – Dehradun facilitates forestry research in India. It is a premier institution and is acclaimed all over the world. It is the biggest forest-based training and research institute in India. The gorgeous FRI Dehradun campus features Greeko Roman architecture and  major portions of the main building campus are declared as a National Heritage site by the government. Many budding scholars have found peace on this campus (sprawled over an area of 450 hectares) among the sheer abundance of raw beauty that includes the Himalayan backdrop as the cherry on top. It also features great facilities for its students and researchers including a Botanical Museum and experimental field areas. A lot of Bollywood movies are frequently shot on Forest Research Institute's campus.
North Eastern Hill University, Shillong
Located in Shillong, NEHU is a Central University. It features among India's best universities. The main campus occupies an area of 1025 acres. The university was established in 1973 with a vision to provide access to quality education to students in the north- eastern regions of India. Today the university is ranked 11th among central universities, according to Central University ranking published by India Today group. Its library has a collection of over 2 lakh books and is subscribed to 366 Indian journals as well as 316 foreign journals. Some other institutions also function from the North Eastern Hill University campus such as The English and Foreign Languages University, the Sports Authority of India, Indra Gandhi National Open University. NEHU is a perfectly peaceful place to study and enjoy nature at its best. Students mostly prefer to live on campus and enjoy the stunning surroundings and the excellent facilities offered to its students by the university.
Indian Institue of Technology, Roorkee
Crowned as the oldest technical institution in India, this Indian Institute of Technology was established in 1847. It is ranked 4th among Engineering Colleges by India Today. It enjoys the reputation of being the biggest technical institution in the country. An area of 365 acres constitutes the amazing campus of this exceptional and beautiful institute. The institute is on a flat terrain and  provides to its students a grand spectacle with the Himalayan range flanking in the background. It also has two extension campuses at Greater Noida and Saharanpur. Mostly all students live in the accommodation provided by the institute and enjoy the various special facilities available exclusively to them. There are 16 hostels in total including nine hostels for married students and foreign students. It has been a center of excellence for more than 160 years. Students can never go wrong with their choice to study at this great Institution.
Indian School of Business, Hyderabad
Established in 2001, ISB Hyderabad is ranked 29th in the world in FT Global Rankings 2016. The Indian School of Business Campus in Hyderabad is the biggest Business School campus in Asia. It is spread across 260 acres of land. Students hostels are called students villages. It awards a large number of scholarships to its students for excellence and to fulfill the financial needs some of the students. Last year ISB awarded scholarships worth US $1.2 million which is a huge amount of financial funding for any institution. However, ISB PGP is not recognized by the US Citizenship and Immigration Services and is counted as a part of an undergraduate degree. Indian School of Business campus is well maintained and very beautiful. It is one of the prettiest colleges in India.
Indian Institute of Management, Indore
Indian Institute of Management – Indore was set up in 1996 and was the sixth addition to the family of IIMs. With a campus in UAE, it is the first IIM to have a center abroad. IIM- I have collaborated with 20 International Universities to facilitate easier exchange program options for its students. Many ranking publishing organizations regard it as one of the best Business schools in India. The campus which is spread over an area of 193 acres is nothing short of stunning and provide plenty of opportunities to appreciate the nature.