AEEE 2019 Application Form will be released by Amrita University in October 2018. Amrita University conducts AEEE 2019 (Amrita University Engineering Entrance Examination) for admission to its four years B.Tech programs. Moreover, on the basis of performance in AEEE 2019, students can get admission to any of its colleges at this campus-Amritapuri (Kollam), Bengaluru and Ettimadai (Coimbatore) and Vengal (Chennai). The Application form for Amrita Entrance Examination B.Tech. Admissions-2019 are notified and Forms are available from 1st week of October 2018. All the important topics related to examination such as important dates, eligibility criteria, courses, application form, syllabus, counselling procedure, etc. are described in this article. Therefore, applicants are advised to go through the article for all the information regarding AEEE 2019.
Amrita University Announced the Amrita Engineering Entrance Examination Dates.  Admissions to B.Tech courses of 2019 batch, offered at Amrita School of Engineering – Amaravati*, Amritapuri, Bengaluru, Chennai and Coimbatore campuses is based on the rank secured in following:
Amrita Entrance Examination – Engineering 2019 (conducted at 90+ centres across India)
JEE Mains (January & April Session)
Amrita University B.Tech Admission Updates
AEEE 2019 Exam Dates have been announced now by Amrita University. The examination will be conducted on 22-26 April (online mode) and 27 April 2019 (offline mode). Check other details from below.

The applicants from Tamil Nadu / Kerala / Karnataka who gave AEEE 2019 and scored a rank between 20001 and 22500 and passed +2 are invited to attend admission counselling on 7 June at 8:30 Am in any one of Amrita University Engineering College Campuses.
Amrita University Fees Structure and Scholarship details are available below.
Amrita University recently launched the Mock Test App for AEEE. (Link to the app is given below)
AEEE B.Tech 2019 Exam Dates and Notification
Official dates for the events of Amrita University B.tech 2019 are announced. Find a complete schedule of all the important dates for Amrita University Entrance Exam 2019 below.
| | | |
| --- | --- | --- |
| S.No. | Events | Dates(Announced) |
| 1. | Notification of AEEE 2019 | October 2018 |
| 2. | Availability of Online Application & OMR Application Form | First week of December 2018 |
| 3. | Last Date of sale of OMR Application Form for Offline Examination | Second week of April 2019 |
| 4. | Deadline for submission of application form for CBT(online registration) | Second week of April 2019 |
| 7. | Availability of admit cards | Last week of April 2019 |
| 8. | AEEE examination (CBT-Computer Based Test, 3 slots per day) | 22-26 April 2019 |
| 9. | AEEE Offline (Pen & Paper, P & P)* | 27 April 2019 |
| 11. | Declaration of Result | First week of  May 2019 |
| 10. | Declaration of Ranks | Second week of May 2019 |
| 12. | Counselling | 31 May to 06 June 2019 |
| 13. | Amritapuri Campus Special Round | 12 June 2019 |
| 14. | Classes Started at Amritapuri Campus | 09 July 2019 (for CSE, EEE) |
| 15. | Classes Started at Amritapuri Campus | 10 July 2019 (for ECE, ME) |
| 16. | Classes Started at Bangaluru Campus | 11 July 2019 (All branches) |
| 17. | Classes Started at Coimbatore Campus | 02 July 2019 (for CSE) |
| 18. | Classes Started at Coimbatore Campus | 04 July 2019 (for ECE, EIE) |
| 19. | Classes Started at Coimbatore Campus | 05 July 2019 (for EEE, ChE, CE) |
| 20. | Classes Started at Coimbatore Campus | 06 July 2019 (for ME, AE) |
Note: Computer based test will be conducted in multiple cities all over the Country and it will be conducted in 3 slots per day. Pen and Paper examination will be conducted in all major cities in the states of Karnataka, Kerala and Tamilnadu at fix date and time i.e. 27 April 2019 from 10:00 AM to 12:30 PM.
AEEE 2019 Exam Date (Announced)
The Amrita University conducts AEEE in two modes i.e. Online and Offline.
| | | |
| --- | --- | --- |
| S.No. | Exam Mode | Exam Dates |
| 1. | CBT-Computer Based Test | 22-26 April 2019 |
| 2. | Pen & Paper, P & P | 27 April 2019 |
AEEE Counselling 2019 – Amrita University
AEEE 2019 B.Tech. Counselling 2019 Seat Availability Status is updated by Amrita University and given below.
Candidates can download the counselling call letter from 9 May 2019 andAEEE Counselling 2019 will begin from 31 May 2019.
Finally, the authority will inform the successful candidates about the venue, counselling schedule and other important information about the admission process.
Also, there is a total of 4 stages of seat allotment during the counselling process.
B.Tech. Counselling 2019 Seat Availability Status

Amrita University B.Tech Fee Structure

AMRITAPURI

BENGALURU

COIMBATORE
Scholarship
Scholarship Seats
Fees
Scholarship Seats
Fees
Scholarship Seats
Fees
    90%
27
24,000
27
26,000
51
30,000
    75%
27
60,000
27
65,000
51
75,000
    50%
54
1,20,000
54
1,30,000
102
1,50,000
Fee for remaining seats
351
2,40,000
351
2,60,000
663
3,00,000
Fees are to be paid annually
How to Apply for B.Tech. Admissions at Amrita University Engineering Entrance Exam 2019?
Following are the Amrita University Engineering Admission Procedure: Step by Step Process
To apply for AEEE 2019, Candidates should register for AEEE 2019. The Application form is available in both mode i.e Online & Offline ( OMR application). Offline forms are available at pan India at various sales outlets. Whereas, AIEEE Online form can be filled via the University official website.
And, Both the Application forms will be available from the first week of November 2018.
The Application Fees for AEEE 2019 is 1000/- Rupees and this is nonrefundable.
Amrita University B.Tech.  Application Fee: The application fee for AEEE 2019 is 1000/- Rupees and this amount is also not refundable. For Girls & Boys Fees are the same. Also, there is no relaxation in form fees in SC / ST / OBC / PH.
B.Tech fee structure: The fees for B.tech course is around 75 thousand rupees per year. And the hostel fees is 71 thousand only. Please click here for detailed fees structure.
AEEE 2019 Application Form
AEEE 2019 application form will be accessible by the candidates in both online and offline mode.
Whichever medium applicants use to submit their application, they will be required to make a one-time application fee of Rs. 1000 which is nonrefundable.
Also, candidates need to fill the form and pay the fee amount using Debit Cards / Credit Cards / Net Banking of the authorized banks or by sending Demand Draft.
While Applicants can get the application form from any authorized office by Amrita University after the fee payment of 1000 INR. Further, The applicants can fill and send the form to the college address.
Offline by Post: Applicants can post the required details alongside a Demand Draft (DD) of INR 1000 to the school at any of the three campuses.
Finally, When an applicant is shortlisted in the Amrita University Entrance Exam, they will be called for Counselling.
Applicants need to post the duly filled AEEE Exam application form at the address given below:
The Admissions Coordinator,
Amrita School of Engineering,
Amrita Vishwa Vidyapeetham,
Amritanagar/Ettimadai/Coimbatore, Tamil Nadu,
P.O 641112
AEEE 2019 Fees – Rs. 1000
AEEE Eligibility Criteria
Applicants must make sure they read the Amrita University 2019 Eligibility Criteria beforehand to be certain that they can apply for the entrance examination. Also, the applicant must read it to avoid any misconception.
Moreover, all the details related to Amrita University B.Tech Eligibility Criteria are as below:
Date of Birth: Applicants who are going to sit for the exam should be born on or after 1st July 1997. Those applicants, who were born before the said date would not be permitted to appear in the exam.
Passing Marks: Applicants must have passed 10+2 (Class XII) or its equivalent and secured minimum marks of 60% on average in Physics, Chemistry, and Mathematics (PCM) subjects and at least 55% in each subject separately.
And, candidates who are appearing for above examination in March / April 2019, are also eligible to apply. However, they will need to submit their mark sheet at the time of admission as a proof of obtaining the minimum required marks.
Diploma Holders: Applicants with a three-year diploma in Engineering, from State Board of Technical Education or its equivalent, with no less than 60% of aggregate marks, will be eligible for the counselling.
Management quota: For management quota, minimum aggregate to be eligible to apply for AEEE 2019 is 80% in PCM.
Note: Before filling the application form, the candidates must check for the fulfilment of the eligibility criteria for the Amrita University Entrance Test as the application fee is non-refundable and the ineligible applicants won't get admission under any circumstances.
AEEE Exam Details
Amrita University also known as Amrita Vishwa Vidyapeetham is a multi-disciplinary, research-intensive University spread over different cities of India. Basic details about the AEEE are given below:
Conducting Institute: Amrita Vishwa Vidyapeetham University.
Exam Name: Amrita Engineering Entrance Exam.
Also Known as AEEE.
Exam Type: Undergraduate (UG) Entrance Exam.
Exam Category: University Level.
Please find details on the official website.
Amrita University Courses
| | | | | |
| --- | --- | --- | --- | --- |
| Course (Engineering) | COIMBATORE | AMRITAPURI | BANGALORE | CHENNAI (Proposed) |
| AEROSPACE | YES | NO | NO | NO |
| Chemical | YES | NO | NO | NO |
| CIVIL | YES | NO | NO | YES |
| COMPUTER SCIENCE | YES | YES | YES | YES |
| ELECTRICAL & ELECTRONICS | YES | YES | YES | YES |
| ELECTRONICS & COMMUNICATION | YES | YES | YES | YES |
| Electronic & INSTRUMENTATION | YES | NO | YES | NO |
| Mechanical | YES | YES | YES | YES |
AEEE 2019 Exam Pattern
The Amrita University entrance exam pattern of AEEE will be as below:
Subject
Marks
Weightage
Total marks
Total number of questions

Mathematics

120

40 questions

300

(100X3)

100

Chemistry

90

30 questions

Physics

90

30 questions
Mode of examination is both online and offline
And, Duration of Exam will be 2 hours 30 minutes.
The total number of questions is 100 (40 from Maths and 30 each from Physics and Chemistry).
Moreover, the question will be of objective type(multiple choice questions).
Also, each correct answer will fetch 3 marks. But, Negative marking of 1 mark will be reduced for wrong answers.
Note: Candidates should mark an answer, if and only if, they are certain about the right answer. Randomly guessing the answer might result in substantial negative marking.

Usually, the question in AEEE is devised from Mathematics, Physics, and chemistry from class XI and XII. Aspirants are advised to prepare their XI and XII science portion meticulously.
AEEE Duration, Pattern and Evaluation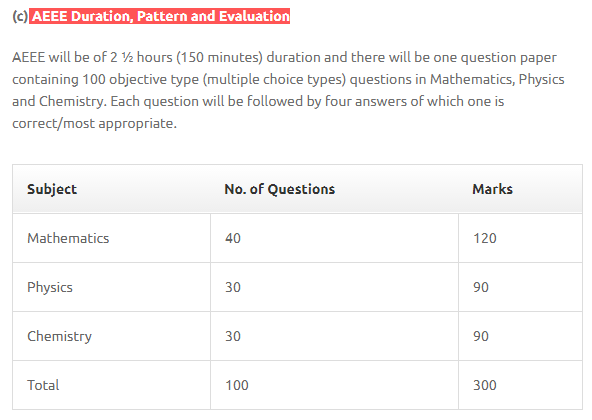 Slot Booking: In Addition to this, the University gives Applicants an opportunity to pick their slot, exam date, and examination centre.
AEEE Admit Card
The registered candidate can download the Hall ticket by logging in using the application number or email and DOB after the slot booking is over. The link for obtaining admit card can be found on the official website, a link for which will be provided here.  Further, the candidate should keep in mind that the Admit Card is an essential document. They have to report on the day of an exam with the admit card. Under no circumstances, will the candidate be allowed to write the exam without the admit card. Also, it will be required during the later stages of the admission process. Therefore, the candidates must retain it until the end of the counselling and admission process.
The AEEE 2019 Admit Card will be available after slot booking/selection process ends.
Amrita University Entrance Exam Question Paper
The sample question paper is available on AEEE, Amrita University Official Website.
AEEE Syllabus
AEEE syllabus 2019 contains the topics from three subjects, i.e. Mathematics, Physics and Chemistry. The syllabus will be based on Class 11th & Class 12th subjects. All the subjects cover various topics which are mentioned below:
Syllabus for Chemistry:
Alcohols, phenols and ethers
Aldehydes, ketones, carboxylic acids and amines
Atomic structure, chemical bonding and molecular structure
Basic concepts
Basic organic chemistry and techniques
Chemistry in everyday life
Co-ordination compounds
D, f – block elements
Electrochemistry, kinetics and surface chemistry
Environmental chemistry
Equilibrium and thermodynamics
Hydrocarbons, haloalkanes and haloarenes
Hydrogen
P – block elements
Polymers and biomolecules
S – block elements
Solid state and solutions
Syllabus for Mathematics
Binomial Theorem
Circles and Family of Circles
Complex Numbers
Conic Sections
Differential Calculus
Differential Equations
Integral Calculus
Linear Inequalities
Matrices and Determinants
Measures of Central Tendency and Dispersion
Permutations and Combination
 Probability
Quadratic Equations
Relations and Functions
Sequences and Series
The straight line and pair of straight lines
Three Dimensional Geometry
Trigonometry
Two Dimensional Geometry
Vector Algebra
Syllabus for Physics:
Electromagnetic induction and electromagnetic wave
Electrostatics, current electricity and magnetostatics
Heat and thermodynamics
Mechanics
Modern physics
Oscillations and waves
Ray and wave optics
Solids and fluids
Units and dimensions
Download AEEE B.Tech Syllabus PDF Here. AEEE B.Tech. Syllabus PDF
Amrita Engineering Examination Entrance Examination
University conducts Amrita Engineering Examination Entrance Examination in various cities and towns across India, to fill the seats in B.Tech courses in three engineering colleges.
Furthermore, the three engineering school campuses are in Bangalore, Coimbatore, and Amritapuri.
Amrita Vishwa Vidyapeetham is a premier engineering institute in the south region.  Also, Students with minimum cutoff marks can get the admission in this university.
Amrita Univerity NIRF Ranking
Amrita University, Coimbatore Ranked First Position among all the Private Education Institutions in India by NIRF ranking released by MHRD Government of India on 3rd April 2018.
As per NIRF, Amrita Vishwa Vidyapeetham is Top on the list of Private University Position in India in NIRF ranking for higher educational institutions under the University category in India released by the MHRD, Government of India (Ministry of Human Resource Development) on 3 April 2018.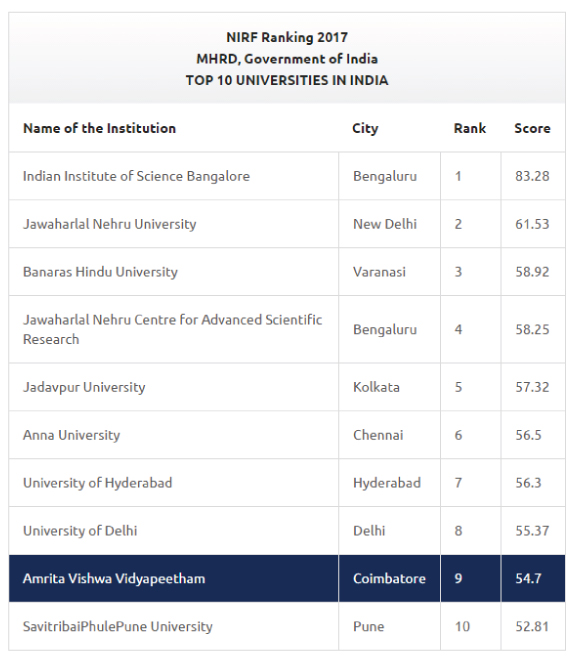 Amrita University Entrance Exam Result
The Amrita University will issue the result of the engineering entrance exam on their official site. And, the applicants will be able to check the results online at the University website. Further, candidates have to enter the 10-digit Registration ID Number and Date of Birth in the AEEE Result 2019 portal to view and download the result.
Also, the result contains the score of the candidate in the exam. And, the score is calculated according to the marking scheme of the entrance examination. Finally, the merit is calculated on the basis of the marks obtained by a candidate.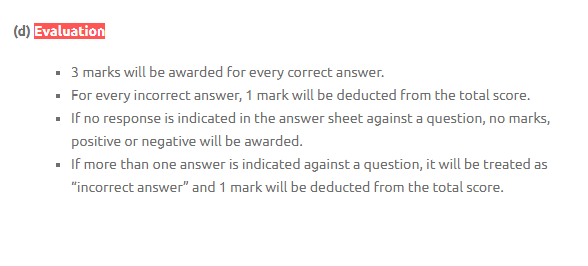 AEEE 2019 Highlights
| | |
| --- | --- |
| Name of Examination | Amrita University Engineering Entrance Examination |
| Commonly Known As | AEEE |
| Conducting Body | Amrita University |
| Examination Level | University Level |
| Category | Undergraduate Engineering Entrance Examination |
| Purpose of Exam | Admissions into Amrita University Engineering Courses |
| Mode of Examination | Online |
| Duration of Exam | 2 Hours 30 Minutes |
| Total Marks | 300 |
| Programs Offered In Amrita University | 207 |
| Campuses | 5 (Amaravati*, Amritapuri, Bengaluru, Chennai and Coimbatore) |
| CONSTITUENT SCHOOLS | 15 |
| GRADE BY NAAC, MHRD | A grade |
| NIRF 2018 RANK(INDIA) | 8th |
| INTERNATIONAL PARTNERS | 150+ |
Amrita University Official Web Links and Address
"Stay informed about Latest updates and feature articles regarding Amrita EEE 2019 on EntranceZone ".
amrita university b tech fee structure, aeee 2019 exam centres,  Amrita university scholarship Btech, amrita medical entrance exam 2019.

aeee 2019 exam centres, amrita entrance exam 2019 date, aeee full form.