AEEE 2020 Application Form has been started from 19 September 2019. Also, admissions will be offered to various B.Tech programs based on the JEE Main 2020 score. However, such candidates will also be exempted from appearing in AEEE 2020. Amrita University conducts AEEE (Amrita University Engineering Entrance Examination) for admission into its four years B.Tech programs. Moreover, on the basis of performance in AEEE 2020, candidates can get admission to any of its college campuses at Amritapuri (Kollam), Bengaluru, Ettimadai (Coimbatore), Vengal (Chennai), Amravati (AP).
All the important topics related to examination such as important dates, eligibility criteria, courses, application form, syllabus, counselling procedure, etc. are described in this article below.
Amrita Engineering Entrance Exam 2020 Updates
AEEE 2020 Application Form has been released on 19 September 2019. Click here> Application Form.
AEEE 2020 Exam Dates has been released by Amrita University. The exams will be conducted from 23 – 27 April 2020. Click here> Dates.
AEEE 2020 Application Form last date is announced, i.e 6 April 2020.
AEEE 2020 Exam Dates
AEEE 2020 Exam Dates are given below. Candidates go through this table to check all the relevant information related to AEEE 2020.
Check your JEE Main Eligibility Here. Join & Refer your Friends to Earn Paytm Cashback
Check Now & Refer
S. No.

Subscribe to Get Updated Information about AEEE 2020: Application Form (Started), Dates, Eligibility Criteria

​

Events

Important Dates

1.

Availability of Online AEEE Application Form 2020

19 September 2019

2.

Closing date for Online Application

31 March 2020

3.

Commencement of Slot Booking (for CBT)

06 April 2020

4.

Slot Booking closes (for CBT)

10 April 2020

5.
Last date of Application Form submission (For Pen Paper Test)
25 April 2020

6.

AEEE 2020 Date (For Computer Based Test)

23 – 27 April 2020

(3 Slots every day, Each of 2.5 Hours) 

7.

AEEE 2020 Date (For Pen & Paper Test)
02 May 2020

(10:00 AM – 12:30 PM)

8.

Commencement of Online Registration (For Seat Allocation)
05 May 2020

9.

AEEE 2020 Result Declaration

07 May 2020

10.

Verification of Documents

Last week of June 2020
*The following dates are only official. The dates may vary based on the dates of publication of CBSE, State Board and JEE Mains 2020 final rank list.
AEEE 2020 Application Form
Details regarding AEEE 2020 Application form is mentioned in the section hereby. Aspirants can go through the section below, for any clarification regarding upcoming application form.
AEEE 2020 Application Form has been available in both formats Online as well as Offline.
Application Form for AEEE 2020 has been released by Amrita University from 19 September 2019.
The last date for submission of  Application form for Online & Offline examination is 06 April 2020 & 25 April 2020 respectively.
Certainly, the Applicants can get the application form from any authorised office by Amrita University.
Finally, When an applicant is short-listed in the Amrita University Entrance Exam, they will be called for Counselling.
AEEE 2020 Application Fee
AEEE 2020 Application fee for candidates willing to take admission on the basis of different engineering exams are mentioned hereby:
| | |
| --- | --- |
| Examination Name | Fees |
| AEEE | Rs. 1000/- |
| JEE Mains | Rs. 300/- |
| AEEE & JEE | Rs. 1000/- |
How to Fill the AEEE 2020 Online Application Form?
Here, are the step to fill the application form. You need a valid Email ID and Mobile number to start the registration process:
Registration- Candidates must fill in their Name, Date of Birth, Gender, Email ID and mobile number to register.
Enter Academic, Personal, Family & Contact details– Candidates will have to fill required personal & educational details.
Select Examination & Exam Centres- Candidates will have to choose the mode of admission (JEE Main or AEEE). Also, select three exam cities to appear in AEEE 2020.
Upload Photo & Signature: Candidates are required to upload the scanned passport size photograph (3.5CM*4.5CM with file up to 200Kb) & signature in the specified dimensions.
Application Fee Payment: Candidates are required to pay the application fee of Rs. 1000/- (for AEEE candidates) and Rs. 300/- (for JEE Main). The fee payment can be made through Credit/Debit/Net Banking/cash card & e-Wallet.
Note: Computer-based test (CBT) will be conducted in multiple cities all over the country and it will be conducted in 3 slots from 23 – 27 April 2020. Whereas Pen & Paper Examination will be conducted in all major cities of Karnataka, Kerala and Tamil Nadu dates are 23 – 27 April 2020 from 10:00 AM to 12:30 PM.
AEEE Eligibility Criteria
AEEE 2020 Eligibility Criteria are given below for all sort of applicants and all the applicants must go through it to know about their eligibility:
Age Criteria:
Date of Birth  Applicants who are going to sit for the exam should be born on or after 01 July 1999. Those applicants, who were born before the mentioned date would not be permitted to appear in the exam.
Qualification Criteria:
Passing Marks: Applicants must have passed 10+2 (Class 12) or it's equivalent and secured minimum marks of 60% on average in Physics, Chemistry, and Mathematics (PCM) subjects and at least 55% in each subject separately.
Likewise, Candidates who are appearing for above examination in March / April 2020, are also eligible to apply. However, they will need to submit their mark sheet at the time of admission as proof of obtaining the minimum required marks.
Diploma Holders: Applicants with a three-year diploma in Engineering, from State Board of Technical Education or its equivalent, with no less than 60% of aggregate marks, will be eligible for the counselling.
Management quota: For management quota, minimum aggregate to be eligible to apply for AEEE 2020 is 80% in PCM.
Moreover, Valid JEE Main 2020 scores.
Note: Before filling the application form, the candidates must check for the fulfilment of the eligibility criteria for the Amrita University Entrance Test as the application fee is non-refundable and the ineligible applicants would not get admission under any circumstances.
AEEE 2020 Exam Pattern
AEEE Exam Pattern 2020 is mentioned below:
Mode of Examination: The exam is conducted in both online and offline modes.
Duration of Exam: 2 hours 30 minutes.
Number of Questions: The total number of questions is 100 (40 from Maths and 30 each from Physics and Chemistry).
Type of Questions: the question will be of objective type (multiple choice questions).
Subjects: Physics, Chemistry, Mathematics (PCM).
Marking Scheme: Correct answer will carry 3 marks each.
Negative Marking: 1 mark will be deducted for the wrong answer.
| | | |
| --- | --- | --- |
| Subject | No. of Questions | Marks |
| Mathematics | 40 | 40 x 3 = 120 |
| Chemistry | 30 | 30 x 3 = 90 |
| Physics | 30 | 30 x 3 = 90 |
| Total  | 100 | 300  |
Note: Candidates should mark an answer, if and only, they are certain about the right answer. 3 Marks will be allotted for every right answer. 1 mark will be deducted for every wrong answer. Randomly guessing the answer might result in substantial negative marking. No response is indicated as no marks for the question. However, more than one answer to a single question is evaluated as an incorrect answer and 1 mark will be deducted from the total score.
AEEE 2020 Admit Card
AEEE 2020 Admit Card will be available before one week of the Examination. The registered candidate can download the Hall ticket by logging in using the application number or email and DOB after the slot booking is over. The link for obtaining the admit card can be found on the official website, a link for which will be provided here. Further, the candidate should keep in mind that the Admit Card is an essential document. They have to report on the day of an exam with the admit card. Under no circumstances, will the candidate be allowed to write the exam without the admit card. Also, it will be required in the later admission process. Therefore, the candidates must retain it until the end of the counselling and admission process.
The AEEE 2020 Admit Card will be available after the Slot Booking/Selection process ends.
Amrita University Entrance Exam Question Paper: The sample question paper is available on AEEE, Amrita University Official Website.
AEEE Sample Papers
| AEEE Sample Paper | Download Link Here |
| --- | --- |
| Sample Paper 1 | Click Here to download |
| 2009 Question Paper | Click Here to download |
| 2015 (Code A) Question Paper | Click Here to download |
| 2015 (Code D) Question Paper | Click Here to download |
Slot Booking
The University gives Applicants an opportunity to pick their slot, exam date, and examination centre. Slot booking will be started from 06 – 10 April 2020 (For CBT). CBT will be conducted 3-time slots per day in multiple cities.
How to book for online AEEE 2020 slot?
To book a slot, registered candidates must follow the link provided in the University website and follow the instructions as listed below:
Candidates can log in by providing their application number and date of birth.
Candidates are required to select their test slots and date as per their convenience.
After selection, click on "Continue". In case of error, candidates are advised not to click on 'back' button. Instead, close the window and log in again.
Once the slot is booked, it will not be changed under any circumstances. Request to change the test centres will also be not entertained by the Authorities. Therefore, candidates are advised to make their selection wisely.
Slot Booking for Offline Mode (P&P)
A single slot will be given to the candidates who have selected the offline mode (P&P) of examination. Candidates will be required to choose two test centres and will be allotted with the first preference. After successful allotment of the test centres, candidates will be able to download the hall ticket.
AEEE Syllabus 2020
AEEE syllabus 2020 contains the topics from three subjects, i.e. Mathematics, Physics and Chemistry. Download AEEE B.Tech. Syllabus PDF. The syllabus will be based on Class 11th & Class 12th subjects. All the subjects cover various topics which are mentioned below:

Syllabus for Chemistry:
Basic Chemical calculations
Atomic structure & periodicity
Chemical bonding
S-block & hydrogen
P-blocks elements
d & f block elements
Solid-state
Coordination compounds
Gaseous State & Surface chemistry
Colligative properties
Electrochemistry
Thermodynamics
Chemical and Ionic Equilibria
Chemical kinetics
Basic Organic chemistry
Hydrocarbons & Polymers
Organic halogen compounds
Stereochemistry and Organic nitrogen compounds
Organic functional groups – hydroxyl, carbonyl compounds and ethers
Biomolecules and Environmental chemistry
Syllabus for Mathematics:
Complex Numbers
Permutations and Combinations
Binomial Theorem
Matrices and Determinants
Quadratic Equations
Trigonometry
Measures of Central Tendency and Dispersion
Probability
Differential Calculus
Integral Calculus
Differential Equations
Two Dimensional Geometry
The straight line and a pair of straight lines
Circles and family of circles
Conic sections
Vector Algebra
Three Dimensional Geometry
Syllabus for Physics:
Units and dimensions
Mechanics
Solids and Fluids
Oscillations and Waves
Heat and Thermodynamics
Electrostatics, Current Electricity and Magnetostatics
Electromagnetic Induction and Electromagnetic Waves
Ray and Wave Optics
Modern Physics
Amrita University Entrance Exam Result
Amrita University will declare the result of the Engineering Entrance Examination on its official website. Applicants can check the results online on the University website. Further, candidates have to enter the 10-digit Registration Number and Date of Birth in the AEEE Result 2020 portal to view and download the result. The result will be announced on 7 May 2020.
Also, the result contains the score of the candidate in the exam. And, the score is calculated according to the marking scheme of the entrance examination. Finally, the merit is calculated on the basis of the marks obtained by a candidate.
AEEE Cut-off 2017
Amrita School of Engineering, Amritapuri
Branch
Last Rank 
Open Quota
State Quota
Computer Science and Engineering
6940
16547
Electronics and Communication Engineering
5696
19408
Electrical and Electronics Engineering
6991
19969
Mechanical Engineering
6944
17642
Amrita School of Engineering, Coimbatore
| | | |
| --- | --- | --- |
| Engineering Branch | Open (All India Rank) | State Rank |
| Aerospace Engineering | 5374 | 19892 |
| Civil Engineering | 6981 | 19971 |
| Chemical Engineering | 7890 | 19678 |
| Computer Science Engineering | 1813 | 13801 |
| Electronics & Communication Engineering | 2747 | 16407 |
| Electrical & Electronics Engineering | 4051 | 19433 |
| Electronics & Instrumentation Engineering | 6781 | 19822 |
| Mechanical Engineering | 3217 | 17313 |
Amrita School of Engineering Bangalore
Branch
Last Rank 
Open
State
Computer Science and Engineering (CSE)
6767
10354
Electronics and Communication Engineering
6998
15582
Electrical and Electronics Engineering
6586
19271
Electrical and Instrumentation Engineering
6969
19650
Mechanical Engineering
5814
18185
AEEE Counselling 2020 – Amrita University
AEEE 2020 B.Tech. Counselling 2020 Seat Availability Status is updated by Amrita University and given below.
Registration for AEEE Counselling 2020 will be starting from 05 May 2020. Trial Allotment, clarification of doubts, etc. This is for both the modes – AEEE and JEE.
There is a total of 4 stages of seat allotment during the counselling process.
The last date to pay the fee for candidates satisfied with the first allotment is 2nd week of  May 2020.
Finally, the authority will inform the successful candidates about the venue, counselling schedule and other important information about the admission process.
B.Tech. Counselling 2020 Seat Availability Status

AEEE Rank List 2020
The Amrita University will publish the Rank list after the declaration of result on the basis of marks scored by candidates in the Entrance Examination. The rank list will be published by the University on 7 May 2020. The AEEE Rank List or Merit List is based for the counselling call and allotment of seats.
Amrita Engineering Entrance Examination
Amrita University conducts Amrita Engineering Examination Entrance Examination in various cities and towns across India, to fill the seats in B.Tech courses in three engineering colleges. Similarly, The three engineering school campuses are in Bangalore, Coimbatore, and Amritapuri. Amrita Vishwa Vidyapeetham is a premier engineering institute in the south region. However, Students with minimum cutoff marks can get admission in this university.
Courses Option at Amrita University Campuses
| | | | | |
| --- | --- | --- | --- | --- |
| Course (Engineering) | COIMBATORE | AMRITAPURI | BANGALORE | CHENNAI (Proposed) |
| AEROSPACE | YES | NO | NO | NO |
| Chemical | YES | NO | NO | NO |
| CIVIL | YES | NO | NO | YES |
| COMPUTER SCIENCE | YES | YES | YES | YES |
| ELECTRICAL & ELECTRONICS | YES | YES | YES | YES |
| ELECTRONICS & COMMUNICATION | YES | YES | YES | YES |
| Electronic & INSTRUMENTATION | YES | NO | YES | NO |
| Mechanical | YES | YES | YES | YES |
Amrita University B.Tech Fee Structure

AMRITAPURI

BENGALURU

COIMBATORE

Scholarship

Scholarship Seats
Fees
Scholarship Seats
Fees
Scholarship Seats
Fees
    90%

27

24,000

27

26,000

51

30,000

    75%

27

60,000

27

65,000

51

75,000

    50%

54

1,20,000

54

1,30,000

102

1,50,000

Fee for remaining seats

351

2,40,000

351

2,60,000

663

3,00,000

*Fee to be paid annually
AEEE 2020 Exam Centres
States and Union Territories with Code Number

State

City

City Code

Mode of Exam (CBT/P&P)

39

Andaman & Nicobar Island

Port Blair

01

CBT

10

Andhra Pradesh

Anantapur

02

CBT

Guntur

03

CBT

Kakinada

04

CBT

Kurnool

05

CBT

Nellore

06

CBT

Tadepalligudem

07

CBT

Tirupati

08

CBT

Vijayawada

09

CBT

Visakhapatnam

10

CBT

12

Assam

Guwahati

11

CBT

13

Bihar

Patna

12

CBT

Muzaffarpur

13

CBT

40

Chandigarh

Chandigarh

14

CBT

14

Chhattisgarh

Bhilai

15

CBT

Raipur

16

CBT

43

Delhi

Delhi

17

CBT

15

Goa

Goa (Panaji)

18

CBT

16

Gujarat

Ahmedabad

19

CBT

Rajkot

20

CBT

Surat

21

CBT

Vadodara

22

CBT

17

Haryana

Gurgaon

23

CBT

Hisar

24

CBT

18

Himachal Pradesh

Shimla

25

CBT

20

Jharkhand

Dhanb

Heading 2

Styles

Font Family

Font Size

ad

26

CBT

Jamshedpur

27

CBT

Ranchi

28

CBT

21

Karnataka

Bengaluru

29

CBT

Davangere

30

Hubli

31

CBT

Mangalore

32

CBT

Mysore

33

CBT

Raichur

34

Shimoga

35

Udupi

36

22

Kerala

Alappuzha

37

Amritapuri

38

CBT

Kalpetta

39

Kannur

40

CBT

Kasaragod

41

Kochi

42

CBT

Kollam

43

Kottayam

44

CBT

Kozhikode

45

CBT

Malappuram

46

Palakkad

47

CBT

Pathanamthitta

48

Thiruvananthapuram

49

CBT

Thodupuzha

50

Thrissur

51

CBT

23

Madhya Pradesh

Bhopal

52

CBT

Gwalior

53

CBT

Indore

54

CBT

Jabalpur

55

CBT

24

Maharashtra

Aurangabad

56

CBT

Mumbai

57

CBT

Nagpur

58

CBT

Nasik

59

CBT

Pune

60

CBT

Thane

61

CBT

29

Odisha

Bhubaneshwar

62

CBT

30

Punjab

Amritsar

63

CBT

31

Rajasthan

Jaipur

64

CBT

Jodhpur

65

CBT

Kota

66

CBT

Udaipur

67

CBT

33

Tamil Nadu

Chennai

68

CBT

P&P

Coimbatore

69

CBT

P&P

Cuddalore

70

P&P

Dindigul

71

P&P

Erode

72

CBT

P&P

Hosur

73

CBT

P&P

Karur

74

P&P

Kancheepuram

75

CBT

Madurai

76

CBT

P&P

Nagercoil

77

CBT

 P&P

Namakkal

78

CBT

P&P

Ooty

79

CBT

Pollachi

80

CBT

Puducherry

81

CBT

Pudukkottai

82

P&P

Salem

83

CBT

P&P

Thanjavur

84

CBT

P&P

Thiruvannamalai

85

CBT

Tirunelveli

86

CBT

Tiruppur

87

Trichy

88

CBT

Tuticorin

89

P&P

Vellore

90

P&P

34

Telangana

Hyderabad

91

CBT

Khammam

92

CBT

Warangal

93

CBT

36

Uttar Pradesh

Agra

94

CBT

Allahabad

95

CBT

Kanpur

96

CBT

Lucknow

97

CBT

Noida

98

CBT

Varanasi

99

CBT

37

Uttarakhand

Dehradun

100

CBT

38

West Bengal

Durgapur

101

CBT

Kolkata

102

CBT

Total

84

39
Amrita University NIRF Ranking
Amrita University, Coimbatore Ranked First Position among all the Private Education Institutions in India by NIRF ranking released by MHRD Government of India on 3rd April 2018.
As per NIRF, Amrita Vishwa Vidyapeetham is Top on the list of Private University Position in India in NIRF ranking for higher educational institutions under the University category in India released by the MHRD, Government of India (Ministry of Human Resource Development) on 3 April 2018.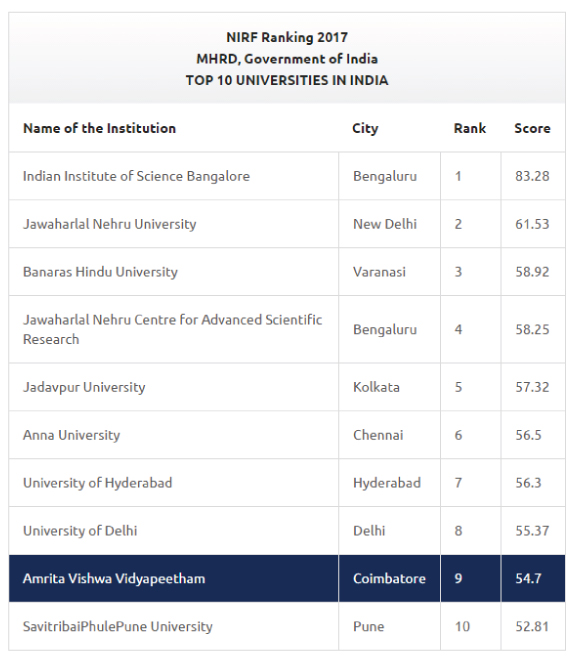 Amrita University Engineering Admission Procedure
Amrita Entrance Examination – Engineering 2020 (will be conducted at 90+ centres across India)
JEE Mains (January & April Session).
How to Apply for B.Tech. Admissions at Amrita University Engineering Entrance Exam 2020?
Following are the Amrita University Engineering Admission Step by Step Process:
To apply for AEEE 2020, Candidates should register for AEEE 2020. The Application form is available in Online mode only.
Offline forms are available at pan India at various sales outlets. Whereas, AIEEE Online form can be filled via the University official website.
The Application Fee is non-refundable.
There is no relaxation in form fee for SC / ST / OBC / PH.
Amrita University Official Web Links and Address
Amrita Vishwa Vidyapeetham Highlights
Amrita University also known as Amrita Vishwa Vidyapeetham is a multi-disciplinary, research-intensive University spread over different cities of India. Basic details about the AEEE are given below:
| | |
| --- | --- |
| Name of Examination | Amrita University Engineering Entrance Examination |
| Commonly Known As | AEEE |
| Conducting Body | Amrita University |
| Examination Level | University Level |
| Category | Undergraduate Engineering Entrance Examination |
| Purpose of Exam | Admissions into Amrita University Engineering Courses |
| Mode of Examination | Online and Offline Mode |
| Duration of Exam | 2 Hours 30 Minutes |
| Total Marks | 300 |
| Programs Offered In Amrita University | 207 |
| Campuses | 5 (Amaravati*, Amritapuri, Bengaluru, Chennai and Coimbatore) |
| Constituent Schools | 15 |
| GRADE BY NAAC, MHRD | A grade |
| NIRF 2018 Rank(INDIA) | 8th |
| International Partners | 150+ |
| Campuses Location: | Amritapuri (Kollam), Bengaluru, Ettimadai (Coimbatore), Vengal (Chennai), Amravati (AP) |
| Placement: | 95.32% Students of 2018 Batch are Placed (as per university website) |
| Amrita University Website: | www.amrita.edu |
Advantages at Amrita School of Engineering
The Amrita School of Engineering Ranking & Accreditation are as follows:

EXCELLENT PLACEMENT RECORD
Highest Salary Rs. 29.63 LPA.
Average Salary Rs. 4.8 LPA.
Highest Internship Rs. 1 LPM.

"Stay informed about Latest updates and feature articles regarding Amrita EEE 2020 on EntranceZone ".
aeee 2020 registration, aeee exam 2020, amrita engineering entrance exam 2018, amrita entrance exam 2020 application form, amrita application form 2020.