AMUEEE 2020 Application Form will be available in the last week of January 2020. Aligarh Muslim University will conduct the AMUEEE 2020 to enrol candidates to its B.Tech and various other courses in the mid of May. Furthermore, Candidates can access the official website from this article also. First and foremost, filling the application form for any examination is the main step to register for an exam. Candidates should fill every application form with the utmost care in order to get permission to sit for the examination. Moreover, the Aligarh Muslim University Engineering Entrance Examination is for students seeking admission in B.Tech Branches at University. The university recently released the revised date sheets for admission test and links are available below.
Upcoming Application Form
CBSE 10th & 12th Board Dates Apply Now
Application forms of engineering entrance examination 2020 for Aligarh Muslim University will be available soon.
AMUEEE 2020 Application Form Dates
S. No

Check your JEE Main Eligibility Here. Join & Refer your Freind to Earn Paytm Cashback

Check Now & Refer

Event

Date (Tentative)

1.

AMUEEE 2020 Application Form Start Date

Last week of January 2020

2.

Last Date for Submission of AMUEEE 2020 Application Form

First week of March 2020

3.

AMUEEE 2020 Application Form Fee Last Date

First week of  March 2020
AMUEEE 2020 Application Form
Candidates should take note of that the online forms will be available on the official exam portal. Moreover, offline forms will be available after downloading it from the website.
Candidates must first fill the application form online on the official website by giving details like Name, Parent's name, Course, Email ID, Date of Birth, Gender, Mobile no., etc

.

The candidate will get all the login details provided by him / her during submission of AMUEEE 2020 form on the Email ID

.

The applicant can submit the fees in any mode. The application fees for B.tech is Rs. 600/- while for B.Arch is Rs. 700/-.
Online mode: Credit or Debit Card or Net Banking
Offline mode: Through Bank Challan
Then the candidates may proceed to the submission of the examination form of AMUEEE 2020 after giving all the payment details online.

As a proof, every candidate will get a unique application number which will be very important from the exam's point of view

.

Moreover, any query

regarding

the examination procedure may get answered to the candidate by using this unique code with the university as an interacting tool

.

accordingly, it is essential

to take out the print copy of the application form which they have filled online as it will be an important document

.
Important Information Regarding AMU, Aligarh
Brief information about AMUEEE is mention below.
Examination Regulating Body: Aligarh Muslim University
Entrance Exam Name: Aligarh Muslim University Engineering Entrance Exam
Commonly known as AMUEEE
Exam Category: University Level
University Admission Test Dates: AMU Revised Schedule Admission 2020 -21.
How to Apply for Aligarh Muslim University AMUEEE 2020 and General Admissions?
The steps to fill the AMUEEE 2020 Application Form is given here.
Search for the official website of the Office of the Examination Controller of Aligarh Muslim University.
However, on admissions link and click on "General Admissions 2020".
Also, candidates are advised to go through the guide to admission before applying for any course.
Now click on "Application Forms – Test Courses" and choose your course.
Finally, Aligarh Muslim University Online Application System Processing System will get open.
Read the instructions to fill out the form.
And click on register (new user) to start the new form.
Official Link to Apply via Aligarh Muslim University Online Application System Processing System – Click Here.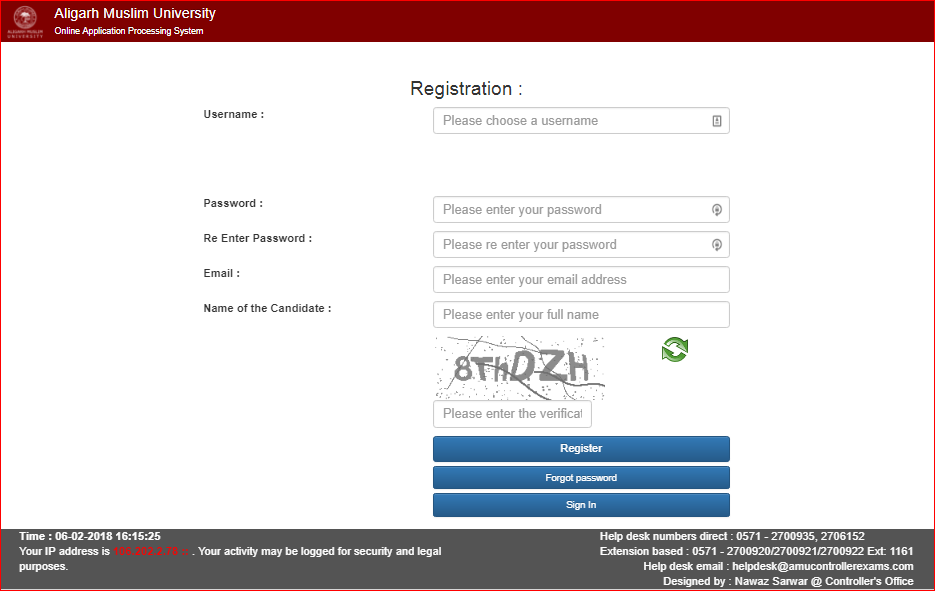 AMU B.Tech Application Form 2020
Candidates must ensure that they fill correct details on the application form. Accordingly, they should check it carefully before the final submission. Further, these contents will appear on the admit card of the candidate which is another very important document. Therefore, applicants should take note of the correct dates about all the events of the examination.
The exam will take place in May now instead of April 2020. Most of the questions asked in the exam will be from class XII Physics, Maths and Chemistry topics. Find all other Exam details here.
List of Courses Available at AMU University
The list of courses under entrance examination is mention here.
S.No.
Course
1.
B.Sc. (Hons.)
2.
B. Com. (Hons.)
3.
B.A. (Hons.)
4.
B.A. (Hons.)Foreign Languages
5.
Dip. in General Nursing & Midwifery
6.
Diploma Courses through CET
7.
S.S.S.C. (Science Stream)/ Diploma in Engg.
8.
S.S.S.C (Humanities & Commerce Streams)
9.
B. Tech.
10.
B.Tech. / B. Arch
11.
M.B.A. / M.B.A.(I.B.)/
P.G. Dip. In Islamic Banking & Finance
12.
B. Ed.
13.
B.A.LL.B.
14.
M.F.M./ M.T.T.A.
15.
M.Sc. (Biotechnology)
16.
M.C.A
17.
B.E. (Evening)
18.
M.A. (Mass Communication)
19.
B.Lib.I.Sc
20.
M.S.W
21.
Pre-Tib
22.
B.U.M.S
Guidelines to fill the Application form of AMUEEE 2020
1. Read all the instruction prior to filling the form.
2. Fill the form in neat and clean writing.
3. Stay up to date with the college updates.
4. Contact the person-in-charge in case of any confusion.
Stay tuned to Entrancezone for any updates on AMUEEE application form.
Refer AMUEEE 2020 Admit card here.
the official website for amueee application, amu application form 2019, amueee 2018 application form, amueee official website, amu form 2019, amueee 2019 registration, amu btech application form 2019.
List of Engineering Entrance Examination 2020