OJEE 2020 or ODISHA JEE Application Form will be commencing from January 2020. OJEE is regulated by an ACT passed in 2007 for Admission and Fixation of Fee in Professional Educational Institutes. Subject to provisions of this Act, admission in all technical and private professional educational institutions, Government institutions and sponsored institutions to all seats, will be made through OJEE conducted by the Policy Planning Body and Counselling for eligible students on strictly based on merit basis as recommended by the Government of Odisha with the provisions of OPEI (RA&FF) Act 2007.
OJEE 2020 Exam Schedule
Odisha Joint Entrance Examination is admission Entrance Test for B. Tech, B. Pharmacy, M. Pharmacy, MBA, MCA, M. Tech, M. Plan and Integrated MBA courses. As per the official's OJEE examination schedule will be announced by the OJEE for 2020 session. Odisha Joint Entrance Examination(OJEE) is conducted twice in a year, May and July respectively. This year Government has decided to conduct only counselling based on candidate's marks scored in JEE Main instead of conducting its own entrance exam. And the specific notification regarding this is published by chairman OJEE. The notification is attached below.
A tentative schedule for Odisha Joint Entrance Examination is provided here. It is for the purpose of giving a reference to the candidates. Official dates are yet to be announced by the OJEE Board.
Check your JEE Main Eligibility Here. Join & Refer your Friends to Earn Paytm Cashback
Check Now & Refer
| | |
| --- | --- |
| Events | Dates (Tentative) |
| Application form Available | 30 January 2020 |
| Application form last date | 05 April 2020 |
| Application Fee last date | 10 April 2020 |
| Admit card date | 26 April 2020 |
| Exam Date (PBT) | 18 May 2020 |
| Exam Date (CBT) | 08 – 09 June 2020 |
| Declaration of result | 19 June 2020 |
| Counselling | 21 June – 03 August 2020 |
OJEE 2020 Important Changes
Candidates should keep in mind the following changes in OJEE 2020.
Subscribe to Get Updated Information about OJEE 2020 Odisha JEE: Exam Dates, Application Form, Eligibility
​
Admissions in the first-year (B.Tech) will be done through JEE Main 2020. And Admissions in the first-year MBBS/BDS will be done through NEET 2020.
OJEE will be conducted twice, First OJEE on 12 May (second Sunday) and Second or special OJEE in the month of July (preferably on third Sunday).
The Odisha Private Engineering Colleges Association requested Chief Minister Naveen Patnaik to look into the matter of conducting Odisha Joint Entrance Examination instead of taking part in the JEE Main.
As per telegraph "More than 31,000 engineering seats were lying vacant last year across the state even after hosting the special Odisha Joint Entrance Examination.
And Less than 50,000 candidates from the state have registered for the Joint Entrance Examination (Main) this year."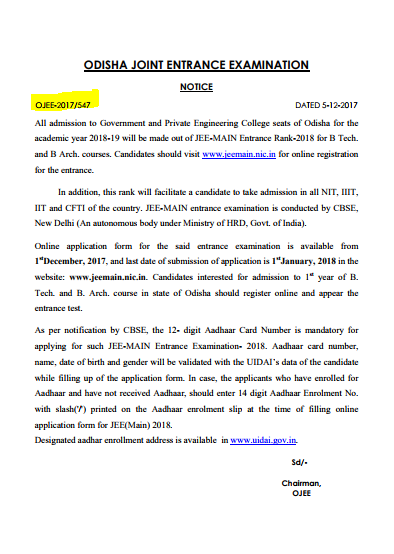 OJEE 2020 Application Guidelines
The details provided by the candidates should be original and authentic while filling up the Online Form. On submission of the form, A 10 digit Registration Number shall be generated for future reference.
Candidate must fill the particulars online and also upload their photograph, also their left thumb impression and full Signature.
Candidates should not send a hard copy of the application. However, the candidates should keep safe the copy of the application and payment details for future reference or correspondence, if any.
There will be no provision for corrections of mistakes in the Application Form. Hence candidates should fill the application form with utmost care.
OJEE 2020 Application Form – Fee Of various Courses
Application Fee & Payment for various courses:
| | |
| --- | --- |
| Courses | Amount |
| BAMS & BHMS/Pharmacy | Rs 1000/- |
| Lateral Entry (Engineering/Pharma) | Rs 1000/- |
| MBA / MCA Lateral Entry | Rs 1000/- |
| M.Tech/M.Arch/M.Pharma | Rs 1000/- |
| MBA + MCA, MBA + Lateral Entry-MCA, MBA + PGAT | Rs 1500/- |
| Integrated MBA | Rs 1000/- |
Candidates have to pay Rs.1000/-registration fee for Form- A, B, C, D, F and RS.1500/- for form-E candidates.

A candidate can apply only once.

Candidates can make the payment through various online methods Net Banking/Credit/ Debit card or manually through Bank challan in SBI.
Visit Application Form for OJEE page here.
| | | |
| --- | --- | --- |
| Form | Eligibility | Course |
| Form-A | 10+2 Science | BAMS/BHMS/Pharmacy. |
| Form-B | Diploma | Lateral Entry B.Tech/B.Pharma |
| Form-C | Graduation | MBA/MCA/MBA |
| Form-D | Graduation* | M.TECH/M.Pharma/M.Plan./M.Arch |
| Form-E | Graduation | MBA&MCA/MBA&MCA (LE) |
| Form-F | Graduation | 5 years Integrated MBA |
Eligibility Criteria for OJEE 2020
Educational qualifications:
Candidates need to have a given percentage of aggregate marks in the qualifying examination in order to be eligible for OJEE 2020.
Program

Subject Combination

%age of Marks

General

SC/ST Category

B.Tech/B.Pharma/B.Plan

10+2 (Physics, Chemistry, Maths

(Physics, Chemistry,/Biology)

45%

40 %

B.Tech/B.Pharma (LE)

Diploma

45%

40%

MBA/MCA

Graduation any discipline

50%

45%

5years Integrated MBA

10+2

45%

40%
Other Eligibility for appearing in Odisha JEE:
Domicile: Students should have a domicile of Odisha state.
Age limit: Candidates should have completed the age of 17 years as on 31 December 2020 for admission in the first year of BAMS/BHMS course.
Note: In case if anyone produces or submit forged documents or furnish wrong information in the application form will not grant any seat in the college despite acquiring the cut-off in OJEE 2020.
Time Table For Examination Date
The tentative timetable for  OJEE 2020 ODISHA JEE examination day is published by exam conducting authority.
Date
Time
1st Shift
2nd Shift (2. PM to 4. PM)
12 May 2020
9 AM TO 12 Noon
1.Test for 1st
year
Pharmacy
and
BAMS/BHMS
1.Test for MBA.
2.Test for Lateral
Entry(2nd Year)
Diploma holder
to Engineering
and Technology

9 AM TO 10 AM

1.Test for B Sc.
(+3 Sc.) Lateral
Entry to
Engineering
(2nd year).
2.Test for
LE (PHARMA)
3. Test for
M PHARM
4.Test for
Integrated MBA
(5 years)
5. Test for
M PLAN
9.00 AM to 11.00 AM
1.Test for 1st year MCA
2.Test for Lateral Entry
(2nd Year) to MCA.
3.Test for PGAT (Post
Graduate Admission
Test) for M.Tech / M.
Tech (Part-Time)/
M.Arch-M
Arch(Executive)
July 2020
Special OJEE
OJEE 2020 Exam Pattern – ODISHA JEE
The brief of the Paper pattern for Odisha Joint Entrance Examination is mentioned below:
Examination Mode: OJEE is pen and paper based examination.
Type of Questions: Multiple choice questions, There will be four options for each question, out of which only one option is correct.
Marking Scheme: 

There is Negative Marking.

 Candidates will get 4 Marks for each correct answer. If he/she gives an incorrect response, he/she will lose one mark from the total score.
Duration: The exam duration will be 1 hour or 2 hours varies from course to course.
And read more detailed about Exam Pattern here.
OJEE Syllabus 2020
The basic subjects included in the UG courses exam are physics, chemistry, mathematics, biology.
For MBA, the syllabus will be comprised of Verbal & analytical reasoning, comprehension, GK, etc.
Candidates can study as per the syllabus prescribed by the Official Authority for which they have applied
OJEE 2020 Admit Card
OJEE 2020 ODISHA JEE Admit card will be available to download from 26 April 2020.
Candidates should keep extra copies of Admit Card for future references.
They should verify the following details:

Name
Email ID
Date of Birth
Enrolment Number
Test Centre
Date of Examination
OJEE 2020 Result ODISHA JEE
OJEE 2020 ODISHA JEE Result will be released on 19 June 2020.
Conducting Authorities releases the merit list on the basis of candidate's marks in the Entrance Test.
There will be a different merit list for different courses.
Candidates can download their rank card through the official website of OJEE.
Read more updated information about Results here.
ODISHA JEE 2020 Counselling
The OJEE 2020 ODISHA JEE will conduct web-based counselling, also known as ODISHA JEE counselling for admission to various courses in Odisha state.
OJEE 2020 counselling will be started from 21 June 2020.
To appear in counselling, a candidate must pay a non-refundable counselling fee of OJEE 2020 of Rs. 450/-.
Reservation of Seats under Various Categories
Applicants can get entire details regarding Seats Reservation of OJEE 2020 from below table:
| | | |
| --- | --- | --- |
| S. No | Category | Seats Reservation |
| 1. | Schedule Caste | 8% |
| 2. | Green Card Holder of Odisha | 5% |
| 3. | Physically Challenged or Person with Disability candidates | 3% |
| 4. | Children/wards of ex-servicemen who are native of Odisha state | 3% |
| 5. | Women Candidate | 30% |
| 6. | Tuition Fee Waiver Scheme | 5 % |
Stay tuned to get updates from EntranceZone about OJEE 2020 ODISHA JEE and other such exams.
Official Information Brochure will be available to download from the website and here also at this page.
ojee 2020 apply online, ojee 2020 last date, ojee 2020 syllabus, ojee 2020 lateral entry .