BITSAT 2018 Admission offers (2nd round) has been released on 30 June 2018. BITSAT Important dates and deadlines for Admission in Integrated First Degree Programmes during Academic Year 2018-2019 is given below. BITSAT 2018 is conducted by Birla Institute of Technology & Science on 16-31 May. Birla Institute of Technology & Science Admission Test, commonly known as BITSAT 2018 is a university level exam. Also, aspirants for various Engineering Courses at Undergraduate Level can apply for BITSAT 2018. They should carefully check the Eligibility Criteria before filling the Application Form. Further, online Application Forms will be open on the official website from 19 December 2017. Moreover, candidates can visit the official website of BITSAT Admission (link is given below). Finally, the Candidates need to update the 12th class marks & preferences to degree programs between May to 30 June. This article will give proper insight regarding how to fill the application form and all other relevant information. Birla Institute of Technology and Science, Pilani is a Deemed University. Also, declared by UGC Act's 3rd section. So, BITSAT 2018 is the National level examination of Birla Institute of Technology and Science.
BITS Pilani Admission Test Latest Update
BITSAT 2018 Admission offers (2nd round) is releasing on 30 June 2018.
Cut-off for admission to any programs at the end of Iteration I and Wait List cut-off for admission to any programs at the end of Iteration I is released.
"BITSAT-2018 Slot booking is now enabled. Registered candidates may reserve the test date and slot on a First Come First Serve basis."
Test centres for BITSAT Online Test – 2018  have been allotted to Registered candidates. check your centre allotment on the official link given below.
The online application form and editing options are closed at 5:00 PM on 19th March 2018.
BITSAT-2018 centre addresses are now announced. Registered students may check the centre addresses given below.
BITSAT 2018 Important Dates
These are important dates related to BITS Pilani Admission test. Also, BITs is going to release the application form on 19th December 2017.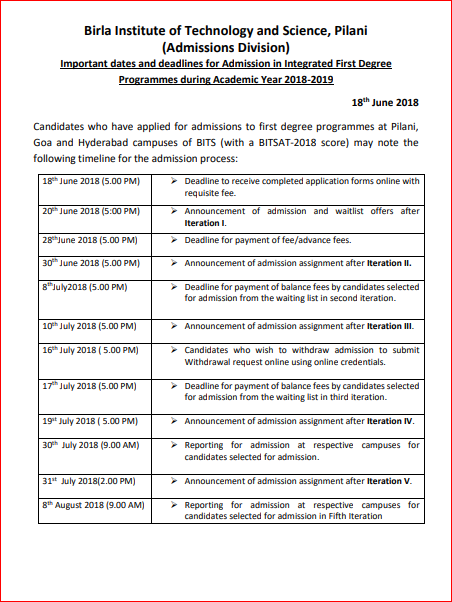 | | | |
| --- | --- | --- |
| S.No. | Events | Dates |
| 1. | Online Registration open | 19 December 2017 |
| 2. | Last date of Registration | 19 March 2018 (before 5 pm) |
| 3. | Change or Edit in Application form | 14-18 March 2018 |
| 4. | Test centre allotment | 21 March 2018 |
| 5. | Reserving the test date and slot booking | 23 March to 05 April 2018 |
| 6. | Admit card downloading | 12 April to 10 May 2018 |
| 7. | BITSAT Online tests | 16-31 May 2018 |
| 8. | 12th marks & preference Updation | 01 May to 18 June 2018 |
| 9. | Admission List and waiting list | 20 June 2018 |
BITSAT Score Analysis
| Number of Candidate with Score Higher than | BITSAT-2016 | BITSAT-2017 | BITSAT-2018 |
| --- | --- | --- | --- |
| > 400 | 304 | 381 | 280 |
| > 350 | 2319 | 2773 | 2044 |
| > 300 | 8789 | 9290 | 7488 |
| > 250 | 22441 | 23458 | 19746 |
| > 225 | 32565 | 33633 | 29079 |
BITSAT 2018 Counselling Process, BITSAT Admission 2018
Given below are the details of the counselling sessions of the BITSAT 2018.
After 4th Iteration, Candidates will have to visit the University for final counselling.
Dates for the first iteration will be in July 2018.  Candidates can frequently visit the official website for more details about dates.
Aspirants will have to report to their allotted Campus.
Candidates can lock their preferred allotted subject. They can reject this and keep themselves available for future up-gradations as well (this will be possible if a candidate who has a better rank will reject his/her seat).
Students will have to submit his/her documents. It is mandatory that all the students should verify their documents. 
One more round of up-gradation will occur after the counselling. This round will not be for wait-list candidates.
BITSAT Admit Card
It is very important to download the admit card and carry it to the exam centre and the counselling sessions. Failing to do so will lead to the rejection of the candidate.
Firstly, the admit card or the hall ticket is available on the website from 12 April to 10 May 2018.
Then, applicants need to login to download and print the admit card.
Then, the candidates must verify the details printed on it and follow the instructions given.
Further, an admit card or hall ticket usually contains important information. Such as address of the test centre, date and time of examination and candidates roll number.
Hence the candidate must keep a photocopy of the same and shall not, in any case, lose the document.
How to fill BITSAT 2018 Application Form online?
The steps to download BITSAT 2018 Application form is mention here. One should follow the given steps to not make mistakes while filling the form.
Firstly, the BITSAT Application Form will be available on the bitsat official website from 19 December 2017.
Then, candidates will have to visit the official website of BITSAT and click on Apply Online.
Also, students first need to register online to be able to view the application form and fill it. Then, the form must be filled with correct details. Then, the application fee is required along with the submission of the form.
Further, the application number generated after submitting the form. Then, candidates must note the application no. for future reference.
Also, the BITSAT Application Fees is Rs 2750. But, female Candidates will have to give Rs 2250.
Aspirants can make the fee payment through any of the following methods:

Net Banking
Credit/ Debit Cards
Challan (download the Challan and visit any of the ICICI Bank)

Candidates can edit and change any information once on a specified date if they made any mistake. Yet, the correction can be done before the admit card downloaded.
Finally, candidates should keep a printout of the BITSAT Application Form for future reference.
VIDEO ON HOW TO FILL THE BITSAT APPLICATION FORM
---
BITSAT 2018 Notifications
Some notifications regarding the BITSAT 2018 are given below. Read them carefully to clear all doubts.
Firstly, candidates can fill the Application Forms for BITS Admission Test from 19 December 2017. Further, the deadline to fill out the form will be on 13 March 2018.
Candidates will be able to fill the preferred slot for examination once the last date to fill the Application Form is over.
Stay tuned as BITs Pilani is going to release the notification anytime.
BITSAT 2018 Notifications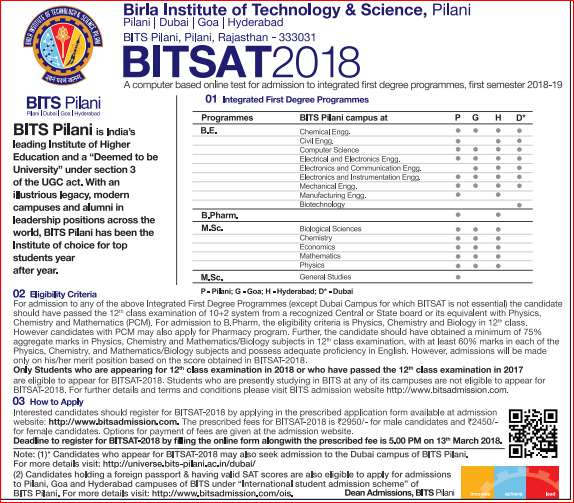 BITSAT Eligibility Criteria:
The eligibility for BITs Admission Test is described here.
Eligibility for Programmes except for B.Pharm.
Firstly, candidates should pass 10+2 (Class 12th) from a recognized board (central or state).
Also, secured an aggregate of 75% in Physics, Chemistry, and Mathematics.
Further, all students shall be permanent Indian citizens. But, those who have passed class 12th in 2014 cannot be permitted to appear for BITSAT. Also, if a candidate has passed Class 12th on the second attempt. then this is last chance for them to appear for BITSAT. Having proficiency in English in class 12th exams is also a prerequisite.
Candidates who are appearing for their qualifying examination in this year can also apply. Thier admission will only be approved when they show all the documents. (This should be done on or before the counselling date).
2. For B.Pharm.
Firstly, candidates applying for B.Pharm will have to qualify class 12th will the Physics, Chemistry, and Biology.
Then, they should get a minimum aggregate of 75% in above-mentioned subjects.
Moreover, all the other criteria remain the same.
BITSAT Paper Pattern
The following pattern is being followed by BITSAT every year. It does not change much every year and candidates can practice using earlier year papers.
Examination Mode: BITSAT Entrance Exam will only be conducted in Online Mode.
Type of Questions: Questions will be in Multiple Choice Questions Format.
Marks awarded: Candidates will be awarded 3 Marks for a correct response. But, incorrect Response will lead to a 1 Mark Penalty.
Duration: Duration of Examination will be 3 hours.
Sections: Questions will be asked from 4 sections. Further, details can be seen in the table below. 
PART
SUBJECT
NO. OF QUESTIONS
I
Physics
40
II
Chemistry
40
III
i)English Proficiency

ii)Logical Reasoning

15

10

IV
Mathematics/Biology (for B.Pharm.)
45
Total: 150
BITSAT 2018 Syllabus
The syllabus for the BISAT 2018 as released by the university is given below. Make sure to read all these properly in order to score well in the exams.
Firstly, BITSAT follows a similar syllabus every year. Also, the questions are mostly from the NCERT books of class 11th and 12th.
Further, candidates can see the Sample Papers for BITSAT on our website.
Moreover, candidates may follow the syllabus mentioned below for exam preparation.
Finally, download the BITSAT Syllabus PDF with Weightage. (link is given below)
Detailed Syllabus for BITSAT Entrance Exam:
Physics Syllabus
PHYSICS

Chap1-  Physics And Measurement

Chap2-  Kinematics

Chap3-  Laws Of Motion

Chap4-  Work, Energy, and Power

Chap5-  Rotational Motion

Chap6-  Gravitation

Chap7-  Properties of Solid And Liquids

Chap8-  Thermodynamics

Chap9-  Kinetic Theory of Gases

Chap10- Oscillation and Waves

Chap11- Electrostatics

Chap12- Current Electricity

Chap13- Magnetic Effect of Current and Magnetism

Chap14- Electromagnetic Waves

Chap15- Dual Nature of Matter and Radiation

Chap16- Atoms and Nuclei

Chap17- Electronic Devices

Chap18- Communication Systems
Chemistry Syllabus
CHEMISTRY

Chap1- Some Basic Concepts in Chemistry

Chap2- States of Matter

Chap3- Atomic Structure

Chap4- Chemical Bonding and Molecular Structure

Chap5- Chemical Thermodynamics

Chap6- Solutions

Chap7- Equilibrium

Chap8- Redox Reactions and Electrochemistry

Chap9- Chemical Kinetics

Chap10- Surface Chemistry

Chap11- Classification of Elements and Periodicity in Properties

Chap12- General Principles and Process of Isolation of Metals

Chap13- Hydrogen

Chap14- S- Block Elements

Chap15- P- Block Elements

Chap16- F-Block Elements

Chap17- D and F-Block Elements

Chap18- Environmental Chemistry

Chap19- Purification and Characterization of Organic Compounds

Chap20- Some Basic Principle of Organic Compounds

Chap21- Hydrocarbons

Chap22- Organic Compounds Containing Oxygen

Chap23- Organic Compounds Containing Nitrogen

Chap24- Biomolecules

Chap25- Chemistry in Everyday Life
Mathematics Syllabus
MATHEMATICS

Chap1- Sets, Relations and Functions

Chap2- Complex Numbers and Quadratic Equation

Chap3- Matrices, and Determinants

Chap4- Permutations and Combinations

Chap5- Binomial Theorem and its simple application

Chap6- Sequence and series

Chap7- Limit, Continuity, and Differentiability

Chap8- Integral Calculus

Chap9- Differential Equation

Chap10- Coordinate Geometry

Chap11- Three-Dimensional Geometry

Chap12- Vector Algebra

Chap13- Statistics and Probability

Chap14- Trigonometry

Chap15- Mathematical Reasoning

Chap16- Approximation
Apart from this, English Proficiency and Logical Reasoning are also topics for BITSAT:
English Proficiency: Comprehension, Verbal Reasoning, Synonyms, Antonyms, etc.
Logical Reasoning: Binary Approach, Analogy, Puzzle Test, etc.
But, details regarding these can be seen at the link given below.
Candidates should consider NCERT's of class 11 and 12 as the most important source for preparation. They should also solve various Sample Papers to get familiar with the paper pattern.
BITSAT 2018 Results
The results will be out around 20 June 2018. It almost takes a month to declare the results. If any candidate is eager to know the scores, it can be checked using the unofficial answer keys released by the coaching institutes as they are released as soon as the exam dates expire.
Candidates can check the results for BITSAT or BITSAT score on the official website.
They can see their Subject wise score with the number of correct and incorrect questions.
University releases Wait List of the candidates who are selected or expected to be selected based on their Score once all the Exams are over.
Before this, Candidates will have to fill their preference list. This list includes the preference order of the course the students would like to take in the university. This admission process is centralized for all the three branches.
Moreover, Results will be available in June 2018.
There will be various iterations (4 in general). where selected candidates can select or reject the allotted subject based on their preference.
How to Prepare for BITSAT in 3 months?
Firstly, download the syllabus pdf from the official website and start your preparation accordingly.
Get help from mentors to prepare a time-table and divide 3 months time equally for all the subjects.
Source out good BITSAT study materials & books available in the market.
Find previous year question papers from this website and practice it thoroughly. This will give an idea about the exam pattern, type of question etc.
Never take the stress and always feel confident about your preparations.
BITSAT Official Links
BITSAT Rank Predictor will be available here.
Finally, for more details about BITS Pilani Admission stay tuned to EntranceZone.
bitsat 2018 cutoff, bitsat 2018 exam centre.