HPCET 2020 or Himachal Pradesh Common Entrance Test Exam date has been released. It is a state-level entrance exam and is conducted by Himachal Pradesh Technical University (HPTU) every year. The purpose of the exam is providing admissions into various Engineering courses all over the state of Himachal Pradesh. This year, the exam will be scheduled on 10 May 2020 for admissions in session 2020-21. Complete information about HPCET 2020 exam is available below.
Latest Update: Check updates regarding HP CET 2021 information here.
HPCET 2020 Exam Dates
Candidates must note the following important dates. These dates are however tentative and official dates are released by the Authorities.
Event
Date (Announced)
HPCET 2020 Application Form starts
2nd week of March 2020
Application Form last date
Last week of April 2020
Doanlos Admit Card
2nd week of May 2020
HPCET 2020 Exam Date (Announced)
BHMCET & B.Sc. (HM & CT)/ BBA
09 May 2020
B.Tech/B.Pharmacy/B.Pharmacy (Ayur.)/ BCA
10 May 2020
MBA & MBA (T&HM), M.Tech
07 June 2020
M.Pharmacy/ M.Sc. (Environmental Science), Diploma in Yoga, M.Sc. (Physics) & MCA
07 June 2020
Release of Answer Key
2nd week of May 2020
Result announcement
Last week of May 2020
Counseling
4th week of June 2020
Read more updated dates here.
Subscribe to Get Updated Information about HPCET 2020: Exam Dates (Released), Application Form, Eligibility
​
HP CET Application Form 2020
The details regarding the HP CET 2020 application form are given below:
The application form will be released in the month of March 2020.

Each candidate aspiring to appear for the HP CET in 2020 needs to submit a filled

application form

.

The form shall be filled online before the last date.

The process of filling up the form and applying has been given below.

The form can be filled and submitted in both the online as well as offline mode.
HP CET 2020 Application Fee
The HP CET 2020 application fee details are mentioned below:
HPCET 2020 Application Fees

| | | |
| --- | --- | --- |
| Category | Fee for B.Tech | Fee for M.Tech |
| General | Rs. 1550/- | Rs. 1550/- |
| SC/ST/BPL | Rs. 1400/- | Rs. 1400/- |
How to fill the Online HP CET application form?
Candidates can fill the online application form through the following steps:
Candidates can apply for the HP CET 2020 by logging on to the website of HPTU (www.himtu.ac.in) and thereby looking up for the application form and filling it.
Candidates must fill the HP CET online application form carefully providing all the details asked for, like personal details, contact details etc.
Post-filling up the form, the application fee needs to be paid by the candidates using debit/credit card or e-challan (offline).
How to Fill the Offline HP CET application form?
The HPCET 2020 form can also be obtained from the campus of Himachal Pradesh Technical University.
The same shall be filled and submitted carefully to the University before the last date.
The fee payment shall be done using the e-challan payment method.
HPCET 2020 Eligibility Criteria
The details regarding the HP CET 2020 eligibility criteria are given below:
The eligibility criteria are some necessary condition that is compulsorily required to be followed by the candidate.
Aspirants shall assure that they fulfil all conditions set for the exam by the organising body.
They shall assure that before applying for the examination, candidates must check that they meet the eligibility norms set by the Authorities.
If the candidate is found ineligible, he/she should not apply for the exam and his candidature would stand cancelled.
The eligibility criteria for the HPCET 2020 is given below.
Candidates must have passed Class 10 or equivalent qualifying examination from a Recognised Board to appear for the examination.
Candidates must have passed class 12 or other qualifying exams from a Recognised Board of education with physics, chemistry and mathematics as the compulsory subjects with 45% marks (40% for reserved candidates).
HP CET 2020 Admit Card
The details regarding the HP CET 2020 admit card are given below:
The admit card of HPCET 2020 will be issued and published on the official website of HPTU once the registration process is completed.
Also, it is an important document which needs to be carried and presented on the day of the examination, the absence of the same can lead to the students' candidature standing cancelled.
However, the issue of Admit Card commences a few days before the exam and candidates are allowed to download it by entering their Application Number.
Moreover, it needs to be carried along with a photo ID proof on the day of the examination.
HP CET 2020 Exam Pattern
The complete details regarding the HP CET 2020 exam pattern are given below:
HPCET 2020 Exam Pattern

S.No

Particulars

Details

1.

Examination Mode

Offline

2.

Duration

3 hours

3.

Mode of Language

English

4.

Section

Physics – 50 Questions
Chemistry – 50 Questions
Mathematics – 50 Questions

5.

Total Number of Questions

150 Questions

6.

Marking Scheme

For every correct answer, the candidates will be awarded 2 marks. 0.5 or 1/4th marks will be deducted for each incorrect answer.
HPCET 2020 Syllabus
The details regarding the HPCET 2020 syllabus are given below:
HPCET 2020 is conducted for admission into various undergraduate and postgraduate courses.
HPCET 2020 Exam Syllabus

S.No

Subject

Topics

1.

Physics

Laws of Motion
Physics and Measurement
Motions Rotation
Work, Energy and Power
Theory of Gases Dynamics
Properties of Solids and Liquids
Oscillations and Waves
Current Power
Dual Nature of Matter and Radiation
Electromagnetic Induction and Alternating Current
Current and Magnetic Effects of Magnetism
Electronic Equipment
Electromagnetic Waves
Communication Systems
Atoms and Nuclei
Hands-on Skills

2.

Chemistry

States of Matter
Atomic Structure
Some Basic Concepts of Chemistry
Redox Reactions and Electricity
Chemical Kinetics
Chemical Thermodynamics
Chemical Bonding and Molecular Structure
Surface Chemistry
Periods of Properties and Classification of Elements
Isolation of Principles and Methodology Metals
S-Block Elements
Co-Ordination Compounds
P-Block Elements
D-F Block Elements
Refined and Depiction of Organic Compounds
Environmental Chemistry
Some Basic Principle of Organic Chemistry
Oxygen-Containing Organic Chemistry
Chemistry of Everyday Life
Nitrogen-Rich Organic Compounds
Practical Chemistry-Related Related Principles

3.

Mathematics

Complex Numbers and Quadratic Equation
Set Relations and Functions
Sequences & Series
Determinants of Matrices
Permutations and Combinations
Mathematical Induction
Binomial Theorem and Its Common Applications
Differential Equations
Integral Calculus
Limit, Continuity and Differentiability
Three Dimensional Geometry
Statistics and Probability
Mathematical Reasoning
Coordinate Geometry
Vector Algebra
Vector Calculus
Numerical Methods
Linear Algebra
Partial Differential Equations
Complex Variables
Ordinary Differential Equations
Probability and Statistics
Important Books For Preparation
Candidates can follow the below-mentioned books to prepare for the HP CET 2020 exam.
| | |
| --- | --- |
| Name of the book | Author |
| Problems In Mathematics with Hints and Solutions | V. Govorov |
| Organic & Inorganic Chemistry | Butterfly Edufields |
| Physics at a glance | Abhay Kumar |
Selection Process
The admission criteria for the B.Tech (Engineering) degree courses, for HP CET 2020 provides that the first 50% seats will be filled considering the merit attained in JEE Main 2020 by the aspirants and the remaining 50% seats will be filled taking a base the merit list created for HPCET entrants. Post this, however, if the seats remain vacant, they filled considering the 10+2 results of the students.
HP CET 2020 Answer Key
The details regarding the HP CET 2020 answer keys are given below:
The answer key of HPCET 2020 will be released on 15 May 2020 tentatively.
Candidates are allowed to forward their written complaints along with supporting documents or solution relating to the question papers or answer keys and shall make sure it reaches the following address:-

 Office of the Controller of Examination
 H.P. Technical University,
Gandhi Chowk,
Hamirpur-177001 (H.P.)
NOTE: The candidates must make sure that the complaint is sent within two days, from the date when the respective examinations are held, by 5.00 PM through e-mail – [email protected] Post that, no complaint will be registered in this regard.
HP CET 2020 Result
The details regarding the HPCET 2020 result is given below:
The Result of HPCET 2020 will be released on 30 May 2020 tentatively.
The result can be obtained by logging into the website using their Name and Roll Number.
Seats are allotted to the candidates based on this result.
The merit of candidates is prepared to take a base the marks obtained by them in the examination.
The merit list will be displayed on the Notice Board of the University as well as the official website.
To attain admission, along with the desired merit, candidates must also fulfil the eligibility criteria.
HP CET 2020 Counselling
The details regarding the HP CET 2020 counselling are given below:
Firstly, two rounds of counselling will be scheduled to be conducted for candidates through JEE MAINS 2020
And if seats are still left, HPCET 2020 merit ranks are supposed to be considered.
Meanwhile, in the counselling, candidates are supposed to mark their choice of colleges and courses in decreasing order of preference.
Once the choice is frozen it cannot be changed later, hence they shall be marked very carefully.
Allotment of seats is done based on rank, availability of seats, reservation norms, vacancies, and choices filled.
Check details about HP CET Counselling 2020
HP CET 2020 EXAM CENTRE
A choice is given to the candidates to choose from the centres available where they can sit and give the exam.
They need to select the centre most convenient to them during the application process.
Applicants can select the exam centres from the below cities as per preferences:
| | |
| --- | --- |
| S.No | City Name |
| 1. | Bilaspur |
| 2. | Paonta Sahib |
| 3. | Mandi |
| 4. | Hamirpur |
| 5. | Shimla |
| 6. | Jammu |
| 7. | Kullu |
| 8. | Solan |
| 9. | Chamba |
| 10. | Una |
| 11. | Dharamshala |
| 12. | Palampur |
| 13. | Nalagarh |
| 14. | Nurpur |
| 15. | Nahan |
| 16. | Chandigarh |
HP CET Entrance Exam 2020 Highlights
The overview of HPCET 2020 exam are given in the table below:
| | |
| --- | --- |
| Name of Examination | Himachal Pradesh Common Entrance Test |
| Commonly Known As | HPCET |
| Exam Conducting Body | Himachal Pradesh Technical University |
| Examination level | State Level Exam |
| Category | UG Entrance |
| Purpose of Exam | For admissions into the participating engineering colleges of the state. |
| Mode of Examination | offline |
| Exam Duration | 3 Hours |
| Total Marks | 300 |
 "Stay Informed about EntranceZone latest updates and feature articles on HP CET 2020."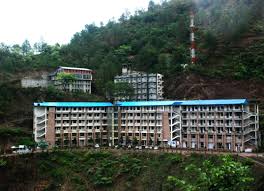 FAQs
Which courses are offered through HPCET exam?
The courses that are offered through HPCET are BHMCT, BBA, B.Tech, B.Pharma, BCA, M.Tech, M.Pharmacy, M.Sc., MBA, MCA.
In which mode the HPCET 2020 exam will be conducted?
The exam will be conducted in offline mode only.
Is there any negative marking in HPCET 2020?
Yes, 0.25 marks will be deducted for each incorrect answer.
Who conducts the HPCET 2020 exam?
Himachal Pradesh Technical University (HPTU) conducts the HPCET exam
hpcet 2019 application form, hpcet official website, hpcet exam 2019, hpcet colleges list, himachal pradesh technical university entrance test, hpcet registration.