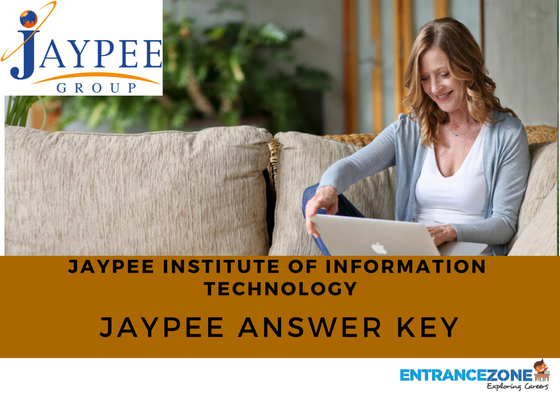 JAYPEE 2020 Answer Key: JAYPEE 2020 is an entrance examination which offers admission to the engineering aspirants in the institutes of Noida, Guha, and Wakanghat and is conducted by JIIT, Noida every year. JIIT was established in 2001 and today it is ranked amongst the top 10 engineering colleges in Delhi, NCR. The streams offered include Electronics and communication, Computer Science, Chemical, Civil, Mechanical, and Bio-Technology. The numbers of intakes depend on the number of seats available in each stream which varies in all the institutes and must be thoroughly checked before applying for admission.
JAYPEE 2020 Answer Key
JIIT Noida offers Electronics and Communication, Computer Science, Information Technology and Bio-Technology with an intake of 240, 300, 60, and 60. JUIT, Wakanghat offers Electronics and communication, Biotechnology, Bioinformatics and Civil engineering with an intake of 160, 160, 30 and 30. JUET, Guna offers Electronics and Communication, Computer Science, Civil, Mechanical and Chemical engineering with an intake of 160, 160, 120, 120 and 60.
However, JUET, Guna has proposed admission to the candidates directly to the second year of engineering based on the score of the student in the entrance examination conducted by the institution.
Soon after the entrance examination takes place, the results are declared on the official website as well as on the website of EntranceZone so that the candidates can go through the answers, match their answers and estimate their marks.
Subscribe to Get Updated Information about JAYPEE 2020 Answer Key: JIIT & JUIT Solutions
​
Different papers will appear for different streams which are why the paper will be divided into 3 sections. An answer key of all the sets will be published on the official website so that the candidates can cross-check their answers. Section A consists of physics and mathematics, section B consists of Computer, programming and basic data structures and Basic electric and electronic circuits and section C consists of Engineering Mechanics, workshop practice, engineering graphics and engineering chemistry.
The selection of the candidates is carried out on the basis of the score and rank. The candidate needs to score above the minimum cutoff score that has been decided by the examination authority. The rank will be allotted to the selected candidates only.
STEPS TO DOWNLOAD THE ANSWER KEY:
Visit the official website of the University
Look out for the answer keys of the exam
Open the PDF files subject-wise
The candidate can download the answer key before the results appear, cross-check the answers and calculate the rank on its basis.
jaypee admission 2020, jaypee noida admission 2020, jaypee institute of information technology admission 2020, jaypee noida address.