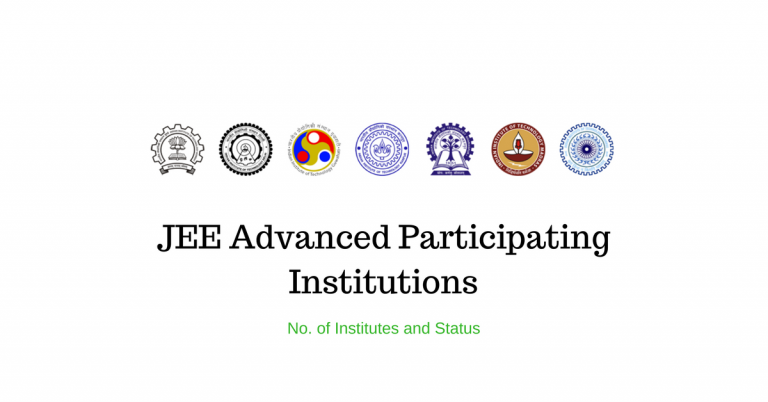 JEE Advanced is considered as the toughest examination in India because it is the only admission test which allows the aspirants into any of all 23 IITs. The admission rate for this examination is very low and comes approximately as 1% every year and thus making it the most competitive and toughest examination of the country. So, the aspirants may get a complete list of JEE Advanced Participating Institutions in this article.
Moreover, each year, one of the various IITs organize the examination on a round robin rotation pattern. So, in the year 2017, the Joint Entrance Examination Advanced 2017 took place on 23 May 2017 and was conducted by IIT Madras.
Moreover, all the IITs take into consideration the JEE Advanced marks for the admission. Also, there is IISC (Indian Institute of Science) and IISERs (Indian Institutes of Science Education and Research) who gives admission to candidates on the basis of their JEE Advanced marks.
List of JEE Advanced Participating Institutions
So, a detailed list of all the JEE Advanced Participating Institutions is available below.
Subscribe to Get Updated Information about JEE Advanced Participating Institutions: 2018-2019
​
IIT, Banaras
IIT, Bhubaneswar
IIT, Bombay
IIT, Delhi
IIT, Gandhinagar
IIT, Guwahati
IIT, Hyderabad
IIT, Indore
IIT, Jodhpur
IIT, Kanpur
IIT, Kharagpur
IIT, Madras
IIT, Mandi
IIT, Palakkad
IIT, Patna
IIT, Roorkee
IIT, Ropar
IIT, Tirupati
IIT, Chhattisgarh
IIT, Goa
IIT, Jammu
IIT, Karnataka
IIT, Indian School of Mines, Dhanbad
But, apart from IITs, other institutions that use JEE Advanced marks are as follows.
IISc, Bangalore
IISER, Bhopal
IISER, Mohali
IISER, Kolkata
IISER, Pune
IISER, Thiruvananthapuram
Indian Institute of Petroleum and Energy, Visakhapatnam
Indian Institute of Space Science and Technology, Thiruvananthapuram
Rajiv Gandhi Institute of Petroleum Technology, Rae Bareli
Further, in the past, all these institutions had taken JEE Advanced marks into consideration for undergraduate admissions. However, it is advised that students should check the official site of individual institutions and the eligibility criteria so as to face no further problems.
Moreover, the official website of JEE Advanced 2018 is http://jeeadv.ac.in/
Finally, stay tuned with EntranceZone for more updates and information related to JEE Advanced Participating Institutions.
colleges accepting jee advanced score, jee mains participating institutes, jee advanced rank vs college, jee advanced college cut off, colleges under jee mains 2018, jee main colleges.