Firstly, KEE 2019 Syllabus covers the topics from three subjects Physics Mathematics and Chemistry. Also, the question paper for KEE is based on the topics read in class XI and XII. Hence, the applicants should go through the syllabus of KEE for the three subjects before beginning the preparation. Further, the knowledge of topic wise syllabus in helpful for students to distribute the time among easy and tough chapters. In addition, this will save time by knowing which topics are present in KEE Syllabus. So, candidates can find the detailed syllabus in this article. Also, Karunya University yet to publish the syllabus for 2019-2019 admissions.
Upcoming Application Form
KEE 2019 Syllabus PDF & Important Topics

Firstly, the topic wise syllabus for KEE 2019 is given below. But, for detailed KEE 2019 syllabus click here.
Physics:
Current Electricity
Electrostatics
Dual Nature of Radiation and Atomic Physics
Electromagnetic Induction and Alternating Current
Magnetic Effects of Electric Current
Laws of Motion & Work, Energy, and Power
Optics
Properties of Matter
Semiconductor Devices and their Applications
Nuclear Physics
Communication Systems
Chemistry:
Atomic Structure
Alcohols and Ethers
Carbonyl Compounds
Carboxylic Acids and their Derivatives
Coordination Chemistry and Solid State Chemistry
Electrochemistry
p, df – Block Elements
Organic Nitrogen Compounds
Isomerism in Organic Compounds
Thermodynamics
Chemical Equilibrium, and Chemical Kinetics
Mathematics:
Analytical Geometry of two dimensions
Analytical Geometry of Three Dimensions
Applications of Matrices and Determinants
Complex Numbers
Vector Algebra
Differential Calculus
Differential Equations
Discrete Mathematics
Probability Distributions
Integral Calculus and its Applications
However, the syllabus of Physics, Chemistry, and Mathematics has been listed above. But, the students should refer to NCERT textbooks for the listed topics and prepare the basics. Moreover, all the topics must be covered to secure good kee application form 2019.
Then, candidates should solve sample papers to gain efficiency and find the weak areas. Moreover, it is also important to attend mock test provided by various coaching institutes before the entrance test.
Karunya Institute of Technology and Sciences Syllabus & Admission Procedure
Further, admission to the different undergraduate courses in Engineering is based on the marks obtained in the entrance test. Therefore, it is vital to prepare strategically by following the KEE syllabus in 2019.
The KEE Exam 2019 is conducted by Karunya Institute of Technology and Sciences at Karunya University, Coimbatore, Tamil Nadu. KEE is known as Karunya Entrance Examination for UG courses. Also, Karunya is one of the private Christian university in India. Karunya having courses like UG, PG, Research, Integrated courses and MBA.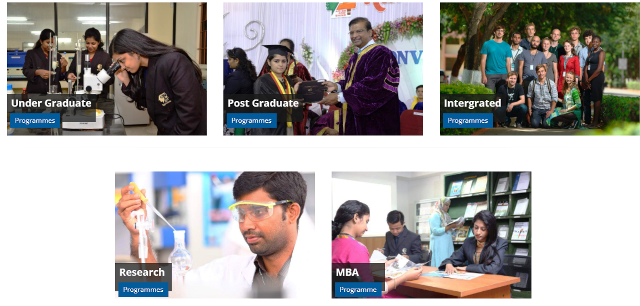 How to Download the KEE 2019 syllabus PDF
Here, Candidate can easily find the Procedure to download the Syllabus for KEE 2019
Initially, the candidate has to visit the official site of KEE 2019
Check the website properly and go into the section of Entrance examination, admission etc and scroll for the syllabus.
After that click on the syllabus pdf if they have and the file will automatically download on your device.
Follow this procedure for website having syllabus PDF, else stay updated With entrancezone.com
Finally, the official website of KEE 2019 is http://admissions.karunya.edu/
Stay Tuned for KEE 2019 Syllabus at EntranceZone.
kee entrance exam 2019, kee exam 2019, kee entrance exam 2017, karunya university entrance exam model question paper.