Odisha JEE 2020 Application Form filling is going to start from the 1st week of February 2020. Also, the OJEE 2020 Online Form is going to available from 1st week of February 2020 for lateral into Engineering and various other courses. And the last date to fill the application form is in the 3rd week of March 2020.
Odisha JEE is the Entrance Test for admission to various colleges in Odisha state for the academic year 2020-21. Various Courses that the colleges' offers are B.Tech, BAMS, BHMS, B.Pharm, B.Arch., MBA, MCA, M.Tech (part-time) and MBA. The admission through OJEE will be based on JEE Main 2020 AIR. The OJEE aspirants need to appear for JEE Main.
The OJEE notification released and application forms can be submitted until the 3rd week of March of 2020. According to the official notification (OJEE-2017/547), the admission to Government and private engineering college will be carried out through JEE Main 2020 Rank. Candidates can see the details about the Odisha JEE 2020 Application Form in the article below.
Check your JEE Main Eligibility Here. Join & Refer your Friends to Earn Paytm Cashback
Check Now & Refer
The OJEE 2020 Application Form will be available from first week of February 2020.
Subscribe to Get Updated Information about Odisha JEE 2020 Application Form: Apply Online ojee.nic.in
​
OJEE 2020 Application Form Dates
| | |
| --- | --- |
| Events | Dates (Tentative) |
| Availability of OJEE 2020 application form | 1st week of February 2020 |
| Last date to submit OJEE application form | 3rd week of March 2020 |
| Admit Card download | 3rd week of April 2020 |
How To Apply For Odisha JEE 2020 Application Form?
The procedure to fill the OJEE 2020 application form is given below. OJEE 2020 lateral entry exam application form.
The Candidates applying for admission in Odisha JEE 2020 will have to register on the official website of OJEE. Candidates are expected to keep their registration number and password safe for future use.
And Candidates will then have to fill the online Application form.
They can also download the application form and fill in offline mode.
Fill all the required details and upload an appropriate passport size photograph.
Also, Candidates need to fill their personal details, academic details, and address for correspondence in the application form.
Upload the photograph and Signature, Left-hand Thumb impression in the specified format.
Candidates have to pay the registration fee as specified for the course chosen.
Once the Application Form has been successfully submitted and the Registration Fee has been paid, Candidate will get a registration ID. He/She is expected to preserve it, as he can sign into his/her profile through that registration ID.
 Candidates should print the confirmation page after successful submission of OJEE application form.
They can pay online using Net Banking or Debit Cards. They can also pay through SBI Challan Method.
Also, the students should be careful while providing the details. It should be to the best of his/her knowledge. Any discrepancy or fraudulent behaviour might result in a rejection of the candidate.
Furthermore, Admit Cards will be mailed to the candidates and will be uploaded to their profile around 15 days before the entrance examination.
Odisha Joint Entrance Examination Notice Regarding JEE Main Score Acceptance
The Chairman OJEE announced the NEW Change in Odisha JEE 2020 Application Form and Acceptance of JEE Main 2020 Score for admission to all the engineering branch and course.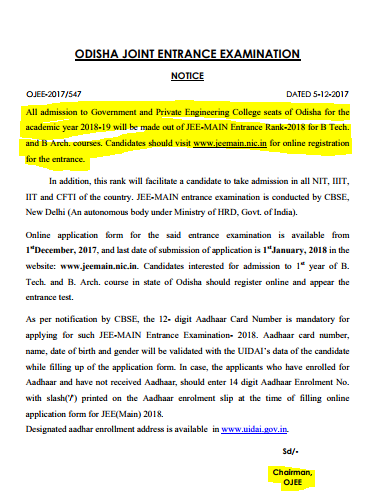 OJEE 2020 Mobile App
The Official Mobile App for OJEE 2020 (Odisha Joint Entrance Examination – 2020) is also launched by the organising body. This app will help the students regarding Odisha JEE exam and updates. Download the OJEE 2020 Android App here.
List of Course and Registration Fee
The Registration and Application fees of OJEE 2020 are mention below.
| | | |
| --- | --- | --- |
| Form  | Course | Fee |
| A. | BAMS/Pharmacy | Rs. 1000/- |
| B. | Lateral Entry B.Tech/B.Pharm | Rs. 1000/- |
| C. | MBA/MCA | Rs. 1000/- |
| D. | M.TECH/M.Pharm/M.Arch | Rs. 1000/- |
| E. | MBA/MCA (Regular and Normal) | Rs. 1500/- |
| F. | 5-Years Integrated MBA | Rs. 1000/- |
How to Apply OJEE 2020 online?
The steps to fill the Odisha Joint Entrance Examination is given below.
Search for Official Odisha JEE Website.
Click on Search result "Online Application Form for OJEE-2020".
Now Click on "Application Form for OJEE – 2020″link at home page of the official website. @ www.ojee.nic.in
Now choose the form according to your choice of courses. Only one form can be filled by the aspirants.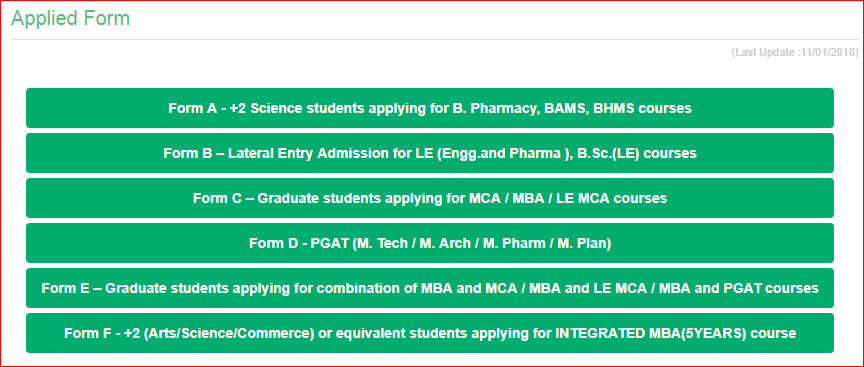 www.odishajee.com and  www.ojee.nic.in
Candidates can get more updates about the application form of  Odisha JEE 2020 on our website.
Refer link of the Important date of Odisha JEE is here.
ojee 2020 apply online, ojee 2020 MBA,  2020, ojee 2020 M.tech.
List of Engineering Entrance Examination 2019
ojee form fill up 2019, ojee 2019 syllabus, ojee.nic.in 2019, odisha jee office bhubaneswar, odisha, ojee 2019 registration, ojee 2018 apply online.