SRMJEEE 2019 Application form will be released soon. As Per official notification released, SRMJEEE 2019 Online Application Form for B.Tech / M.Tech Admission in SRM University Chennai, Amaravati (AP) & Sonepat (Haryana) is available now. Sri Ramaswamy Memorial University also known as SRM University conducts SRMJEEE 2019 for admissions into various Undergraduate courses in Engineering. Also, this University has campuses in NCR, Ramapuram, Sikkim, and in Kattankulathur. Further, Kattankulathur is the main Campus of SRM University, situated at a distance of 35 km from the Chennai. Candidates who qualify the SRM Joint Entrance Examination for Engineering will get admission to undergraduate engineering programmes offered on the university campuses. The link for online application is given below.
Upcoming Application Form
JEE Main January Session 2019 by National Testing Agency Check Here
Manipal University B.Tech Admission Open Apply Here
Manipal University All Courses Admission Open Apply Here
Latest News: National Testing Agency is going to conduct JEE Main 2019 in January, find detailed information here.

The official notification is released by University and online application form is released on 01 November 2018. Candidates can see the details about SRM Entrance Exam 2019 Date below:
SRMJEEE 2019 Exam Dates:
S.No.
Events
Dates(Tentative)
1.
Application form Release
1 November 2019
2.
Last date to apply through online application form
31 March 2019
3.
Slot Booking for online SRMJEEE Exam
7 April 2019
4.
SRMJEEE 2019 Online Exam Date
16 – 30 April 2019
6.
Result Announcement
03 May 2019
7.
First Round Counselling
Counselling – (in campus premise): May 2019

Counselling – ( via online ) : May 2019

8.
Second Round Counselling
Counselling II – online: May 2019 onwards (For Vacant Seats Only)
SRMJEEE 2019 Application Form:
The steps to fill the online application form for SRM University entrance exam (SRMJEEE).
Firstly, candidates can fill the Online Application Form by visiting the srm official site. The link is given below.
Also, MJEEE application forms are available online from 1 November 2017.
Then, candidates can fill the form Online or Offline. And  SRMJEE 2019 last date to fill application form was 31 March 2019.
Online Mode
Firstly, candidates will have to visit the Official Website and click the Apply Online Button.
Then, they will then have to register for the examination. Candidates will then receive a Username and Password.
Further, aspirants will then sign in and complete the Registration Process.
Offline Mode
Firstly, candidates will get an OMR Sheet which they will have to fill carefully. But, any smudge on the Application Form will not be accepted.
Then, they will have to send the Application Form along with payment details to the specified address.
Application Fees
The entrance examination cum application fee is Rs. 1100/- per slot.
How to apply for SRMJEEE of SRM University?
To apply for SRMJEEE Admission test, visit SRM University Official Website www.srmuniv.ac.in.

Download this SRM Application Process: How to apply & who can apply for SRMJEEE of SRM University?
SRMJEEE 2019 Notifications
The brief about SRM Joint Entrance Examination is given below.
| | |
| --- | --- |
| Name of the Examination | SRM Joint Engineering Examination |
| Also Known as | SRMJEE |
| Organizing University | SRM University, Chennai |
| Mode of Examination | Online |
| Exam Category | Undergraduate Level |
| Expected Applicants | 1.80 Lakhs |
| Application Forms | Available Soon – Official Notification Released |
| Campuses | Chennai, Amaravati (AP) & Sonepat (Haryana) |
NOTE: Direct Admission will be given to the Top Rank Holders of All the State and Central Boards. Also, Candidates who got less than 1000 rank in JEE MAIN are directly admitted.
Candidates applying for SRM Entrance Test should fulfil  the following criteria:
Nationality: Candidate must be a resident Indian national.
Age: Candidates who are seeking admission in UG courses must have born between 01 July 1997 and 01 July 2002 are eligible. And for PG courses, Candidates must have born between 01 July 1993 and 01 July 1998.
Qualifying Examination: They must have scored 65% total in the Mathematics, Physics, and Chemistry in the class 12th.
But, if Candidate aims at pursuing Biotechnology, Biomedical Engineering, Bioinformatics and Genetic Engineering, He/She should have scored a minimum of 65% aggregate in Maths/Biology, Physics, and Chemistry.
International Baccalaureate (IB): Students studying at IB with Diploma, or A-level with Physics, Chemistry and Mathematics / Biology / Botany & Zoology/ Biotechnology can apply.
Moreover, it is the responsibility of the candidate to ensure that he/she is eligible for the examination or not. Also, candidates should submit authentic information on the Application Form. However, any discrepancy might result in cancellation of the Candidature.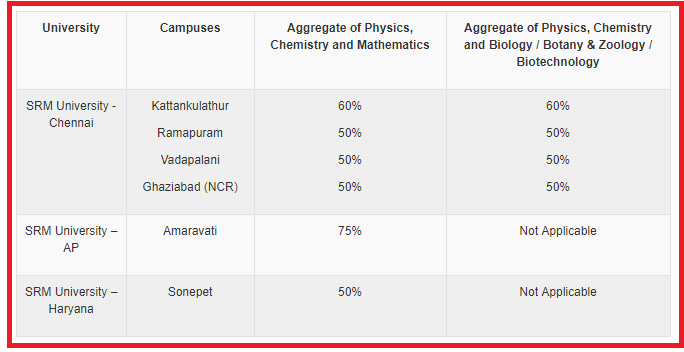 SRMJEEE 2019 Admit Card
Firstly, candidates will receive their Admit Cards on the Official Website.
Tentatively, Candidates will start receiving the Admit Cards in the Last week of March.
Also, they should check all the details mentioned on the Admit Card carefully. They should verify the following details:

Name
Enrollment Number
Email ID
Phone Number
Test Center address and code
Slot
Roll Number and  Test Timings
SRMJEEE 2019 Exam Pattern
SRM Joint Entrance Examination for Engineering Exam Pattern will help students in getting familiar with the Paper Pattern.
Sections: There will be three sections, Physics, Chemistry and one of Mathematics and Biology.
Type of Questions: MCQ Type Questions.
Marking Scheme: For PCM Candidates, Each Correct Response gives 3 Marks. 1 Mark will be deducted for Every Wrong Answer. There is negative Marking.
| | | | |
| --- | --- | --- | --- |
| Part | Paper | Questions | Marks |
| 1 | Physics | 35 | +3/-1 |
| 2 | Chemistry | 35 | +3/-1 |
| 3 | Mathematics | 35 | +3/-1 |
| 4 | Biology | 50 | +2.1/-0.7 |
| | | Total | 150 Marks |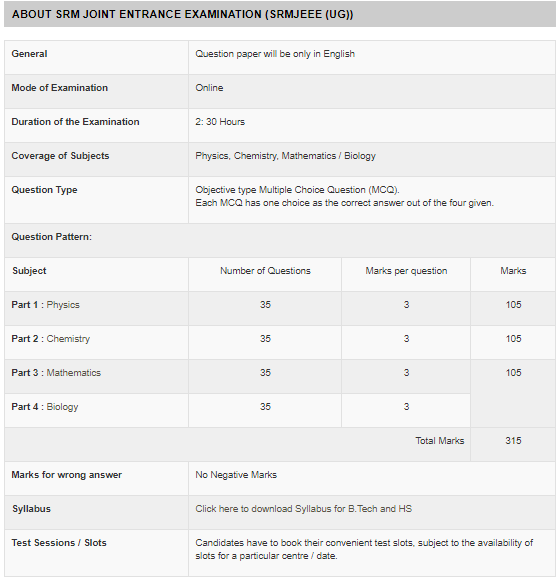 SRM University offers the following programs/courses:
Aerospace Engineering
Automobile Engineering
Biomedical Engineering
Biotechnology
Chemical Engineering
Civil Engineering
Computer Science
Electronics and Communications
Electrical and Electronic Engineering
Software Engineering
Nanotechnology
Mechatronics
Mechanical Engineering
Information Technology
Genetic Engineering
Electronics and Instrumentations
So, as mentioned above, the exam held at various centres across the country. Students apply from all parts of India as well as abroad. Also, students can choose a suitable centre as per their convenience.  Moreover, the examination authorities try their best to locate the centres chosen by the candidates. But, it can not assure the same, and the centres allotted are bound to defer from that opted for. The University holds the entrance exam at more than 100 centres. including online and offline centres across the country.
Why SRM University?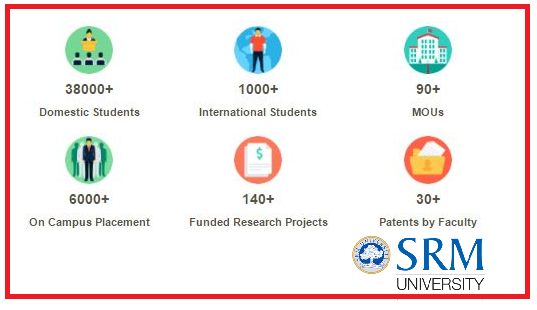 VIDEO ON SOME FREQUENTLY ASKED QUESTIONS ABOUT SRMJEE
SRMJEEE 2019 syllabus for various subjects are mentioned below:
SRMJEEE Physics Syllabus:
PHYSICS
Chap1-  Physics And Measurement

Chap2-  Kinematics

Chap3-  Laws Of Motion

Chap4-  Work, Energy, and Power

Chap5-  Rotational Motion

Chap6-  Gravitation

Chap7-  Properties of Solid And Liquids

Chap8-  Thermodynamics

Chap9-  Kinetic Theory of Gases

Chap10- Oscillation and Waves

Chap11- Electrostatics

Chap12- Current Electricity

Chap13- Magnetic Effect of Current and Magnetism

Chap14- Electromagnetic Waves

Chap15- Dual Nature of Matter and Radiation

Chap16- Atoms and Nuclei

Chap17- Electronic Devices

Chap18- Communication Systems
SRMJEEE Chemistry Syllabus
CHEMISTRY
Chap1- Some Basic Concepts in Chemistry

Chap2- States of Matter

Chap3- Atomic Structure

Chap4- Chemical Bonding and Molecular Structure

Chap5- Chemical Thermodynamics

Chap6- Solutions

Chap7- Equilibrium

Chap8- Redox Reactions and Electrochemistry

Chap9- Chemical Kinetics

Chap10- Surface Chemistry

Chap11- Classification of Elements and Periodicity in Properties

Chap12- General Principles and Process of Isolation of Metals

Chap13- Hydrogen

Chap14- S- Block Elements

Chap15- P- Block Elements

Chap16- F-Block Elements

Chap17- D and F-Block Elements

Chap18- Environmental Chemistry

Chap19- Purification and Characterization of Organic Compounds

Chap20- Some Basic Principle of Organic Compounds

Chap21- Hydrocarbons

Chap22- Organic Compounds Containing Oxygen

Chap23- Organic Compounds containing Nitrogen

Chap24- Biomolecules

Chap25- Chemistry in Everyday Life
SRMJEEE Mathematics Syllabus
MATHEMATICS
Chap1- Sets, Relations and Functions

Chap2- Complex Numbers and Quadratic Equation

Chap3- Matrix, and Determinants

Chap4- Permutations and Combinations

Chap5- Binomial Theorem and its simple application

Chap6- Sequence and series

Chap7- Limit, Continuity, and Differentiability

Chap8- Integral Calculus

Chap9- Differential Equation

Chap10- Coordinate Geometry

Chap11- Three Dimensional Geometry

Chap12- Vector Algebra

Chap13- Statistics and Probability

Chap14- Trigonometry

Chap15- Mathematical Reasoning

Chap16- Approximation
SRMJEEE 2019 Slot Booking
Candidates can fill the Slots from the available set once the functionality is open to the University.
Then, tentatively, Candidates will be able to fill the Slots in the Third Week of March.
But, for Candidates, who do not select their preferred slot, University will allot a random slot based on the availability.
Firstly, the Results for SRM Joint Engineering Entrance Exam will be announced in May 2019.
Then, candidates will be able to see their results by visiting the official website and logging into their profile.
Based on the score, Candidates will be called for further Counselling Procedure.
Finally, candidates will be able to see the details about marks scored in each section and the number of correct and incorrect responses.
Firstly, the first round of Counselling will commence in May 2019.
Then, the Second round of Counselling for vacant seats will commence from May 2019.
Also, candidates should bring all the relevant documents for verification. But, no Admission will be given without proper verification of all the documents.
Once all the formalities have been completed, Candidate will have to pay the required fees. Candidates will then be admitted to the SRM University.
SRMJEEE (UG) Information Sheet
S.No.
Topic
Details
1.
Mode of examination
Online
2.
Duration of the examination
2:30 hours
3.
Coverage of subjects
Physics, Chemistry, Mathematics /Biology
4.
Number of questions
Physics – 35

Chemistry – 35

Mathematics – 35 / Biology – 35

5.
Type of questions`
Multiple Choice Questions
6.
Scoring method
Each right answer carries 3 marks; No negative marking
7.
Test Dates
Will be announced later
8.
Test sessions/slots
Individual candidates have to book their convenient test slots, subject to availability of slots for a particular centre/date.
SRM JOINT Entrance Examination SRMJEEE (UG) Highlights
General
Question paper will be only in English
Mode of Examination
Online
Duration of the Examination
2: 30 Hours
Coverage of Subjects
Physics, Chemistry, Mathematics / Biology
Question Type
Objective type Multiple Choice Question (MCQ).
Each MCQ has one choice as the correct answer out of the four given.
SRM University Address, Weblink & Video 
The Director – Admissions, SRM University, Kattankulathur – 603 203
Kancheepuram District, Tamil Nadu, India.
Finally, "Stay Informed at EntranceZone.Com for latest updates and featured articles on SRMJEEE 2019."
Click HERE for filling the application forms or to visit the official form.
List of Engineering Entrance Examination 2019