Why to Choose Delhi University Premier Institution of the Country?
Delhi  University was established in 1922, is  still a premier institution of the country. Each year thousands of students flock to this prestigious University in hopes of fulfilling their academic aspirations and securing a brighter future for themselves.
These non-profit public higher education institutions are known for high standards of teaching, research and a star-studded list of alumni, which includes many eminent scholars, artists, political leaders etc. Over the years, it has produced at least 7 Heads of State and 2 Nobel laureates. It also holds the record for the highest publication count in India. Accredited by UGC, it offers degree programs at the Undergraduate (87), Post-graduate (133) and Doctoral levels. It also offers Certificate courses (90+) and Diplomas (28).
Delhi University boasts of 1,32,435 regular students and 2,61,169 students in non-formal education programmes.
Subscribe to Get Updated Information about Why to Choose Delhi University premier institution of the country
​
Here's a list of some potential reasons prospective students may consider taking admission at Delhi University:
Distinguished Faculty
Delhi University has 16 Faculties, 86 Academic Departments, 77 Colleges and 5 other recognized Institutes functioning under its umbrella. The faculty mostly comprises of eminent scholars well established in their fields with a reputation and track record of good academic research and understanding of the subjects. Students at Delhi University find their classroom experiences quite enriching!
Libraries
Delhi University has 34 libraries for post-graduate students from different departments and has more than 14 lakh books. Undergraduate Colleges also have their own libraries!
Variety of Courses
The University offers a wide range of courses with a total of 240 available courses which means it has something to cater to the varied interest of almost every student. It has 65 colleges that offer courses in Humanities, Science and Social Sciences out of which 40 colleges are affiliated to the North Campus while others to the South Campus of the university. Delhi University also offers some evening courses.
Placement Cell
It has a very active placement cell that ensures sufficient employment opportunities for its graduates. Some very famous MNCs, National, and Local companies hire a large number of DU graduates every year.
Beautiful Campus
Delhi University has Heritage buildings, Award-winning Lawns, University Sports Stadium, and some great Wall Art. It is a smoke-free zone with plenty of trees that add to the aesthetic value of the Campus.
Societies of Interest
Many of Delhi University Colleges have societies dedicated to the special interests of their students such as Singing, Dancing, Dramatics, Sports, Social Services etc. Such societies have helped many students achieve great heights in an area of their interest apart from academics!
Multicultural Environment
Delhi University is cosmopolitan in the true sense. Students from many different states and countries study at Delhi University making it a hub of cultures. The multicultural student community encourages students to adopt flexible perception and to adjust with the people from different races, religions, and diverse backgrounds.
Good Food
The areas around North and South campuses have many excellent pocket-friendly places that offer great food and space to chill with friends or to study in groups. Many Coffee shops and Eating joints are crowded with the student community, especially during the exam seasons!
Delhi University plans entrance test for all college admissions in 2019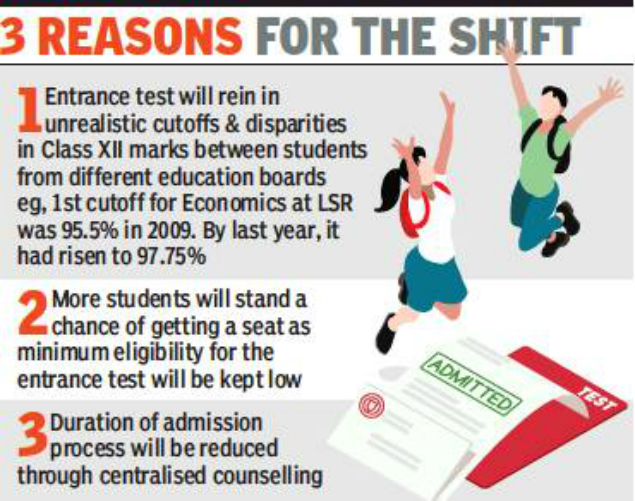 "Stay Informed about EntranceZone latest updates."