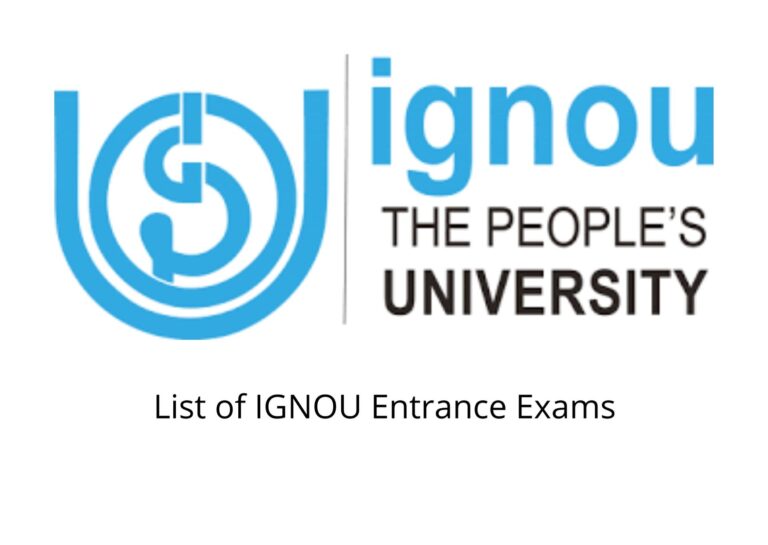 IGNOU Entrance Exams: Indira Gandhi National Open University (IGNOU) is the one of the top leading open university in India. The University began by offering two academic programmes in 1987, i.e., Diploma in Management and Diploma in Distance Education. Now, the university has 21 Schools of Studies and a network of 67 regional centres, around 2,667 learner support centres and 29 overseas partner institutions. The University offers about 228 certificate, diploma, degree and doctoral programmes. This university is continuously striven to build an inclusive knowledge society through inclusive education. Candidates can go through the following article to know about IGNOU Entrance Exams.
IGNOU Entrance Exams 2020
National Testing Agency will conduct IGNOU MBA/ B.Ed. entrance examination. The application process for other courses is going on. The detailed information regarding the IGNOU Entrance Exams is given below.
IGNOU OPENMAT MBA Entrance Exam
IGNOU OPENMAT is a national level entrance exam conducted by the National Testing Agency. OPENMAT exam is conducted twice a year i.e. in July and January. OPENMAT scores of one session are valid for one year. This exam is conducted to offer admission into Management programmes; MBA (Master in Business Administration), DIM (Diploma in Management), PGDIM (PG Diploma in Management), PGDHRM (PG Diploma in Human Resource Management), PGDFM (PG Diploma in Financial Management), PGDOM (PG Diploma in Operations Management), PGDMM (PG Diploma in Marketing Management) and PGDFMP (Post-Graduate Diploma in Financial Markets Practice).
Subscribe to Get Updated Information about IGNOU Entrance Exams 2020: List of Exams, Courses Offer - Admissions
​
Check here updated details about IGNOU OPENMAT 2021 
IGNOU B.Ed Entrance Test
IGNOU conducts an entrance exam for the Bachelor of Education (B.Ed.) Programme. This exam conducted once a year. The B.Ed. Programme of IGNOU aims at developing the understanding and competencies required by practising teachers for effective teaching-learning process at the secondary stage. The programme also provides opportunities of sharing experiences gained by practising teachers. B. Ed programme of IGNOU is recognized by all member Universities of Association of India Universities (AIU) and is at par with Degrees/Diplomas/Certificates of all Indian Universities/Institutions.
Check here for IGNOU B.Ed Entrance Test 2021 Here.
IGNOU BBA (SM) Entrance Exam
IGNOU BBA (SM) Entrance Exam 2020 is conducted by Indira Gandhi National Open University, new Delhi. IGNOU conducts this entrance examination for admission into Bachelor of Business Administration (Services Management) (Distance Learning).
This course is delivered in association with Maharashtra Knowledge Corporation Limited (MKCL).
Entrance Exam Fes is Rs. 150/- Only as stipulated by MKCL and IGNOU. Details of Entrance Exam Fees are mentioned on the program website.
IGNOU OPENNET for B.Sc. Nursing (Post Basic)
IGNOU conducts OPENNET entrance examination to offers admission into post basic B.Sc. Nursing is a three-year degree programme for in-service nurses. This exam is conducted once a year. There are Programme Study Centres, which are existing Colleges of Nursing, already conduction Post Basic B.Sc. Nursing Programme or B.Sc. Nursing Programme. These Colleges of Nursing are recognized by the Indian Nursing Council.
IGNOU M.Ed Entrance Test
Indira Gandhi National Open University (IGNOU) conducts IGNOU M.Ed. entrance test to offer admission to the Master of Education (M.Ed.) Programme. The M.Ed. Program designed and developed jointly by DEC, IGNOU and NCTE is an innovative program utilizing self-instructional materials and information technology along with interactive personal contact programs. M.Ed. is a professional program and, therefore, it focuses on comprehensive and integrated professional development of teachers and other personnel engaged in educational management and administration.
Read about IGNOU Admission
Indira Gandhi National Open University, New Delhi
IGNOU is a open university (distance learning) established by the central government of India, and with total active enrollment of over 4 million students. IGNOU was founded in 1985 by an Act of Parliament, Indira Gandhi National Open University, New Delhi. It has a large network spread over 40 foreign countries, with 2667 study centres, 67 regional centres and with total active enrollment of 4,20,074 students, claims to be the largest university in the world.
IGNOU Official Website: http://www.ignou.ac.in/
Stay connected for IGNOU Entrance Examination latest updates.