Kendriya Vidyalaya Sangathan (KVS) has started the online registration process for admission in Class 1 and 2 of academic session 2020-21 on its official website. KVS form will release at kvsonlineadmission.kvs.gov.in. This application form has been released at the national level once a year. Moreover, Online registration for class-1 has begun on July 20, 2020. Candidates may check the eligibility criteria before filling the application form. For complete details regarding the KVS admission 2020, candidates may go through the given article.
Latest Update:
The online registration for Class 1 will close on August 7 at 7pm.
The registration for class 2 onwards has also started on July 20 and will close on July 25 at 4 pm if vacancies exist (in offline mode).
The registration for admission in Class II and onward (except class Xi), subject to availability of seats, will start on August 24 while the third list will be out on August 26, if the seats remain vacant.
Kendriya Vidyalaya Admission 2020 Website Link: kvsangathan.nic.in/

Parents can check the status of their applications in lotteries to be conducted for various admission categories by clicking on "Check Application Status" from 6am, 12 Aug 2020.
KVS Admission 2020 Important Dates
The important dates of the KVS Admission are given in the table below:
KVS Application Form Important Dates
Events
Dates
Release of Notification for admission
20 July 2020
Online KVS registration for class-1
7 August 2020
Last date for registration for class-1
11 August 2020
Release of provisional selection list and admission for class-1
11 August 2020
Third provisional selection list only if seat remain vacant
23 August 2020
Second notification for RTE provision, ST, SC (if a sufficient number of seat registration not receive)
27-29 August 2020
Registration for class-2 onwards (except class-XI)
20 July 2020
KVS Last date of registration class 2-8
25 July 2020
Display of selection list for class-2 onwards
29 Juy 2020
Admission to class-2 onwards
30 July – 30 August 2020
Last date for admission (including for class 11)
15 September 2020
For KV student only: Registration for class- 11
Within 10 days after the declaration of class 10 board result
For KV student only: Declaration of selection list and admission for class-11
Within 20 days after the declaration of class X board result
For Non- KV students: Registration, admission in class 11
Only if the seat remains vacant after the admission of KV students in Class 11
Last date for admission to Class-11
1st week of July 2020
Extended date for second notification for offline registrations for admissions to be made under RTE provisions, SC/ST and OBC, if sufficient applications not received in online mode.
Notification – 31st August 2020
(Monday)
Registration – 31st August 2020 to 5th September 2020
(Monday to Saturday)
Display of list and admissions – 7th September 2020 to 11th September 2020
(Monday to Friday)
Subscribe to Get Updated Information about KVS Admission 2020: Kendriya Vidyalaya Admission Process Started - Admissions
​
Note:
If any of the dates happen to be a public holiday the next working day will be treated as opening/closing date.
The studies of Class 1 will commence from 15th September 2020 either online or regular depending upon improvement in COVID-19 situation.
Presently around 198 Kendriya Vidyalaya across the country are being used as Isolation Centre or Quarantine Center by Central/State Government due to pandemic COVID-19. These KV will be functional for regular classes only after lifting of lockdown.
Download Official KVS Admission Schedule 2020-2021 Here.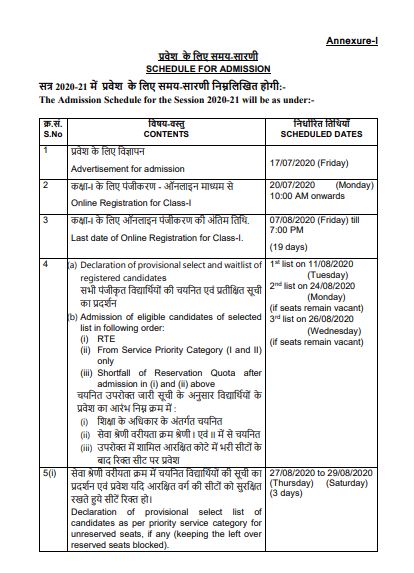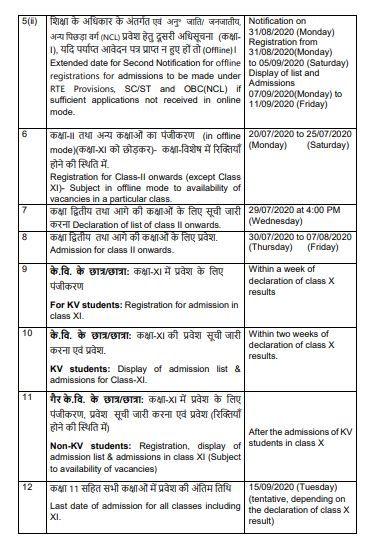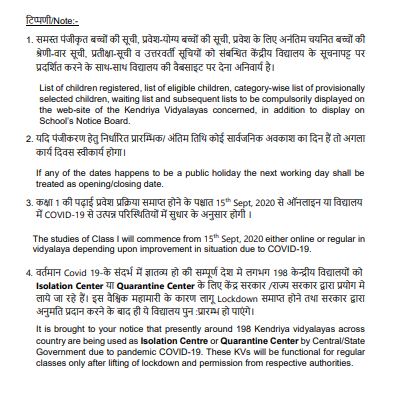 Official KVS Admission Schedule 2020-2021
Kendriya Vidyalaya (KVS) Admission 2020 Application form
The detailed information regarding the Kendriya Vidyalaya Application form is given below
The application form will be released in June 2020.
The application form is made available through the online/offline mode.
Candidates or their wards can collect the admission form from the Principal's Office of the concerned school free of cost.
Candidates/ Parents are required to fill the form completely and accurately.
Applicants are required to send or submit the filled-in application form along with the required documents to the Kendriya Vidyalaya concerned within the stipulated dates as mentioned in the notification.
The application form must be accompanied by the attested copies of required documents.
Candidates must ensure that the application form is filled completely as incomplete forms and late applications will be rejected.
KVS Admission 2020 Application Fee
The detailed information regarding the Kendriya Vidyalaya Application fee is given below.
There is no application fee for the Application form.
Applicants can collect the application form from the school principal free of cost.
How to fill the Kendriya Vidyalaya Admission Application form?
The procedure for filling the application form is given below.
Visit the official website – Start by visiting the official KVS admission. i.e. www.kvsonlineadmission.in
Click on Register Tab – On the homepage of the portal, click on "Register" tab as shown in the picture.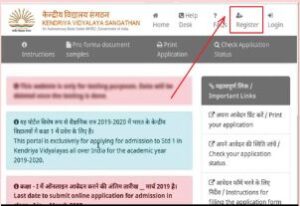 Click on New registration – For registration on portal click on "New Registration" tab.
Proceed to read instructions – Now, proceed to read the important instructions.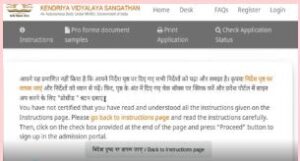 Read Instructions – Now, read all the general instructions carefully available English and Hindi both the languages. After going through all the instructions mark the declaration and click on "Proceed" Tab.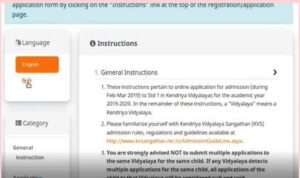 Fill Details – Now, enter all the details in the space provided and click on the "Register" option.
Verify OTP – Now, enter the OTP and verify it.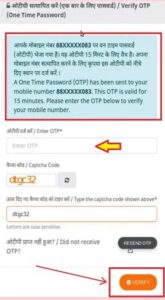 Registration is complete – Finally registration process is complete. Keep the login Id safe for further login. Take the printout of the registration details by clicking on the "Print" tab.
Process To Check Kendriya Vidyalaya Application Status
Parents will be able to check the status of the applications from 6 am on August 12, 2020, on KVS online application portal. KVS will conduct lotteries to select the applications for various admission categories. You can follow the below-mentioned steps to check the status of your application:
 Visit the of KVS online admissions portal.
On the homepage, click on "Check Application Status".
A new page will open. Now, enter your login code, date of birth of child, mobile number, and captcha code.
 Click on "Login".
 The status of your application will be appearing on the screen.
Kendriya Vidyalaya Admission 2020 Eligibility Criteria
The detailed information regarding the KVS Admission Eligibility Criteria are given below.
Age Limit: The age upper and lower age limit is given below in the table.
KVS Admission Age Limit

| Class | Minimum age | Maximum age |
| --- | --- | --- |
| I | 5 years | 7 years |
| II | 6 years | 8 years |
| III | 7 years | 9 years |
| IV | 8 years | 10 years |
| V | 9 years | 11 years |
| VI | 10 years | 12 years |
| VII | 11 years | 13 years |
| VIII | 12 years | 14 years |
| IX | 13 years | 15 years |
| X | 14 years | 16 years |
NOTE: Relaxation of two years in the upper age for the PWD students.
 KVS Admission Method 2020-21 For Class 2 to 8?
There shall be no admission test/exam for admission of students in Class 2-Class 8 in Kendriya Vidyalaya. The admission will be granted based on the priority category system. If applications are more than the number of seats, the authorities follow the lottery system for each category including single girl child quota (Class VI onwards).
 Method Of KV Admission In Class 9
Check out the Kendriya Vidyalaya Admission Procedure for Class 9 below:
KVS will conduct an admission test for admission to Class 9. The authorities will also prepare a merit list for each category of priority separately. They will grant admission in the sequence of priority categories, in the order of merit.
The authorities will conduct the admission test in the following 5 subjects: Hindi, English, Maths, Social Science, and Science.
There will be only one paper of Admission Test of 3 hours duration and 100 marks comprising Hindi, English, Maths, Social Science & Science each subject carrying 20 marks.
Candidates must secure 33% marks on an average to qualify. Students belonging to SC/ST/Divyang category (PH) will be eligible for admission upon securing 25% on average.
Eligibility Criteria for KVS Admission 2020 to Class XI
The detailed information regarding the eligibility criteria for KVS admission to class 11th is given below.
Age Limit: There is no upper and lower age limit for admission into class XI.
Marks Required: Admission of KVS students in various KVs is done on the basis of marks obtained in class X.
Below is the complete details about the marks criteria-
Humanities Stream- All students who have passed the class X examination
Science Stream- Students must have obtained at least 60% marks aggregate in all the subjects.
Commerce Stream- Students must have obtained a minimum of 55% marks aggregate in all the subjects.
 Kendriya Vidyalaya Reservation Criteria
The category wise KVS Admission Reservation Criteria is given below:
KVS Admission Reservation Criteria

| Category | Reservation  |
| --- | --- |
| Scheduled Tribe (ST) | 7.5% |
| Scheduled Caste (SC) | 15% |
| Differently abled candidates | 3% |
| Economically weaker sections (EWS) of the society | 25% |
Documents required for Admission
The candidates must be ready with the following documents at the time of admission:
Proof of residence.
Certificate of retirement for uniformed Defence employees
Certificate of disability/handicapped
Category certificate (SC/ST/EWS/OBC/BPL)
Certificate showing the no. of transfers
Birth Certificate (Age proof) for Class-I
Note: – Admission secured on the basis of wrong certificate shall be cancelled by the principal and no appeal against the action of the Princpal shall be entertained. 
Priority Of Seats Allotment of Kendriya Vidyalaya Admissions 2020
Kendriya Vidyalaya seats are divided into five categories, preference will be given to this list.
Child of central govt employees.
The army and ex-army man child.
State government employees.
Single girl child quota.
The fifth preference is for private or self-employed.
In defense/central and state government employees child on following preferences:
Children of transferable central government staff and ex-servicemen.
Non-transferable central government worker and ex-servicemen child.
Children of PSU/ autonomous bodies/ Institute of Higher Learning of Government of India (GOI).
Transferable state government employees.
Child of state government non-transferable employees.
Last preference to children of any (also foreigners can get) only if seats are vacant.
KVS Admission Through MP Quota
According to the admission guidelines, there is a special provision through which candidates can take admissions in Kendriya Vidhyalaya. Members of Parliament can recommend up to 10 students for admission to KVs under this provision. However, the students are given admissions only in the schools located in the constituency of the MP who has recommended the students. Check the details of this provision below:
1. The MPs can make the recommendations for admission in classes I to IX.
2. The admissions provided through this quota is above the strength of the class.
3. Applications will not be considered after the cut-off dates for admissions. Thus, admissions under this quota have to be made at the start of the academic year.
4. The children recommended by the MP for admission must fulfill the eligibility criteria.
5. These recommendations have to be made only in the format prescribed by KVS (HQ).
KVS Admission 2020 Highlight
Admission
Kendriya Vidyalaya Admission 2020
केन्द्रीय विद्यालय
Article type
KVS Admission information
केन्द्रीय विद्यालय प्रवेश
Academic session
2020-21
Conducting body
Kendriya Vidyalaya Sangathan (KVS)
Affiliation
Central Board of Secondary Education (CBSE)
Mode of the application procedure
Online/Offline
Official Website
www.kvsangathan.nic.in
Provided by
Kendriya Vidyalaya Sangathan (KVS)
Online registration for class-1
June 2020 (Tentative)
Eligible For
Children of Government Employees
Mode of Application
Online/ Offline
Purpose Of Scheme
To provide a good education for Children for Gov Employees.
Admission Portal
www.kvsonlineadmission.in
Downloads
See Popular Courses After 12th Class: Options for Science, Arts, Commerce