Recently University Grants Commission (UGC) published a list of 123 deemed to be university and restrict them from using the word "University". The higher education authority asked these 123 Deemed-to-be-Universities to drop the word "University" from their names. The letter was giving reference to Supreme court order dated 03 November 2017 and asked Deemed-to-be universities to drop the word University within one month of the court order as it is also a violation of Section 23 of UGC act.
Supreme court restrict all deemed-to-be-universities to carry on any courses in distance education
"We restrain all Deemed to be Universities to carry on any courses in distance education mode from the Academic Session 2018- 2019 onwards unless and until it is permissible to conduct such courses in distance education mode and specific permissions are granted by the concerned statutory/regulatory authorities in respect of each of those courses and unless the off-campus Centres/Study Centres are individually inspected and found adequate by the concerned Statutory Authorities", said the bench…
Why Supreme Court of India asked 123 Deemed-to-be-universities to drop the word "University" from their name?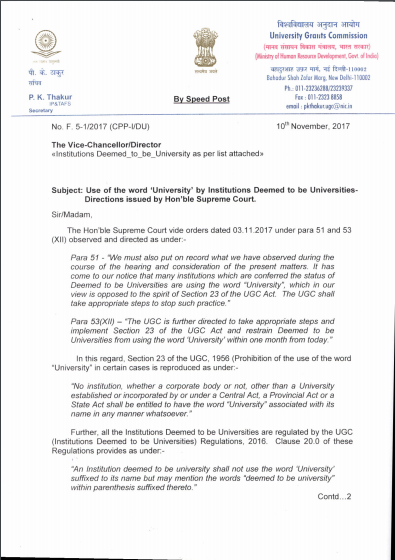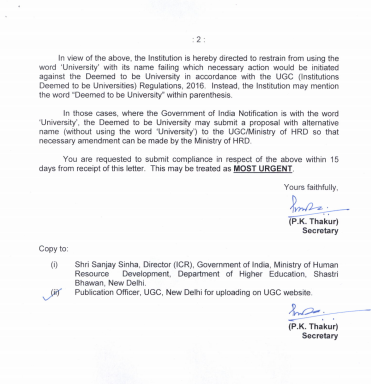 ---
List of 123 deemed-to-be-universities cannot use University in name
The list of 123 universities who will change their name within one month of the supreme court order. And also can not use "University" in their name.
1. Gandhi Institute of Technology and Management (GITAM)
Gandhi Nagar Campus, Rushikonda,
Visakhapatnam – 530 045,
Andhra Pradesh.
2. Koneru Lakshmaiah Education Foundation
Greenfields, Kunchanapalli Post,
Vaddeswaram, Guntur District-522002,
Andhra Pradesh.
3. Rashtriya Sanskrit Vidyapeeth
Tirupati-517 507,
Chittoor District,
Andhra Pradesh.
4. Sri Sathya Sai Institute of Higher Learning
Prasanthinilayam,
Anantapur-515 134,
Andhra Pradesh.
5. Vignan's Foundation for Science, Technology and Research,
Vadlamudi,
Guntur District – 522213,
Andhra Pradesh.
6. North Eastern Regional Institute of Science & Technology
Nirjuli, Itanagar-791109,
Arunachal Pradesh.
7. Nava Nalanda Mahavihara
Nalanda – 803 111,
Bihar.
8. Punjab Engineering College
Sector – 12,
Chandigarh-160 012.
9. Indian Agricultural Research Institute
Pusa Institute, Pusa,
New Delhi-110 012.
10. Indian Institute of Foreign Trade
B-21, Qutub Institutional Area,
New Delhi-110 016.
11. Indian Law Institute
Bhagwandas Road,
New Delhi-110 001.
12. Institute of Liver and Biliary Sciences (ILBS)
D 1, Vasant Kunj,
New Delhi – 110 070.
13. Jamia Hamdard
Hamdard Nagar,
New Delhi-110 062.
14. National Museum Institute of History of Art, Conservation and Musicology
National Museum,
Janpath,
New Delhi-110 011.
15. National University of Educational Planning & Administration
17 – B, Sri Aurobindo Marg,
New Delhi 110 016.
16. Rashtriya Sanskrit Sansthana
56, 57, Institutional Area,
Janakpuri, New Delhi-110 058.
17. Shri Lal Bahadur Shastri Rashtriya Sanskrit Vidyapith
Qutub Institutional Area,
New Delhi-110 016.
18. TERI School of Advanced Studies
Darbari Seth Block, Habitat Place,
Lodhi Road,
New Delhi-110 003.
19. Gujarat Vidyapith
PO Navjivan, Ashram Road,
Ahmedabad-380 014,
Gujarat.
20. Sumandeep Vidyapeeth
Village – Piparia, Taluka Vaghodia,
District – Vadodara,
Gujarat.
21. Lingaya's University
Nachauli, Old Faridabad – Jasana Road,
Faridabad – 121 002,
Haryana.
22. Maharishi Markandeshwar University
Mullana, Ambala,
Haryana.
23. Manav Rachna International University
Faridabad,
Haryana
24. National Brain Research Centre
S.C.O, 5, 6, 7, Sector 15 (2),
NH 8, Gurgaon,
Haryana-122 050.
25. National Dairy Research Institute
Karnal-132 001,
Haryana.
26. National Institute of Food Technology, Entrepreneurship & Management
(NIFTEM),
Plot No 97, Sector 56,
HSIIDC Industrial Estate, Kundli,
Dt. Sonepat, Haryana.
27. Central Institute of Buddhist Studies
Choglamsar, Leh (Ladakh),
Jammu & Kashmir
28. Birla Institute of Technology
Mesra, Ranchi-835 215,
Jharkhand.
29. B.L.D.E. University
Bijapur,
Karnataka
30. Christ University
Hosur Road,
Bangalore – 560 029,
Karnataka.
31. Indian Institute of Science
Bangalore-560 012,
Karnataka.
32. International Institute of Information Technology
26/c, Opp. Infosys (Gate – 1),
Electronic City, Hosur Road,
Bangalore – 560 100, Karnataka.
33. Jagadguru Sri Shivarathreeswara University
Jagadguru Dr Sri Shivarathri Rajendra Circle,
Ramanuja Road, Mysore – 570 004,
Karnataka.
34. Jawaharlal Nehru Centre for Advanced Scientific Research
Jakkur Campus, Jakkur,
Bangalore-560 064,
Karnataka.
35. Jain University
91/2, Dr. A.N. Krishna Rao Road,
V.V. Puram, Bangalore,
Karnataka.
36. K.L.E. Academy of Higher Education and Research
J.N.Medical College Campus,
Belgaum (Karnataka)
37. Manipal Academy of Higher Education
Madhav Nagar, Udupi,
Manipal-576 104,
Karnataka .
38. NITTE University
Mangalore 575 003,
Karnataka
39. Sri Devraj Urs Academy of Higher Education and Research
B. H. Road, Tamaka,
Kolar – 563 101,
Karnataka.
40. Sri Siddhartha Academy of Higher Education
Tumkur District – 572 102,
Karnataka.
41. Swami Vivekananda Yoga Anusandhana Samsthana
No. 9, Appajappa Agrahara,
Chamarajpet, Bangalore-560 018,
Karnataka.
42. Yenepoya University
Mangalore,
Karnataka
43. Chinmaya Vishwa Vidyapeeth
Adi Sankara Nilayam, Veliyanad,
Ernakulam – 692313,
Kerala.
44. Indian Institute of Space Science and Technology
Thiruvananthapuram,
Kerala.
45. Kerala Kalamandalam
Vallathol Nagar, Cheruthuruthy – 679 531,
via Thrissur, Kerala
46. Lakshmibai National Institute of Physical Education
Shakti Nagar,
Gwalior-474 002, M.P.
47. Bharati Vidyapeeth
Bharati Vidyapeeth Bhawan,
Lal Bahadur Shastri Marg,
Pune-411 030, Maharashtra.
48. Central Institute of Fisheries Education, Fisheries
University Road, 7 Bungalows,
Andheri West, Mumbai-400 061,
Maharashtra.
49. D.Y. Patil Educational Society
Line Bazar, Kasaba,
Bavada, Kolhapur – 416 006,
(Maharashtra)
50. Datta Meghe Institute of Medical Sciences
Atrey Layout, Pratap Nagar,
Nagpur-440 022 (Maharashtra).
51. Deccan College Postgraduate & Research Institute
Pune-411 006,
Maharashtra.
52. Dr. D.Y. Patil Vidyapeeth
Sant Tukaram Nagar,
Pimpri, Pune-411 018,
Maharashtra.
53. Gokhale Institute of Politics & Economics
BMC College Road, Deccan Gymkhana,
Pune-411 004,
Maharashtra.
54. Homi Bhabha National Institute
Regd. Office: Knowledge Management Group,
Bhabha Atomic Research Centre,
Central Complex, Mumbai-400 085,
Maharashtra.
55. Indira Gandhi Institute of Development Research
General Vaidya Marg, Santosh Nagar,
Goregaon East, Mumbai-400 065,
Maharashtra.
56. Institute of Armament Technology
Girinagar, Pune-411 025,
Maharashtra.
57. International Institute for Population Sciences
Govandi Station Road, Deonar,
Mumbai-400 088,
Maharashtra.
58. Institute of Chemical Technology
Nathalal Parekh Marg,
Matunga, Mumbai,
Maharashtra – 400 019.
59. Krishna Institute of Medical Sciences
Malka Pur, Karad,
Distt. Satara – 415 (M.S).
60. MGM Institute of Health Sciences
MGM Campus, Sector – 18,
Kamothe, Navi Mumbai– 410 209(M.S.)
61. Narsee Monjee Institute of Management Studies
VL Mehta Road, Vile Parle West,
Mumbai-400 056,
Maharashtra
62. Padmashree Dr. D.Y. Patl Vidyapeeth
Vidya Nagar, Sector 7, Nerul,
Navi Mumbai – 400 706,
Maharashtra.
63. Pravara Institute of Medical Sciences
P.O.-Loni BK-413 736,
District Ahmednagar,
Maharashtra.
64. SYMBIOSIS International University
Senapati Bapat Road,
Pune-411 004,
Maharashtra.
65. Tata Institute of Fundamental Research
Homi Bhabha Road,
Mumbai – 400 005,
Maharashtra.
66. Tata Institute of Social Sciences
VN Purav Marg, Deonar,
Mumbai-400 088,
Maharashtra.
67. Tilak Maharashtra Vidyapeeth
Vidyapeeth Bhawan,
Gultekedi, Pune-411 037,
Maharashtra.
68. Kalinga Insitute of Industrial Technology
AT/PO KIIT Patia, Khurda,
Bhubaneshwar-751 024,
Odisha.
69. Kalinga Institute of Social Sciences,
Bhubaneswar,
Odisha.
70. Shiksha 'O' Anusandhan
J – 15, Khandagiri,
Bhubaneswar,
Orissa – 751 030
71. Sant Longowal Institute of Engineering and Technology (SLIET)
Longowal,
District Sangrur 148 106,
Punjab
72. Thapar Institute of Engineering & Technology
Thapar Technology Campus,
Bhadson Road, Patiala-147 004,
Punjab.
73. Sri Balaji Vidyapeeth
Mahatma Gandhi Medical College Campus,
Pondy-Cuddalore Main Road,
Pillaiyarkuppam, Pondicherry – 607 402.
74. Banasthali Vidyapith
Banasthali-304 022,
Rajasthan.
75. Birla Institute of Technology & Science
Pilani-333 031,
Rajasthan.
76. Institute of Advanced Studies in Education
Gandhi Vidya Mandir,
Sardarshahr – 331 401,
Distt. Churu, Rajasthan.
77. I.I.S. (Deemed to be University)
Gurukul Marg, Mansarovar,
Jaipur, Rajasthan.
78. Jain Vishva Bharati Institute
Box No. 6, Ladnun,
Nagaur -341 306,
Rajasthan.
79. Janardan Rai Nagar Rajasthan Vidyapeeth
Udaipur – 331 401,
Rajasthan.
80. LNM Institute of Information Technology
Gram – Rupa ki Nagal, Post – Sumel,
Via Kanota, Dist. – Jaipur – 303 012
(Rajasthan).
81. Academy of Maritime Education and Training
5107, H2, 2nd Avenue, 1st Floor,
Anna Nagar,
Chennai – 600 0 40.
82. Amrita Vishwa Vidyapeetham
Ettimadai Post,
Coimbatore-641 105,
Tamilnadu.
83. Avinashilingam Institute for Home Science & Higher Education for Women
Bharathi Park Road,
Coimbatore-641 043,
Tamilnadu.
84. Bharath Institute of Higher Education & Research
173, Agharam Road, Selaiyur,
Chennai-600 073,
Tamilnadu.
85. B.S. Abdur Rahman Institute of Science & Technology
Vandalur, Chennai,
Tamil Nadu.
86. Chennai Mathematical Institute
Plot H1, SIPCOT IT Park, Padur Post,
Siruseri- 603 103, Chennai
(Tamilnadu)
87. Chettinad Academy of Research and Education (CARE)
Padur, Kelambakkam,
Kancheepuram District,
Tamil Nadu.
88. Gandhigram Rural Institute
Gandhigram, Dindigul -624 302,
Tamilnadu.
89. Hindustan Institute of Technology and Science (HITS)
Padur, Old Mahabalipuram Road,
Kelamballam, Kancheepuram District.
(Tamilnadu).
90. Kalasalingam Academy of Research and Higher Education
Anand Nagar, Krishnankoil,
Virudhunagar – 626 190 ,
via Srivilliputhrur, Tamilnadu.
91. Karunya Institute of Technology and Sciences
Karunya Nagar,
Coimbatore-641 114 (Tamil Nadu).
92. Karpagam Academy of Higher Education
Pollachi Main Road,
Coimbatore, Tamilnadu.
93. M.G.R. Educational and Research Institute
Periyar EVR Salai (NH 4 Highway),
Maduravoyal, Chennai-600 095,
Tamilnadu.
94. Meenakshi Academy of Higher Education and Research
No. 12, Vembuli Amman Koil Street,
West K.K. Nagar, Chennai-600 078,
Tamilnadu.
95. Noorul Islam Centre for Higher Education,
Kumaracoil, Thuckalay,
Dt. Kanyakumari,
Tamil Nadu – 629 175.
96. Periyar Maniammai Institute of Science & Technology (PMIST)
Priyar Nagar, Vallam,
Thanjavur -613 403,
Tamil Nadu
97. Ponnaiyah Ramajayam Institute of Science & Technology (PRIST),
Yagappa Chavadi,
Thanjavur – 614 904,
Tamilnadu
98. S.R.M Institute of Science and Technology
2, Veerasamy Street, West Mambalam,
Chennai-600 033,
Tamilnadu.
99. Sathyabama Institute of Science and Technology
Jappiaar Nagar, Old Mamallpuram Road,
Chennai – 600119,(T.N).
100. Saveetha Institute of Medical and Technical Sciences
Post Box No. 6 No. 162,
Poonamalle High Road, Velappanchavadi,
Chennai-600 077 (Tamil Nadu).
101. Shanmugha Arts, Science, Technology & Research Academy (SASTRA)
Tirumalai Samudram,
Thanjavur – 613 402,
Tamilnadu.
102. Sri Chandrasekharendra Saraswathi Vishwa Mahavidyalaya
Sri Jayendra Saraswathi Street,
Enathur, Kancheepuram-631 561,
Tamilnadu.
103. Sri Ramachandra Medical College and Research Institute
1, Ramachandra Nagar,
Chennai-600 116.
104. St. Peter's Institute of Higher Education and Research
Avadi, Chennai – 600054,
Tamilnadu.
105. Vel's Institute of Science, Technology & Advanced Studies (VISTAS)
Pallavaram,
Chennai,
Tamilnadu
106. Vellore Institute of Technology
Vellore – 632 014
(Tamilnadu).
107. Vinayaka Mission's Research Foundation
Sankari Mani Road, NH 47,
Ariyanoor, Salem-636 308,
Tamilnadu.
108. Vel Tech Rangarajan Dr. Sagunthala R & D Institute of Science and
Technology,
Chennai,
Tamilnadu.
109. International Institute of Information Technology,
Survey No. 25, Gachibowli,
Ranga Reddy District,
Hyderabad-500 032,
Andhra Pradesh
110. ICFAI Foundation for Higher Education
Plot No. 52, 2nd Floor, Nagarjuna Hills,
Punjagutta, Hyderabad – 500 982,
Andhra Pradesh
111. Sam Higginbottom Institute of Agriculture, Technology & Sciences
P.O. Agricultural Institute,
Allahabad – 211 007, U.P.
112. Bhatkhande Music Institute
1 Kaiser Bagh, Lucknow,
Uttar Pradesh.
113. Central Institute of Higher Tibetan Studies
Sarnath, Varanasi-221 007,
Uttar Pradesh.
114. Dayalbagh Educational Institute
Dayalbagh, Agra-282 005,
Uttar Pradesh.
115. Indian Veterinary Research Institute
Izatnagar-243 122,
Uttar Pradesh.
116. Jaypee Institute of Information Technology
A-10, Sector-62,
Noida-201 307 (U.P).
117. Nehru Gram Bharati Vishwavidyalaya
Kotwa – Jamunipur, Dubwali Distt.,
Allahabad,
Uttar Pradesh
118. Shobit Institute of Engineering & Technology
Dulhera Marg, Roorkee Road,
Meerut – 250 010 (U.P.)
119. Santosh University
1, Santosh Nagar, Ghaziabad,
Uttar Pradesh – 201 009.
120. Forest Research Institute
P.O. New Forest,
Dehradun-248 006,
Uttrakhand.
121. Gurukul Kangri Vishwavidyalaya
Haridwar-249 404,
Uttrakhand.
122. Graphic Era University
566/6 Bell Road, Clement Town,
Dehradun, Uttrakhand.
123. Ramakrishna Mission Vivekananda Educational and Research Institute
P.O. Belur Math,
Distt Howrah – 711 202,
West Bengal
Subscribe to Get Updated Information about 123 Deemed-to-be-Universities to drop the word "University"
​
Engineering Distance Education Degree is not valid
The court also issued an order regarding this
"It has been the policy of the AICTE, not to recognize the qualifications acquired through
distance education mode at Diploma, Bachelors & Master's level in the fields of Engineering
Technology including Architecture, Town Planning, Pharmacy, Hotel Management &
Catering Technology, Applied Arts & Crafts and Post Graduate Diploma in Management (PGDM). AICTE only recognizes MBA and MCA programme through distance mode."
http://supremecourtofindia.nic.in/supremecourt/2012/15992/15992_2012_Judgement_03-Nov-2017.pdf