Bihar Engineering Admission 2019: B.tech. or Engineering admission in Bihar is monitored by Bihar Combined Entrance Competitive Examination Board (BCECEB). BCECEB conducts competitive examinations every year for admissions in various professional courses of Medical, Engineering and Agricultural streams in the Institutions of the state of Bihar.
Upcoming Application Form
Bihar Engineering Admission 2019
The Engineering Admission in Bihar is tough as a number of colleges are less and the number of aspirants is high. Every year thousands of students appear for JEE MAIN exam and prove their dominance.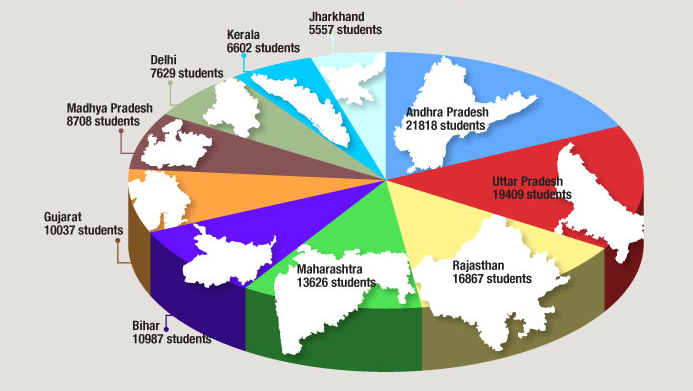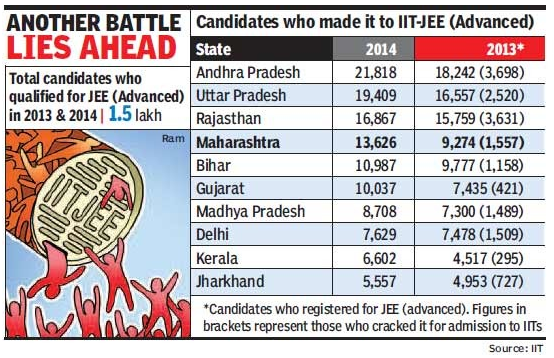 Procedure for Admission In Engineering / B.Tech. / B.E. courses
The Candidates need to fill the BCECE 2019 application form. The notification will be announced by BCECE Board in February 2019. The detailed notification and application form for BCECE BIHAR CET 2019 is given here.
The BCECE BIHAR CET Application form will be available in February 2019 along with information brochure.
New Admission Procedure for Engineering and Medical courses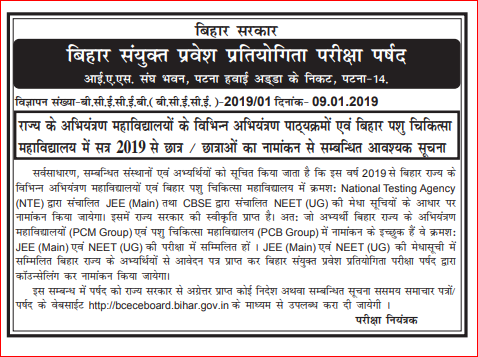 BIHAR Super 30
A coaching class for the meritorious student called SUPER-30 is run by Anand Kumar where every year around 30 students clear the Joint Entrance Examination (MAIN).
List of Bihar Engineering Colleges with Intake
The total number engineering colleges in Bihar is 29. Please find the detailed list is given below.
S.No.
Name of Engineering Colleges & Address
Status
 Affiliation from
University / Board
1.
Indian Institute of Technology, Patna
New Govt. Polytechnic Campus,
Patliputra Colony, Patna – 800013
Govt
Deemed University2.National Institute of Technology, Patna
Ashok Rajpath, Patna
www.nitp.ac.inGovtDeemed University3.Muzaffarpur Institute of Technolgy,
Muzaffarpur
www.mitmuzaffarpur.orgGovtBRA. Bihar University, Muzaffarpur4.
Bhagalpur College of Engineering, Bhagalpur P.O Sabour Bhagalpur- 813210
GovtT.M Bhagalpur University, Bhagalpur5.Nalanda College of Engineering, Chandi
NalandaGovtMagadh University, Gaya6.Motihari College of Engineering, Motihari
East Champaran
www.mecmotihari.orgGovtBRA. Bihar University, Muzaffarpur7.Gaya Engg. College, Gaya
Sri Krishna Nagar
P.O Nagari Yana Via Buniyadganij
Gaya-823001GovtMagadh University, Gaya8.Darbhanga Engg. College,
Darbhanga Mabbi Darbhanga
P.O Lal Sahpur Via PTC-846005GovtLN Mithila University, Darbhanga9.Sanjay Gandhi Institution of Technology, PatnaGovtRajendra Agricultural University Pusa, Samstipur10.College of Agricultural Engg, Pusa
SamstipurGovtRajendra Agricultural University Pusa, Samstipur11.Central Institute of Plastic Engg & Tech
EPIP Complex Industrial Area,
Hajipur-844101
http://cipet.gov.inGovtBRA. Bihar University, Muzaffarpur12.
Maulana Azad College of Engineering and Technology, Patna
Pvt.Magadh University, Gaya13.R.P. Sharma Institute of Technolgy, Patna
New Bailey Road Patna, BiharPvt.Magadh University, Gaya14.Birla Institute of Technology, Patna
Near Patna Airport,
P.O. Bihar Veterinary College,
Patna – 14
www.bitpatna.ac.inPvt. 15.Netaji Subhash Institute of Technology, Amhara, Patna
Bihar -854301
http://nsit.inPvt.Magadh University, Gaya16.Millia Institute of Technology, Purnea
Ram Bag, Purnea, Bihar-854301
www.mitpurnea.org.inPvt.B.P. Mandal University, Madhepura17.Siwan Institute of Engg & Tech, Siwan Islamia Nagar Shurapur
PO.& Dist- Siwan
Bihar-841226GovtJ.P University, Chapra18.Women Institute of Technology, Darbhanga L.N. Mithila University Campus, Kameshwar Nagar,
Darbhanga – 846004UniversityLN Mithila University, Darbhanga19.Vidya Vihar Institute of Technology
Purnea-854301
www.vvit.orgPvt.B.P. Mandal University, Madhepura20.
Loknayak Jai Prakash Institute Of Technology, Chhapra In The Campus Of Lnjp University, Chhapra, Saran- 841301
GovtAryabhatta Knowledge University, Patna21.K.C.E. KatiharGovtA.K.U., Bihar, Patna22.B.P.Mandal, College of Engg. MadhepuraGovtA.K.U., Bihar, Patna23.B.C.E., BakhtiyarpurGovtA.K.U., Bihar, Patna24.S.I.T., SitamarhiGovtA.K.U., Bihar, Patna25.R.R.S.D., College of Engg. BegusaraiGovtA.K.U., Bihar, Patna26.Shershah College of Engg. SasaramGovtA.K.U., Bihar, Patna27.
Vidyadaan Institute of Technology & Management, Ariaon, Dumraon, Buxar
Pvt.A.K.U.,Bihar, Patna28.Saharsa Engineering College, SaharsaGovtA.K.U.,Bihar, Patna29.Supaul Engineering College, SupaulGovtA.K.U.,Bihar, Patna30.Purnea Engineering College, PurneaGovtA.K.U.,Bihar, Patna
List of Engineering Entrance Examination 2019