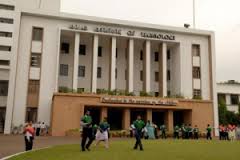 The IIT council approved a proposal of introducing the Prime Minister's Research Fellowships. And this decision will help the IITians passing out to enrol in Research Program i.e PhD courses straightaway. This significant step is aimed to encourage the talents to do research. Also, the Government is thinking to implement Prime Minister's Research Fellowship scheme for IITians from next academic session, more than 1000 IITs passing out will receive advantage from this decision to follow their dream projects of research.
The main objective of the fellowship is to encourage the talents to go further research in their field of interest.
IIT Prime Minister's Research Fellowships
PM "Modi" launched Imprint India last year to enhance the scientific research in India. The project costing 1000 crore was launched to decrease the research brain drain dependency of the foreign land.
Most Popular: Young India Fellowship at Ashoka University
Subscribe to Get Updated Information about IIT Prime Minister's Research Fellowships for Research Program
​
A panel consist of eminent scientist Anil Kakodkar recommended that 3rd-year students of NITs and IITs should start thinking of Research programmes/PhD
The need of identifying the best talents of IITs and NITs for quality research as they come up with after passing the toughest exam of the country called IIT-JEE. Where around 14 lakhs students appear every year and increasing day by day.
As per sources B.tech fourth Year students can register for PhD and will be eligible for the above mention fellowship. They need to submit the synopsis of the project, the panels constituted by Board of IITs will select the fellows.
Prime Minister's Fellowship Scheme for Doctoral Research
Firstly, the Prime Minister's Fellowship Scheme for Doctoral Research was formally inaugurated at the 'AICTE-CII University-Industry Congress & 4th Global Higher Education Summit' held in New Delhi. This fellowship is a public-private partnership (PPP) between Science & Engineering Research Board (SERB), which is an autonomous body under the Department of Science and Technology (DST), Government of India, and Confederation of Indian Industry (CII).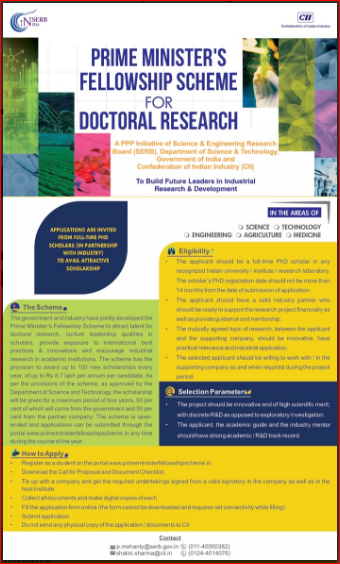 Source: The New Indian Express and www.primeministerfellowshipscheme.in