The UPESEAT 2019 Eligibility criteria comprise a set of rules and criteria which must be fulfilled by an aspirant. Candidates who wish to get admission in the undergraduate courses of Engineering at the UPES must fulfil the criteria led down by the exam authority. The Admission criteria consist the details of age limit, academic qualification along with other conditions. If the criteria are not fulfilled it will lead to rejection of application made by the candidate. Hence it is essential for all the candidates to check the criteria and the rules. In this article, all the UPES Eligibility Criteria have been described for the aspirant.
Upcoming Application Form
JEE Main January Session 2019 by National Testing Agency Check Here
Manipal University B.Tech Admission Open Apply Here
Manipal University All Courses Admission Open Apply Here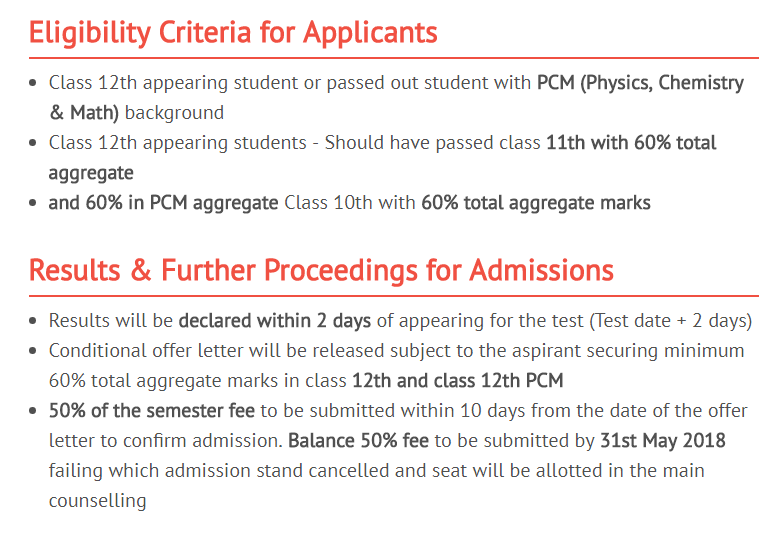 UPESEAT 2019 Eligibility Criteria: Non-Exam Pathway:
Admission through Board Merit:
This is a non-exam path or route to get into this prestigious university. 20% seats can be filled by this method.
Candidates are required to secure a minimum of 80% aggregate marks in class 10th & 12th
They are also required to secure a minimum 80% aggregate marks in Physics, Chemistry, and Mathematics in 12th class.
Admission through JEE Main 2019
Non-Examination Pathway through Board Merit / JEE Merit (Subject to the number of seats allotted)
Eligibility Criteria
Admission Criteria
Board Merit – Minimum 80% Marks in 12th or equivalent i.e Higher and Secondary Higher. And 80% aggregate in PCM ( Physics, Chemistry, Mathematics).
Centralized Counselling through Merit Ranking
JEE Merit –

(1)  Minimum 60% marks in the 10th and 12th board are mandatory criteria. And also,60% aggregate in PCM (Physics, Chemistry, Mathematics)

(2) JEE Mains cut-off, which will be announced after JEE Exams 2019.
For the candidates seeking admission through JEE mains 2019 examination must fulfil the following criteria
Candidate must score an aggregate of at least 60 per cent of total marks in higher secondary qualifying examination conducted by CBSE/ICSE/any state boards or any other recognized education board.
Candidates are required to score a minimum of 60% in physics, chemistry, and mathematics in the qualifying exam.
Candidates should qualify JEE Main Cutoff prescribed by UPES which is 80 from 360.
Age Limit: 
Candidates born on or after October 1, 1995, are eligible to appear for UPESEAT 2019. The DOB mentioned in the Senior Secondary Examination Certificate will be considered valid.

UPES Engineering Aptitude Test Eligibility Criteria:

UPESEAT 2019 Eligibility Criteria set of rules and criteria must be fulfilled by an aspirant to be eligible for UPES early entrance exams.

Refer link of application form and Result are here.

List of Engineering Entrance Examination 2019