IBSAT 2019 Result is announced on 26 December 2019 by the ICFAI Foundation for Higher Education. It is the university level entrance exam conducted by The ICFAI Foundation for higher education, Hyderabad. Through this exam, a candidate can go for MBA/PGDM programmes which are offered by ICFAI business schools. Ahmedabad, Gurugram, Kolkata, Mumbai, Pune, Dehradun are the location of the IBS colleges that a student can opt for. In this article, we are providing details about IBSAT 2019.
Upcoming Application Form
ICFAI Business Studies Aptitude Test (IBSAT) 2019 Latest Update
IBSAT 2019 Result is announced on 26 December

2019 by the ICFAI Foundation for Higher Education.
IBSAT 2019 Important Dates
IBSAT 2019 Important dates are given in the table below.
IBSAT 2019 Important Dates

| | |
| --- | --- |
| Events  | Dates (Announced) |
| Registration for the Application form | 01 July 2019 |
| Last Date for Online Application | 12 December 2019 |
| Admit Card | After the complete registration process is done |
| IBSAT Entrance Exam Date | 21 – 22 December 2019 |
| IBSAT 2019 Result Date | 26 December 2019 |
| Briefing about Selection | 11 – 20 January 2020 |
| Selection Process for MBA/PGPM Program | 22 – 29 February 2019 at IBS Hyderabad |
IBSAT 2019 Result
The ICFAI Foundation for Higher Education has released the IBSAT 2019 Result on 26 December 2019. Earlier the IBSAT 2019 exam was conducted on 21 – 22 December 2019.
Subscribe to Get Updated Information about IBSAT 2019: Result (Released), Counselling Schedule - Admissions
​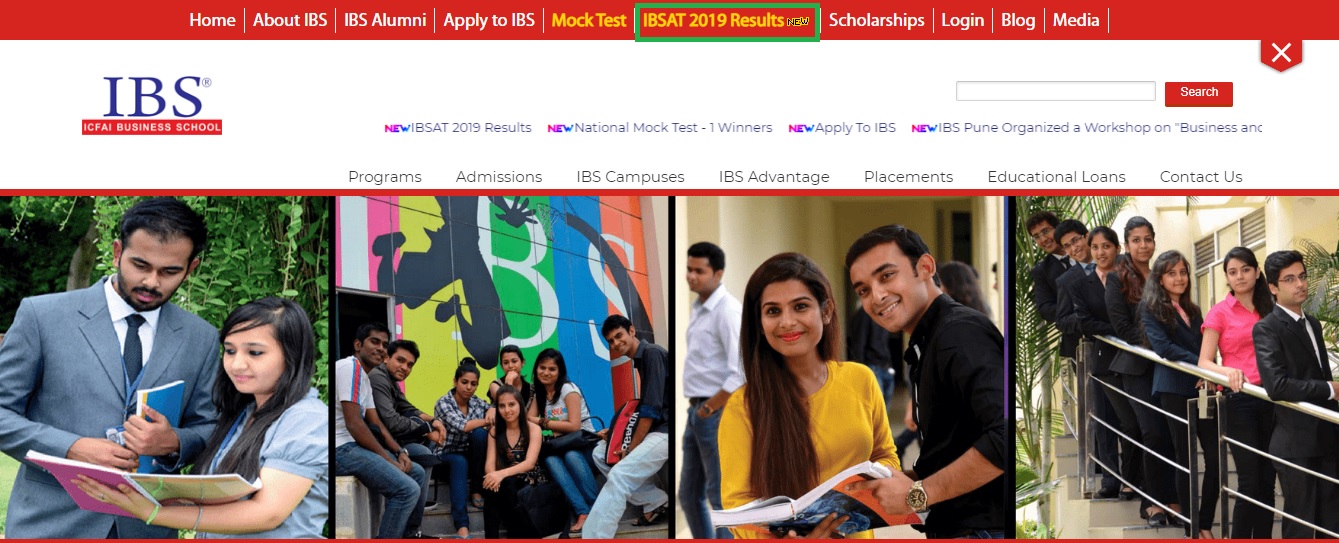 Click here to download IBSAT 2019 Result.
Apply for Top & Best Colleges Here. (Official Links)
Apply Here
IBSAT 2019 Registration & Application Form
Below are the details that how candidate registered for the ICFAI Business Studies Aptitude Test (IBSAT) 2019.
Both offline and online modes are available for the candidate to get the application form.
From the website, a candidate can easily get the application form.
For offline mode, a candidate can easily get the application form from the marketing offices of the IBS.
Candidates should fill the application form carefully. No correction will be allowed after the form submission.
From 01 July to 12 December 2019, a candidate can easily get the form.
Take a print copy of the filled application form future use.
Application Fees:
The application fee will be Rs. 1800. The fee can be paid via debit/credit card and net banking. Candidates, those buy the form from the designated centre, they have to pay the fee in cash & buy the form.
How to apply for IBS, Hyderabad Programs?
The aspirants who wish to take admission in MBA/PGPM/PhD courses at ICFAI Bussiness School must appear for IBSAT 2019 Test scheduled in December 2019. Also, Candidates can apply with GMAT®/CAT/ NMAT by GMACTM with scores from 2016 onwards.
PhD applicants: IBS Alumni, M.Phil Degree holders, and UGC NET qualified candidates are exempted from entrance test i.e IBSAT 2019. However such candidates have to attend the selection process scheduled in March 2019. Furthermore, these candidates need to submit the relevant certificates for verification at the time of counselling.
ICFAI Business Studies Aptitude Test (IBSAT) 2019 Eligibility Criteria
Before filling the application form, candidates have to check the eligibility criteria. The eligibility criteria are given below:
Qualification Exam: Candidates have to pass their graduation degree in any discipline from any recognized university. Candidates have to complete a minimum of 15 years of education, i.e. 10+2+3 & 10+2+4.
Minimum Marks: Candidates have to secure minimum 50% & above marks with English medium.
Appearing candidates can also apply.
IBSAT Admit Card 2019
The Details of Hall Ticket for ICFAI business schools Admission Test is given below:
The exam conducting authority will be provided the admit card of IBSAT 2019 through online mode.
Admit card will be issued through offline mode
As per their preference, the candidate has to fill the booking slot to get the admit card.
The slot booking process will be started after the complete process of Registration is done. In the slot, booking candidates have to choose the centre, exam date etc.
The admit card contains the details about the candidate name, examination time & date, exam centre address, category, photograph, etc. Candidates have to bring this admit card at the time of examination.
ICFAI Business Studies Aptitude Test: IBSAT Syllabus
The exam conducting authority will prescribe the syllabus for the exam. There are four subjects under the syllabus. It includes Reading Comprehension, Quantitative Ability, Data Interpretation, and Sufficiency.
IBSAT 2019 Exam Pattern
Below, we are providing the complete exam pattern of IBSAT:
Mode of Exam: The exam will be conducted through online mode (Computer Based Test (CBT)).
Language: The question paper will ask in English language only.
Numbers of Questions: Total of 120 questions will come in the examination.
Type of Questions: The question will be objective type questions.
Duration: The duration of the exam will be 2 hours.
Marking Scheme: For the correct answer, one mark will be given to the candidate.
Negative marking: There will be no negative marking process.
| | |
| --- | --- |
| Subjects | No. of Questions |
| Quantitative Aptitude | 30 |
| Data Adequacy & Data Interpretation | 30 |
| Verbal Ability | 50 |
| Reading Comprehension | 30 |
| Total | 140 |
IBSAT Result 2019
The merit list for ICFAI business schools will be based on IBSAT 2019 and details are mention below:
Candidates can check their results in the first week of January 2020.
The IBSAT 2019 result will be announced through online mode only on the website.
Candidates can view their results by entering their application number & password.
Selection Procedure for ICFAI Business Schools
The ICFAI University offers admission into management courses through the scorecard of IBSAT or CAT/NMAT/GMAT. The selection process is for those who qualify for the examination. The selection procedure will be started from 22-29 February 2020. In the selection process, candidates have to pass the personal interview & group discussion round.
IBSAI Campuses in India
There are 9 campuses all over the India which is listed below:
Hyedrabad
Mumabi
Bengaluru
Gurgaon
Pune
Kolkata
Ahemdabad
Jaipur
Dehradun
IBSAT Test Centers
The examination will be conducted in  the following cities:
Aligarh, Allahabad, Alwar, Ambala, Agra, Ahmedabad, Ajmer, Aurangabad, Bangalore, Belgaum, Bhilai, Bhopal, Bhubaneshwar, Bareilly, Baroda, Chandigarh 34, Chennai, Coimbatore, Cuttack, Dehradun, Delhi-Kirti Nagar, Delhi-Okhla, Delhi-Vivek-Vihar, Dhanbad, Dibrugarh, Durgapur, Faridabad, Ghaziabad, Gorakhpur, Greater Noida, Gurgaon, Guwahati, Gwalior, Haldwani, Haridwar, Hissar, Hyderabad, Indore, Jabalpur, Jaipur, Jalandhar, Jammu, Jamshedpur, Jodhpur, Jorhat, Kanpur, Karnal, Khammam, Kochi, Kolhapur, Kolkata, Kota, Kozhikode, Lucknow, Ludhiana, Madurai, Mandi, , Thrissur, Tirupati, Trivandrum, Udaipur, Varanasi, Vijayawada, Visakhapatnam, Warangal, Navi Mumbai, Noida, Patna, Pune, Raipur, Rajahmundry, Rajkot, Ranchi, Rohtak, Rourkela, Secunderabad, Shillong, Shimla, Silchar, Siliguri, Surat Mangalore, Meerut, Moradabad, Mumbai Dadar, Mumbai-Andheri, Mumbai-Mira Road, Mumbai-Thane, Muzaffarpur, Mysore, Nagpur, Nasik.
IBSAT Preparation Tips
For any examination, preparation is very necessary. Below, we give some preparation tips to crack this examination:
Know the complete syllabus of the exam and create a study timetable.
You have to practice through the test series books, sample papers, previous year question papers, etc. It helps you to increase your speed in solving the questions.
Having good commands on basics will lead to achieving considerable marks in the exam.
ICFAI Business Studies Aptitude Test (IBSAT) 2019 Highlights
Name of College: IBS Hyderabad
Examination Conducting Body: ICFAI Bussiness School, Hyderabad
Name of Entrance Test: IBSAT 2019
Courses:
The 2-year MBA program at IBS Hyderabad, IBS Dehradun and IBS Jaipur.
4-year Ph. D program (Full Time/Part-TimePart Time) at IBS Hyderabad
2-year PGPM (Postgraduate Program in Management) at 6 IBS campuses – Ahmedabad, Bengaluru, Gurgaon, Kolkata, Mumbai and Pune
Campuses: Hyderabad, Mumbai, Bengaluru, Gurgaon, Pune, Kolkata, Ahmedabad, Jaipur, Dehradun.
Valid Exam Scores: CAT / GMAT / NMAT by GMAC™ and IBSAT
Official Website: www.ibsindia.org
What is the last date for applying with CAT/ GMAT®/ NMAT by GMACTM score?
The last date to submit the application form with CAT / GMAT / NMAT by GMAC™ score is  31 January 2019.
Where do I get the IBSAT 2019 Application?
Candidates can get IBSAT 2019 Application via two methods. i.e. Online and Offline. The IBSAT Online and Offline Application form filling methods are described here.
Online Form: The Online application is available at ICFAI Bussiness School Official Website. After the successful transaction of application fees, candidates shall receive a mail/SMS with details of application number and password. Follow the instruction to complete the application form.
Offline Form: The IBSAT Offline Application is available at 50 IBS FTP Branches across India. And candidates looking to fill the offline application form can find the nearest branch by visiting this link: www.ibsindia.org/contact-us/.
CAT / GMAT / NMAT 2019 Scores: If a candidate is giving CAT / GMAT / NMAT 2019 and test results will be announced only in January 2019. Can the candidate still apply for IBS?
Yes, Candidates have to submit the application form before 31 January 2019. However, such candidates need to update their scores online on or before 31 January 2019. Only after updating of scores, IBS call letter for the selection process will be issued.
For more information regarding CAT 2019.
ibsat 2019 application form, ibsat 2019 registration, ibsat 2019 login, ibsat 2019 exam date