The Shiv Nadar University, Noida has announced admissions for the academic year 2018-19 with a new undergraduate programme in International Relations and also launched a new "Gifted Student Scholarship" apart from existing scholarships. The last date for submitting application forms for undergraduate programmes is 28 May and the last date to appear for Shiv Nadar University Scholastic Aptitude Test and Academic Proficiency Test is 4 June  2018.
Shiv Nadar University is in Delhi NCR at NH91, Tehsil Dadri, Gautam Buddha Nagar, Greater Noida, Uttar Pradesh 201314.
Gifted Student Scholarship: The top 10 rank holders in class XII from each Board of Education, INSPIRE fellows awarded Scholarship for Higher Education and top 500 rank holders in JEE (Advanced).
SHIV NADAR UNIVERSITY'S ADVANTAGES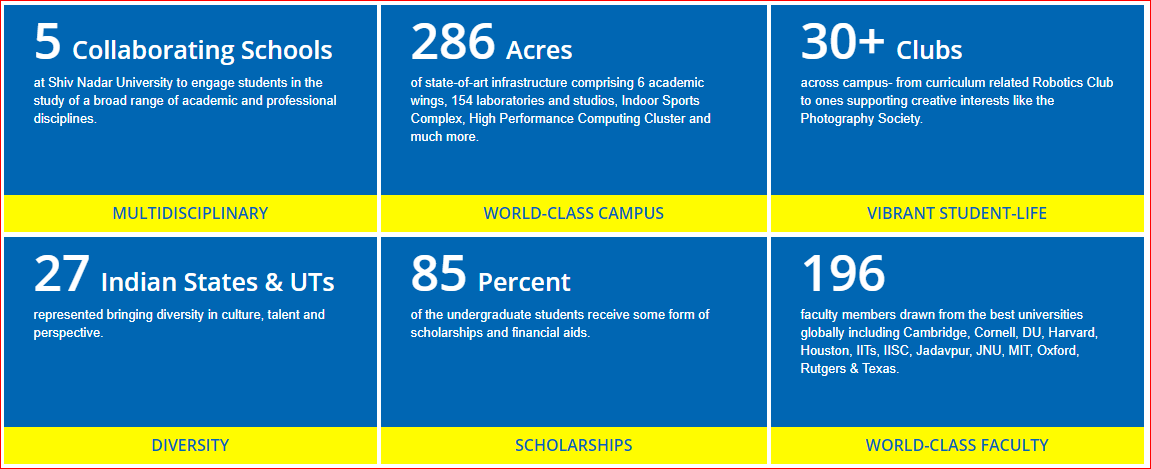 Subscribe to Get Updated Information about Shiv Nadar University launched a new "Gifted Student Scholarship"
​
School of Engineering
School of Humanities & Social Sciences
School of Natural Sciences
School of Management & Entrepreneurship

•

B.Tech. in Chemical Engineering

•

B.A. (Research) in English

•

B.Sc. (Research) in Biotechnology

•

Bachelor of Management Studies (BMS)

•

B.Tech. in Civil Engineering

•

B.A. (Research) in History

•

B.Sc. (Research) in Chemistry

•

B.Tech. in Computer Science & Engineering

•

B.A. (Research) in Sociology

•

B.Sc. (Research) in Mathematics

•

B.Tech. in Electrical & Electronics Engineering

•

B.Sc. (Research) in Economics

•

B.Sc. (Research) in Physics

•

B.Tech. in Electronics & Communication Engineering

•

B.A.(Research) in International Relations

•

B.Tech. in Mechanical Engineering