As per Telangana State Council of Higher Education (TSCHE), admissions in Engineering Programmes in Universities, constituent colleges, and private colleges will be done through Telangana State EAMCET Entrance Examination. TS EAMCET is conducted by Jawahar Lal Nehru Technical University, Hyderabad on behalf of Telangana State Government. As per the recent announcement by the state government, the Engineering, Agriculture and Medical Common Entrance Test (EAMCET) 2020 will be conducted in May. Earlier there was confusion over the conduct of EAMCET after the All India Council for Technical Education (AICTE) proposed to conduct a single entrance examination throughout India by the National Testing Agency (NTA) for engineering admissions. The EAMCET examination is conducted for the admission of students into various scientific, technical and medical courses offered by various government colleges in the state of Telangana. 
TS EAMCET 2020 Important Dates
Some TS EAMCET 2020 Exam Date that can be summarised in a timetable. This timetable was released by the board.
| | | |
| --- | --- | --- |
| S.No | Events | Important Dates(Announced) |
| 1 | Official Notification |  01 February 2020 |
| 2 | Availability of Online Application Form | 06 March 2020 |
| 3 | Submission of Filled Application Form | 05 April 2020 |
| 4 | Correction in the application form | 06 – 09 April 2020 |
| 6 | Admit Card Downloading | 20 April – 01 May 2020 |
| 7 | Examination for Engineering Stream | 03, 04, 06 May 2020 (Announced) |
| 8 | For Agricultural Stream | 08 and 09 May 2020 (Announced) |
| 9 | Preliminary Answer Key |  11 May 2020 |
| 10 | The release of Final Answer Key | 11 May 2020 |
| 11 | Announcement of Result | 09 June 2020 |
| 12 | Payment of Processing Fee for Counselling Round 1 | 24 June 2020 |
| 13 | Document Verification | 27 June – 03 July 2020 |
| 14 | Exercising of Options | 27 June – 04 July 2020 |
| 15 | Seat Allotment – Round 1 | 04 July 2020 |
| 16 | Round 1 – Payment of Fees and Reporting | 06-12 July 2020 |
| 17 | Online fee payment and registration for the 2nd round of seat allotment | July 2020 |
| 18 | Document verification | July 2020 |
| 19 | Option entry | July 2020 |
| 20 | Second seat allotment result | July 2020 |
| 21 | Payment of admission fees | July 2020 |
| 22 | Reporting to institutes | July 2020 |
| 23 | Commencement of Classes | 16 July 2020 |
TS EAMCET Web Counselling Procedure 2020: Online Web Options Entry @ tseamcet.nic.in
The counselling process for admission in various colleges coming under TS EAMCET 2020 has been started from 24 June 2020 and will go up to September 2020. The document verification process has been started from 27 June – 03 July 2020 and the candidate will get a full month to complete this process. Counselling Fee is Rs. 1000/- for unreserved category and Rs. 500 for SC/ST candidates. Also, there is a schedule for the various rank holders to attend the counselling process mentioned below:
Check your JEE Main Eligibility Here. Join & Refer your Friends to Earn Paytm Cashback
Check Now & Refer
S EAMCET 2020 Result
The result has been declared just after the release of the official Answer key, online on the official website. The students will also receive a separate rank card to their corresponding addresses. The scores in the results will be on the basis of the individual scores that are out of 160 marks. And also the intermediate weightage percentage of an individual will get importance for the preparation of the merit list. The EAMCET weightage is will be there to prepare the merit list.
Subscribe to Get Updated Information about TS EAMCET 2020: Counselling, Admission Process
​
TS EAMCET 2020 Answer Key
TS EAMCET Answer Key, Responses, and Question Papers has been released. Candidates require the answer sheet to evaluate their performance before the release of an official result so as to get an idea about what they will score in the examination. The answer key has been available on 11 May 2020.
How to Download the Answer Key?
TS EAMCET 2020 answer key can be downloaded through the simple steps given below:
Firstly, visit the official Website of TS EAMCET.
Secondly, click on the link 'Answer Key'.
Also, download the official solution key to the exam you are looking for and save it on your PC.
Moreover, also take the printout of the answer key for further use.
How To Challenge The Answer Key?
Candidates can make objections within one week after releasing the answer key.
The objections to be submitted only through online mode. No other mode will be entertained.
Candidates can challenge the answer key by paying an amount of Rs. 5000/- (Rs. 2000 in case of SC/ST category).
The final Answer key will be published by the Committee.
TS EAMCET 2020 Admit Card
The TS EAMCET admit card has been available on the official website of JNTU, Hyderabad  from  20 April to 01 May 2020. And Candidates need to visit the TS EAMCET 2020 website to download their respective Admit card along with the online filled application form. Also, to download the admit card, the candidates need the Registration number.
The various details mentioned in the EAMCET admit card are as follows:
Candidate's name
Father's name
Address
Test date and time
Test Centre
Category
Gender
Local status
Admit card number
Photograph
Signature
Important instructions for the exam
TS EAMCET 2020 Application Form
TSCHE and JNTU has released application form dates is 06 March. TS EAMCET Application Form has been released online and can be accessed at the TS EAMCET 2020 official website. The application form for EAMCET 2020 has been available from 06 March 2020 and the last date to apply online is 05 April 2020.
Registration fee: The cost of application form is 500/- for general category and 250/- for SC/ST category. The candidates need to pay the registration fee before filling up the application form.
How to fill the EAMCET Online Application Form?
The steps to fill the Telangana State Engineering, Agriculture and Medical Common Entrance Test conducted by JNTU Hyderabad on behalf of TSCHE.
Firstly, find the official website of TSCHE and click on the EAMCET Exam i.e. http://eamcet.tsche.ac.in.
Secondly, click on the "Apply Online" button in the header.
Then, fill the form in 3 simple steps.
Also, take a printout Filled in Application Form for future reference.
In addition, pay the fee as given in the information bulletin.
Telangana Entrance Exams 2020 Schedule:
TSCHE – Telangana State Council for Higher Education has announced the timetable for EAMCET Exams.
Exam Details
Entrance Exam Name
Dates (Announced)
Engineering Common Entrance Test for Diploma holders & B.Sc(Maths) Degree holders being conducted on behalf of TSCHE
TS ECET
11 May 2020
Telangana State Engineering, Agriculture and Medical Common Entrance Test
TS EAMCET
03, 04, & 06 May 2020 (Engineering)

08, & 09 May 2020 (Agriculture stream)

State Physical Education Common Entrance Test
TS PECET
20 May 2020
Telangana State Integrated Common Entrance Test
TS ICET
23 – 24 May 2020
Telangana State Law Common Entrance Test
TS LAWCET
26 May 2020
PG Law Common Entrance Test
TS PG LAWCET
May 2020
Telangana State Education Common Entrance Test
TS EdCET
30 – 31 May 2020
Post-Graduate Engineering Common Entrance Test
TS PGECET
27 – 29 May 2020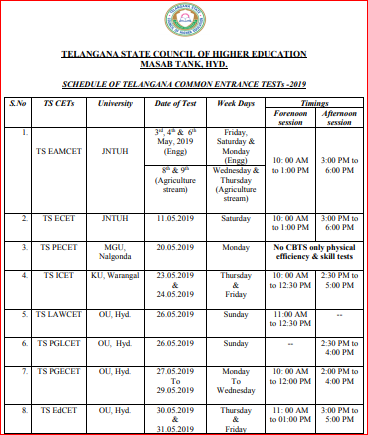 TS EAMCET 2020 Eligibility Criteria
Moreover, the Eligibility Criteria for the Telangana state council of Higher Education (TSCHE) is as follows:
Nationality: Candidate must be a resident of India.
Person of Indian origin (PIO)/ overseas citizen of India (OCI) card holders are also eligible.
Domicile: Candidate must be a domicile of the state of Telangana/Andhra Pradesh and passed/appeared from the board of intermediate education, Telangana/Andhra Pradesh.
Qualification: Candidate must have passed or at least appeared in the final year of High School Examination (10+2) with Physics, Chemistry, and Mathematics/Biology as main or optional subjects.
This examination can also be combined with any bridge course or courses that the candidate is enrolled.
Diploma Holders: Apart from the above criteria, the candidate may have passed out or at least be appearing in the final year of the diploma exam. And the Diploma Degree in Engineering/ Medical from the State Board Of Technical Education and Training, Telangana/Andhra Pradesh.
Date of Birth: The candidate must have completed at least 17 years of age as on 31st December 2020.
TS EAMCET Mock Test
The mock test for Engineering Stream and Agriculture & Medical Stream is available separately. The mock test is important for students appearing in the Examination. As TSCHE is going to conduct the examination in Computer Based Test (CBT) mode.
Telangana EAMCET 2020 Syllabus
TS EAMCET 2020 paper will be of 2 types; one for Engineering aspiring candidates and one for Agricultural and Medical aspirants. Both of the papers consist of 160 objective type questions with four options and one correct answer. The syllabus for the various papers can be summarised into the format of 10+2 topics in mathematics, physics, chemistry, and biology.
MATHEMATICS
Below we have given some major topics of Mathematics syllabus.
Algebra:
Theory of Equations
Matrices
Complex Numbers
Mathematical Induction
Quadratic Expressions
De Moivre's Theorem
Permutations and Combinations
Functions
Partial fractions
Binomial Theorem
Trigonometry:
Hyperbolic Functions
Inverse Trigonometric Functions
Trigonometric Ratios up to Transformations
Trigonometric Equations
Properties of Triangles
Vector Algebra:
Product of Vectors
Classification of vectors
Scalar multiplication
Linear combination of vectors
Addition of Vectors
Component of a vector in three dimensions
Orthogonal projections Geometrical Vector methods
Vector equations of the plane in different forms.
Probability:
Random Variables and Probability Distributions
Classical definition of probability
Probability
Measures of Dispersion
Binomial and Poisson Distributions.
Geometry:
A pair of Straight Lines
The Straight Line
Locus
Circle
Plane
Hyperbola
Transformation of Axes
Ellipse
Parabola
Direction Cosines and Direction Ratios
Three-Dimensional Coordinates
System of circles
Calculus:
Limits and Continuity
Applications of Derivatives
Definite Integrals
Differentiation
Integration
Differential equations
PHYSICS
Physical World
Motion in a Straight Line
Motion in a Plane
Laws of Motion
Work
Energy and Power
Units and Measurements
Gravitation
Systems of Particles and Rotational Motion
Oscillations
Mechanical Properties of Solids
Thermal Properties of Matter
Thermodynamics
Ray Optics and Optical Instruments
Waves
Wave Optics
Electric Charges and Fields
Communication Systems
Current Electricity
Moving Charges and Magnetism
Magnetism and Matter
Mechanical Properties of Fluids
Alternating Current
Kinetic Theory
Dual Nature of Radiation and Matter
Electromagnetic Waves
Atoms
Semiconductor Electronics
Nuclei
Electromagnetic Induction
Electrostatic Potential and Capacitance.
CHEMISTRY
Stoichiometry
Hydrogen and its Compounds
States of Matter: Gases and Liquids
Atomic Structure
Thermodynamics
Classification of Elements and Periodicity in Properties
Chemical Equilibrium and Acids-Bases
Chemical Bonding and Molecular Structure
The S-Block Elements, P- Block Elements group 13 (boron family), P-Block Elements group 14 (carbon family), Organic Chemistry – Some Basic Principles and Techniques
Hydrocarbons
Environmental Chemistry
Solid State
Solutions
Electrochemistry and Chemical Kinetics
Surface Chemistry
General Principles of Metallurgy
D and F Block Elements & Coordination Compounds
Chemistry in Everyday Life
Haloalkanes and Haloarenes
Polymers
Biomolecules
Organic Compounds containing C, H, and O
Organic Compounds containing Nitrogen.
BIOLOGY
This section has been divided into two parts, i.e. Botany & Zoology. The detailed syllabus is given below:
Botany:
Plant Systematics
Plant Physiology
Diversity in the Living World
Structural Organization in Plants- Morphology, Internal Organization of Plants, Cell Structure and Function
Plant Ecology
Microbiology
Genetics
Plants
Microbes and Human Welfare
Reproduction in Plants
Biotechnology
Molecular Biology
Zoology:
Animal Diversity-II: Phylum: Chordata, Human Anatomy and Physiology-I
Structural Organization in Animals
Biology & Human Welfare
Type Study of Periplaneta Americana
Animal Diversity-I: Invertebrate Phyla, Ecology & Environment, Locomotion & Reproduction in Protozoa
Applied Biology, Human Anatomy, and Physiology-II,
Human Anatomy and Physiology-IV
Human Anatomy and Physiology-III
Organic Evolution
Genetics
Human Reproduction.
TS EAMCET 2020 Exam Pattern
This exam is conducted by JNTU, Hyderabad and it consists of two separate papers. Furthermore, one paper is for engineering aspiring candidates. And the other one is for agriculture and medical candidates. Also, the exam for technical, agricultural and medical aspirants will be conducted in the form of a paper consisting of objective type questions having 4 options.
Question wise Weightage for Engineering & Agriculture Stream:
Exam
Subjects
Number of Questions
Engineering
Physics
40
Chemistry
40
Mathematics
80
Total
160
Agriculture
Physics
40
Chemistry
40
Botany
40
Zoology
40
Total
160
The paper will be conducted in an offline platform using OMR sheets. This medium is also known as the pen and paper-based exam. The question paper will be available in two languages i.e, English and Telugu. Also, the candidate must know that each correct answer will fetch them one marks. And is also to be noted that there is no negative marking for incorrect answer i.e zero marks will be deducted for incorrect answers.
Number of Students (Previous Year Statics)
| Course Name / Test | Number of Students Registered | Students Appeared | Number of qualified students |
| --- | --- | --- | --- |
| Engineering Entrance Test | 1,47,958 | 1,36,305 | 1,06,646 |
| Agriculture & Medical (AM) stream | 73,106 | 66,858 | 60,651 |
More Exams from Telangana State
The TSCHE will publish the exam dates for the various common entrance examination conducted by them, including EAMCET, Integrated Common Entrance Test, Post Graduate Engineering Common Entrance Test, Education Common Entrance Test, Law Common Entrance Test for UG and PG courses.
List Of Courses Offered at EAMCET
S. No
Branch Code
    Branch Name
    AEC
1
    ANE
    AERONAUTICAL ENGINEERING
2
    ASE
    AEROSPACE ENGINEERING
3
    CEE
    CIVIL ENVIRONMENTAL ENGINEERING
4
    CHE
    CHEMICAL ENGINEERING
5
    CPE
    CHEMICAL PETRO ENGINEERING
6
    CSS
    COMPUTER SCIENCE AND SYSTEMS ENGINEERING
7
    DTD
    DIGITAL TECHNIQUES FOR DESIGN AND PLANNING
8
    ECM
    ELECTRONICS AND COMPUTER ENGINEERING
9
    EIE
    ELECTRONICS AND INSTRUMENTATION ENGINEERING
10
    ETM
    ELECTRONICS AND TELEMATICS
11
    FSP
    FACILITIES AND SERVICES PLANNING
12
    GIN
    GEO-INFORMATICS
13
    MET
    METALLURGICAL ENGINEERING
14
    MMT
    METALLURGY AND MATERIAL ENGINEERING
15
    NAM
    NAVAL ARCHITECTURE AND MARINE ENGINEERING
16
    PET
    PETROLEUM ENGINEERING AND TECHNOLOGY
17
    PLG
    PLANNING
    AGE
18
    AUT
    AUTOMOBILE ENGINEERING
19
    CAB
    COMMERCIAL AGRICULTURAL AND BUSINESS MGMT
20
    CER
    CHEMICAL (CERAMIC) TECHNOLOGY
21
    CST
    COMPUTER SCIENCE AND TECHNOLOGY
22
    CVT
    CIVIL TECHNOLOGY
23
    ECS
    ELECTRONIC CONTROL SYSTEMS ENGINEERING
24
    ETC
    ELECTRONICS AND TELECOMMUNICATION ENGG.
25
    ICE
    INSTRUMENTATION AND CONTROL ENGINEERING
26
    IPE
    INDUSTRIAL PRODUCTION ENGINEERING
27
    IST
    INSTRUMENTATION ENGINEERING AND TECHNOLOGY
28
    MCT
    MECHANICAL (MECHATRONICS) ENGINEERING
29
    MIN
    MINING ENGINEERING
30
    MME
    MINING MACHINERY ENGINEERING
31
    MNT
    MATERIAL SCIENCE AND NANO TECHNOLOGY
32
    PWR
    POWER ENGINEERING
33
    TEX
    TEXTILE TECHNOLOGY
    ENG
34
    CIV
    CIVIL ENGINEERING
35
    CSE
    COMPUTER SCIENCE AND ENGINEERING
36
    ECE
    ELECTRONICS AND COMMUNICATION ENGINEERING
37
    EEE
    ELECTRICAL AND ELECTRONICS ENGINEERING
38
    INF
    INFORMATION TECHNOLOGY
39
    MEC
    MECHANICAL ENGINEERING
    PHA
40
    AGR
    AGRICULTURAL ENGINEERING
41
    BIO
    BIOTECHNOLOGY
42
    BME
    BIO-MEDICAL ENGINEERING
43
    DRG
    DAIRYING
44
    FDS
    FOOD SCIENCE
45
    FPT
    FOOD PROCESSING TECHNOLOGY
46
    MLT
    MEDICAL LAB TECHNOLOGY
47
    PhD
    PHARM – D (M.P.C. STREAM)
48
    PHE
    PHARMACEUTICAL ENGINEERING
49
    PHM
    B. PHARMACY (M.P.C. STREAM)
EAMCET Highlights
| | |
| --- | --- |
| Short Name of Exam | EAMCET 2020 |
| Full Name of Exam | Telangana State Engineering, Agriculture and Medical Common Entrance Test |
| Exam Conducting Body | State Government |
| Total Marks | 360 |
| Category | Undergraduate Engineering Entrance Exam |
| Purpose of Exam | Engineering Undergraduate Admission to Telangana State  universities, constituent colleges, and private colleges |
| Duration of Exam | 3 Hours |
| Mode of Exam | Computer Based Test (CBT) |
| EAMCET official website | http://eamcet.tsche.ac.in |
TS EAMCET 2020 Office Address
Examinations Building, Ground Floor, Jawaharlal Nehru Technological University Hyderabad Kukatpally, Hyderabad – 500 085.
 "Stay Informed about EntranceZone latest updates and feature articles on TS EAMCET 2020."
ts eamcet 2020 online or offline, ts eamcet 2020 apply online, ts eamcet 2020 notification, ts eamcet 2020 application date, ts eamcet 2020 date, ts eamcet 2020 application form, ts eamcet 2020 weightage, ts eamcet 2020 syllabus.