Common Entrance Test 2021 for admission to central universities: As per news, National Testing Agency (NTA) to conduct Common Entrance Test for Delhi University, Central Universities, and all 54 Central Universities from 2021. This move would be aimed to eliminate the admission on cut-off marks based on Class XII Board exams for colleges. The central government has set up a seven-member committee to recommend modalities for "high quality aptitude test" for admission in undergraduate courses in central universities.
Common Entrance Exam for Central Universities from 2021-22
According to Ministry of Education (MoE) sources, students seeking admission in undergraduate courses at central university will have to appear for the common aptitude test (comprising verbal and quantitative ability and logical reasoning), followed by subject-specific tests.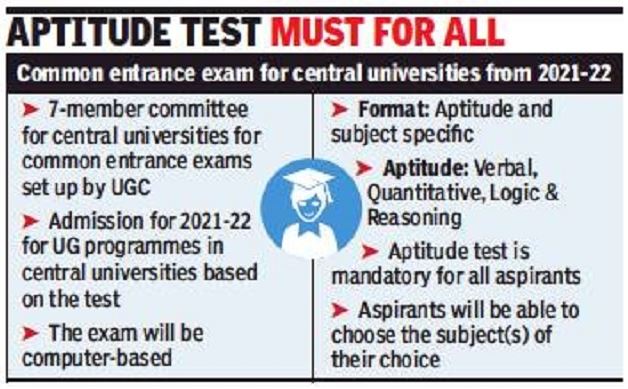 7 member committee for central universities for common entrance exams set up by UGC.
Admission for 2021-22 for UG programmes in central universities based on the test.
The exam will be computer-based (CBT)
Format: Aptitude and subject-specific tests
Aptitude: Verbal quantitative, login & Reasoning
Aptitude test is mandatory for all aspirants.
Aspirants will be able to choose the subjects(s) of their choice.
NTA to conduct Common Entrance Test for DU, CU, and all 54 Central Universities from 2021
The National testing agency will conduct single computer-based test (CBT). Th test will be mandatory for admission to all the central universities. This is going to be implemented from the 2021-22 session for the central universities." Amit Khare, secretary, higher education, said.
Subscribe to Get Updated Information about Common Entrance Test for DU, CU, and all 54 Central Universities 2021 - Admissions
​
List of 54 Central Universities for which this exam will be conducted
Central Tribal University of Andhra Pradesh
The National Sanskrit University
The Central Sanskrit University
Shri Lal Bahadur Shastri National Sanskrit University